For a few years now, yoga-pants peddler Lululemon has had its eye on a big expansion into Asia and Europe. As it began opening stores, the spending put pressure on the company's margins, which were also squeezed by growing competition in the athleisure market, as well as some product and PR mistakes: See the see-through yoga pants debacle. Investors have been watching warily.
The expansion is paying off. Lululemon opened stores in Hong Kong, Singapore, and Seoul in the last year, and launched a shop on Tmall, the massive e-commerce market owned and operated by China's Alibaba, celebrated with a full-day event in Shanghai. On an earnings call with analysts today (March 30), CEO Laurent Potdevin said he was "very happy" with the results.
"Asia is far exceeding our expectations so far," he said.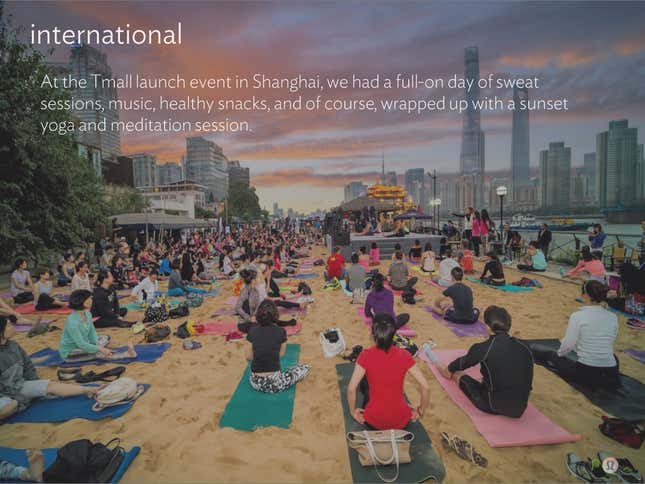 In China in particular, Lululemon is buoyed by a rising tide of consumers who are getting into fitness, including luxury shoppers trading Prada bags for stretchy tights.  At least 10 million people in China now practice yoga, and the number is growing along with the country's middle class. It's all good news for Lululemon, which expects its first Hong Kong store to make $8 million in sales in 2016.
Potdevin said the brand has been slower attracting European customers. That doesn't surprise him since Lululemon launched in Asia first, and Europeans are slower to warm to new brands. Both are attractive markets for activewear.
While the majority of Lululemon's stores are still in the US, the expansion in Asia and Europe signals the chain's plans for growth. The company expects margins to begin growing again thanks to overseas expansion, customer acceptance of its new product range, and a return to selling more at full retail price, Potdevin said. Some 90% of holiday sales were at full price, a turnaround from the discounting it relied on earlier in the year to move excess inventory.
Lululemon isn't completely in the clear. A growing crowd of competitors in the $97 billion activewear market will force it to price its premium products competitively, making it tough to raise gross margins back to the 55% it enjoyed a few years ago.
But business has stabilized. In 2015, it clocked just over $2 billion in sales for the first time, up about 14% from the year before.