China's foreign exchange regulator injected $4 billion in the mainland stock market, even as it was dumping billions of dollars in foreign exchange reserves to stem capital flight.
Buttonwood, or Wutongshu Investment Platform, which is wholly-owned by the State Administration of Foreign Exchange (SAFE), along with two subsidiaries, bought the shares of 11 listed companies in Q4 2015, the official Shanghai Securities News reported (link in Chinese) Thursday (Mar. 31), citing company filings in Shanghai. SAFE overall has injected a total of 27 billion yuan ($4.2 billion) into mainland stocks.
This is the first time China's foreign exchange regulator has invested in domestic shares—and analysts say it is part of Beijing's dangerous trend of artificially propping up the domestic stock market. As Bank of America wrote in a research note:
So, by now, the three main government bodies that run the economy, the financial system or regulate the market all have a direct stake in the market, literally. While many may view this as supportive of the market, we believe that allowing "referees" to become "players" is a slippery slope that could do damage to the market in the long run.
Previously, state-owned margin lender China Securities Finance Corp. and Central Huijin Investment have bought domestic shares. From June to August in 2015, China spent at least $1 trillion on stocks after the summertime market crash.
The latest earnings reports show Buttonwood is a top ten shareholder of China's biggest state banks including ICBC, Bank of China, and Bank of Communications. Buttonwood investment subsidiaries Beijing Fengshan and Kunteng, meanwhile, are among the top ten shareholders of several state-owned enterprises in telecom, transportation, and manufacturing sectors.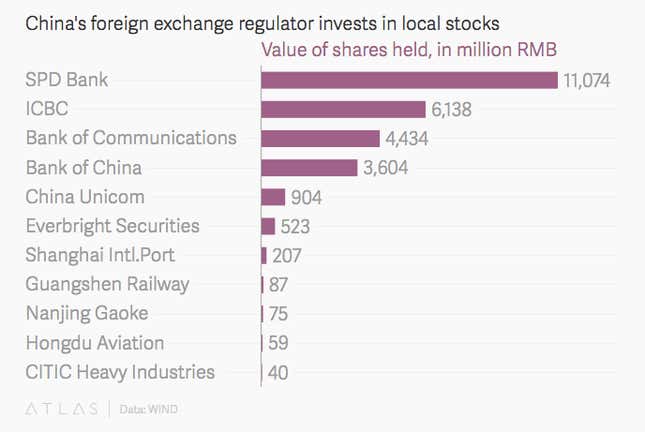 SAFE established Buttonwood in December 2014 to invest $6.5 billion in China's Silk Road Fund, as part of president Xi Jinping's "One Belt, One Road" initiative. In August 2015, Buttonwood injected a combined $93 billion into China's two policy banks including China Development Bank and the Export-Import Bank of China.
SAFE's unusual stock investment happened as China spent a record-high $ 513 billion of its foreign reserves, which are mostly invested in US Treasury bonds, to defend the yuan's value last year. Because of a slowing economy and a weaker yuan, an estimated $1 trillion moved out of the nation in 2015 as Chinese companies and individuals looked for safer places to put their capital.
SAFE is "the right arm of the state" to control China's stock market when needed, Dr. Li Kui Wai, associate professor at City University of Hong Kong, told Quartz. "But the more the state controls, the more likely the market is manipulated," he said, adding the China market's state investors could "ward off foreign investors."