After eight years of promotional buildup, Elon Musk spent just 13 minutes introducing the Model 3, the new mainstream electric car produced by his company, Tesla.
That's not much for a car that Musk, a significant part of Wall Street, and much of the technology community, believe could tip the world away from gasoline-driven vehicles, curb climate change, and profoundly shake up urban lifestyles everywhere. If the make-or-break vehicle is a blockbuster, it will justify investors' big bet—they have valued Tesla not like a car company, but a Silicon Valley technology startup. But if it sells only at middling scale like current electrics, cash-burning Tesla could go bust.
Though it was short, the drama was palpable in a glitzy nighttime ceremony in Hawthorne, California, as Musk summoned three of the Model 3s onto the stage, accompanied by sweeping music and roving lights. The car will cost $35,000, and go 215 miles on a single charge, he said, 15 miles further than generally expected.
As proof of the car's credibility, he said in the end, more than 115,000 buyers around the world had plopped down $1,000 each to reserve a Model 3, sight unseen. The crowd whooped.
Entry-level luxury
The Model 3 is a compact, four-door sedan that will seat five adults, and comes with a number of standard features that are normally found on luxury cars, including autonomous functionality. It also has two trunks, one in front and one in back.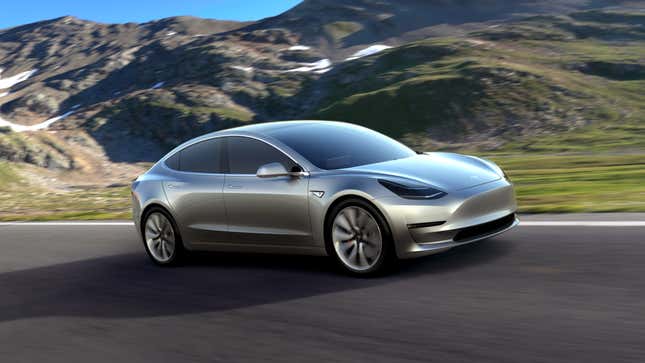 Cosmin Laslau, an analyst with Lux Research, a market research firm, called the car a triumph. He said that its design bests the first-mover in the nascent $35,000, 200-mile electric category—the Chevy Bolt, which General Motors unveiled in January and, by delivering its first cars by the end of 2016, will beat Musk to the market by at least a year.
"Tesla has been able to keep its premium design look in the Model 3: Whereas the Bolt looks very much like the economy hatchback it is, the Model 3's design actually looks the part of entry-level luxury," Laslau told Quartz. "This is the right design to compete in the $35,000 bracket against BMW, Audi, and others. They nailed it. Kudos to their design team, bringing downmarket details like the flush door handles and huge interior touchscreens that are becoming Tesla signature touches."
Here's a quick look at the front interior:
Whether the number of pre-orders holds remains to be seen since the money is refundable, said Sam Jaffe, an analyst with Cairn, a research firm. "Far more important will be how many reservations they have next summer," Jaffe told Quartz. "If that number is over 250,000 at that point, they will most definitely have a successful product launch."
Musk was a bit equivocal on when the cars would be ready for delivery to its customers. "I feel fairly confident they will be delivered next year," he said, leaving apparent wiggle room in case—as has been his habit so far—he is late.
Musk has explicitly built up to this moment
The unveiling was the culmination of a decade of strategizing by Musk, who has said since 2006 that his objective was to bring electric cars to the masses. His first three electrics—the Roadster, the S sedan and the X crossover SUV—all cost north of $100,000 once normal extras were factored in. All along, he promised that the approximate price of his mainstream vehicle would be in the $30,000 range.
Musk has not vowed to build the largest electric car company in the world, but to trigger the creation of a mainstream electric car industry. In 2014 he declared Tesla's patents more or less open source (more or less, because Musk retains the prerogative to decide whether a specific company or lab can use them for free).
All along, he has wished Tesla rivals the best of luck in electric cars, too—by most appearances, a sincere wish. For Tesla to succeed, Musk believes, there has to be a whole ecosystem of electrics; consumers need a large variety to choose from.
Most of the rest of the industry has responded aggressively, perhaps out of fear that Musk may be on to something. GM, Volkswagen, BMW, Ford, Nissan, and others have announced accelerated plans to put electrics on the road by the end of the decade. VW, facing heavy financial and legal challenges over its use of a defeat device on its diesel cars, has been especially passionate about making the shift to electrics—all its brands, including Audi and Porsche, have recently announced imminent plans in the space.
But Tesla has been the star of the show, based in part on Musk's stagy personality, but also his stylish design touches, exquisite taste that analysts compare with that of Steve Jobs, the late Apple CEO.
In the short March 31 ceremony, Musk emphasized that the Model 3 would meet painstaking safety standards, and include a glass roof that he said provides "a feeling of openness." Although it is not clear that this feature will be widely demanded, he said that a 7-foot surfboard could fit inside the car.
Musk also set out to answer to widespread criticism that, even if electrics turn out to be affordable and desirable, cities are not equipped for electric cars. He said that Tesla is doubling the number of so-called Supercharging stations around the world to 7,200, and the number of ordinary charging stations to 15,000, by the end of 2017. He also said that Tesla is also doubling the number of its servicing facilities to 441.
A Tesla owner will be able to charge up and obtain servicing near any medium-size urban area in the US, Europe and Asia. "You can conveniently go where you want to go when you want," he said.
As usual, the setting was important
The announcement was made amid a party at the Tesla Design Studio in Hawthorne, a community near the best southern California beaches and just southeast of Los Angeles International Airport. The same lot contains a facility for SpaceX, Musk's commercial space cargo company. A full house of some 800 guests were offered a full bar including champagne and liquor, plus at one point a Talking Heads soundtrack, and snacks including tuna tacos. Here is what it looked like inside (courtesy @lancethedriver on Instagram).
In the hours before the unveiling, lines formed at Tesla stores around the world to reserve a Model 3: In a series of posts on Reddit, someone in Palo Alto reported 500 people in line; someone else counted 200 in Montreal; another 500 in Austin an hour before the store opened; 130 people in Stockholm; and a few dozen in Amsterdam. Model 3 reservees debated one another as to how early they are in the queue to get their cars once they are available.
In the end, Musk made the day about personal showmanship, showing up outside the Tesla store at the Century City Mall in Los Angeles, 14 miles north of his Hawthorne office, and thanking those standing in line for the Model 3. One of those with whom he shook hands, Dan Mitchell, tweeted this selfie.