Thousands of Hong Kongers attended hastily-planned screenings of Ten Years on Friday night (April 1), after the dystopian movie about the potential dangers of Communist control mysteriously disappeared from cinemas in Hong Kong earlier this year.
Ten Years is a collection of five vignettes which imagine a Hong Kong in which things go horribly wrong, as Beijing's influence over the city grows. The little-advertised movie has been a surprise hit—because, some viewers say, it reflects what is already starting to happen, as China's communist party disregards the autonomy it pledged to maintain for Hong Kong before the city was handed over to China.
In one vignette, Mandarin completely replaces Cantonese as the dominant language. In another, a Hong Kong resident self-immolates while fighting for independence. It's reminiscent of the dystopian near future in the British science-fiction series Black Mirror, except that instead of technology, the dark force is Chinese control.
On Friday night, the filmmakers held dozens of public screenings throughout the city, in partnership with 34 groups including the University of Hong Kong, the political group Power for Democracy, and the Hong Kong Federation of Women's Centers, an NGO.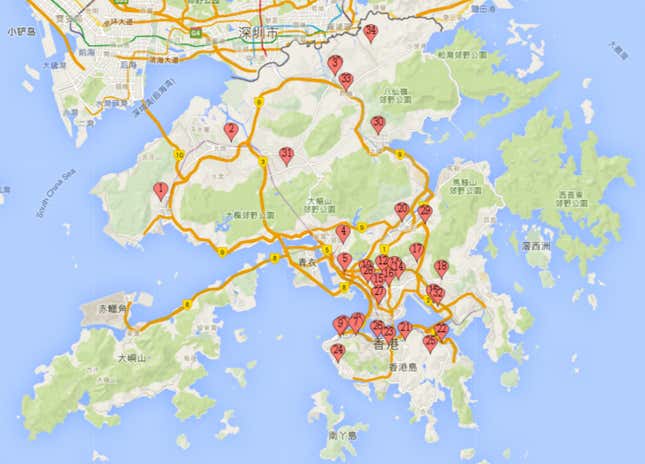 They began at 7pm, in locations from public squares to terraces to independent theaters, and were followed by an online talk with the directors. Most screenings offered free tickets, but viewers were encouraged to donate to the movie producers at the scene, according to Ten Year's Facebook page.
Around 500 people gathered at an open-air screening in western Hong Kong Island's Sai Ying Pun neighborhood. Many came with their friends or families, and gave the film a standing ovation after it ended.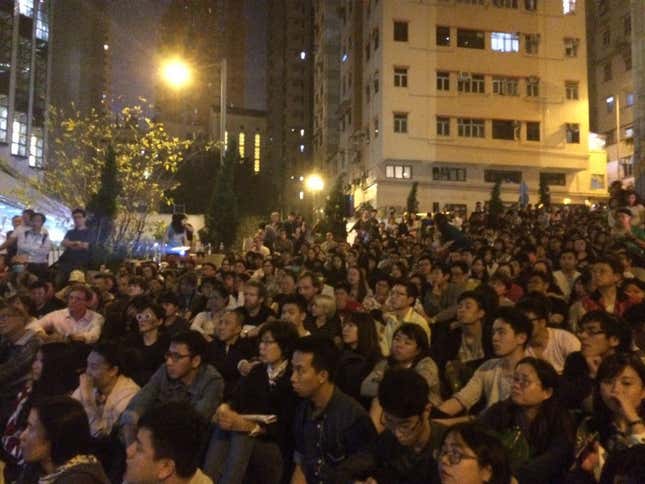 "It's frightening, emotional, and it's too real, like it's already going in that direction," Sonia Chow, a design consultant in her thirties, said after the screening. She said one vignette reminded her of Hong Kong's recent cases of missing booksellers. In both situations, sensitive books are banned and freedom of speech is dwindling.
"I think it will be an awakening for people living in Hong Kong right now, regardless of what nationality they are," Victoria Cheung, a 24-year-old who works at an event planning agency, told Quartz after the movie ended. Already, Hong Kong's government is advocating the use of Mandarin for education and media, just like the movie shows, she said.

"I can do more for the Hong Kong people," Thomas Fok, a 19-year-old City University of Hong Kong student, said after it finished. Once a protestor during the pro-democracy Umbrella Movement, Fok said now plans to take part in more social movements as a way to fight against Communism, as the movie suggests.
At Tai Ping Shan, near central Hong Kong's Man Mo temple, about 150 people crammed into a set of stairs to watch the movie:
Outside Hong Kong's Legislative Council building, a few hundred students and middle-aged couples sat on a stone floor, peering at tiny screen for the duration of the movie, then applauded when it was finished.
The movie "reflects all the anxiety" that's happening in Hong Kong right now, Auloong Yu, a 59-year-old retired teacher, told Quartz. While earlier generations were happy to emigrate from Hong Kong to Canada or the US, the city now has a generation of young people who have a "new perspective on Hong Kong" and are willing to fight for the future of the city, he said.
The crowd at a stadium in the Sha Tin district in Hong Kong's New Territories, on the other hand, was enormous:
The popup outdoor screenings are the only way that most Hong Kongers can see the movie.
Ten Years took in nearly HK$6 million (US$770,000) at the box office, more than 10 times its cost, and bested Star Wars: The Force Awakens some weekends in Hong Kong. But it disappeared in local cinemas after just two months, sparking concerns that censors were pressuring theaters not to show it. A live broadcast of the Hong Kong Film Awards ceremony on Apr. 3 was abruptly canceled by Chinese internet giant Tencent after Ten Years was nominated for film of the year.
Heather Timmons and Josh Horwitz contributed reporting.