On Mar. 31, Nintendo's first mobile app, a strange question-and-answer social network called Miitomo, launched in the US. It's been available in Japan for a few weeks, and according to Nintendo, it was downloaded over 1 million times in the first three days there.
Nintendo, which pretty much single-handedly created the portable video-game industry with the Game Boy in 1989, has been criticized for being slow to adapt to the fact that the majority of casual gaming now happens on mobile devices. It announced in 2015 that it would produce three mobile games over the next few years, and its first app feels very much like something you'd expect to see on its Wii U or 3DS consoles—but a lot weirder.
When Nintendo launched the Wii in 2006, it created the concept of the "Mii"—three-dimensional avatars that gamers could create to use in Nintendo apps and games. Miitomo is essentially a continuation of that idea, except you can't really do much else.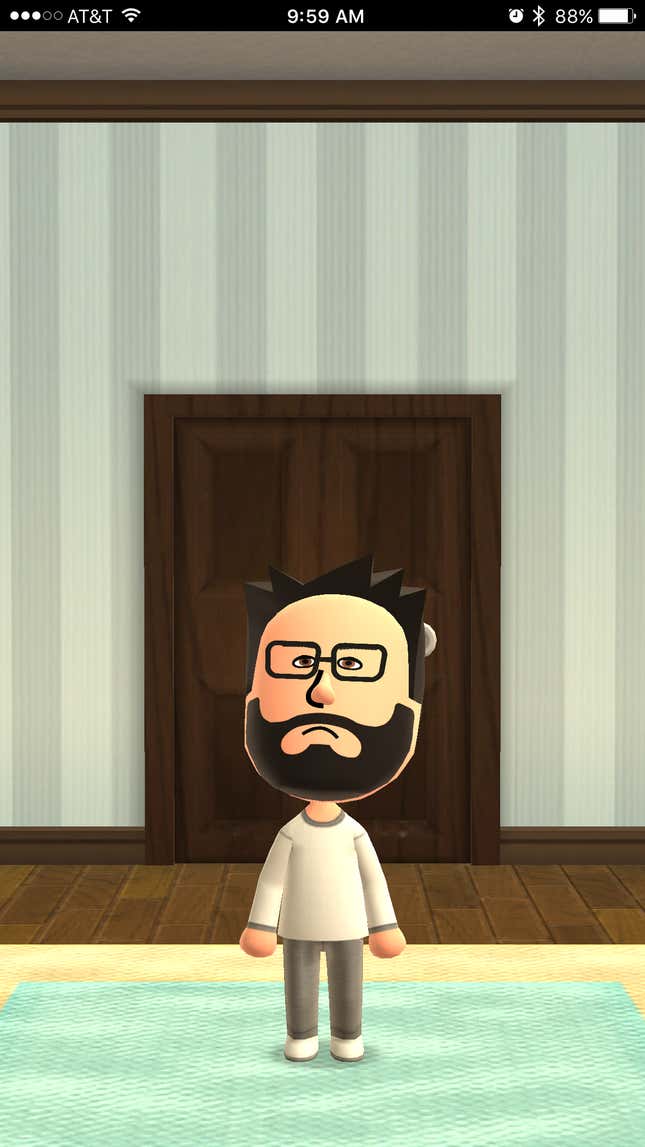 After creating your Mii, you are dropped in a room. Having played a few of Nintendo's role-playing games over the years, I thought this was going to be like Zelda or Pokémon, and this would be the home base from which I could explore the game. I was wrong.
I tried walking around the room, seeing if I could interact with the closet, painting, stereo and bookcase. Every time I got close to something, the camera would pan around, and if I tapped on myself by mistake, I just asked myself a question.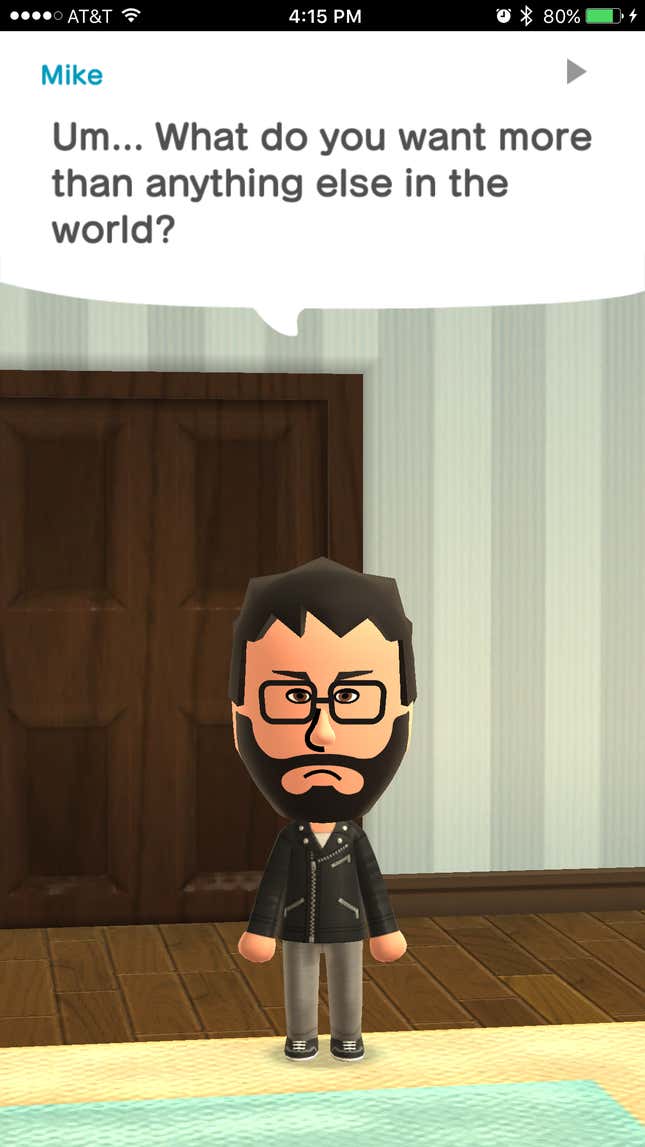 I tried tapping on the door, but I could not get out. I realized I was trapped in this room, which I didn't even know why I was in, like a digital, cartoony version of Oldboy. What's even more bizarre is that, although you can't leave, your friends can come visit you.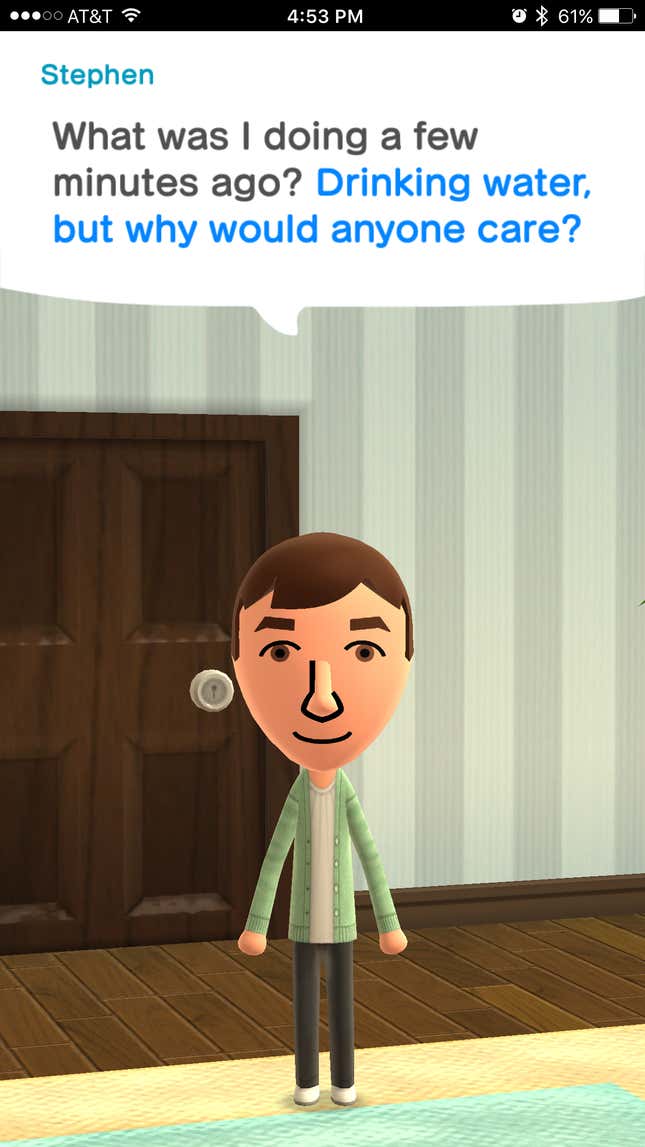 You can add friends by linking your Facebook and Twitter accounts, or by scanning a QR code (rather like on Snapchat). When you're out of the app, you can find, maddeningly, that your Mii has found a way out of the room to visit its friends. And sometimes weird things happen that you have no control over:
I accepted my fate and decided to dress up to entertain myself.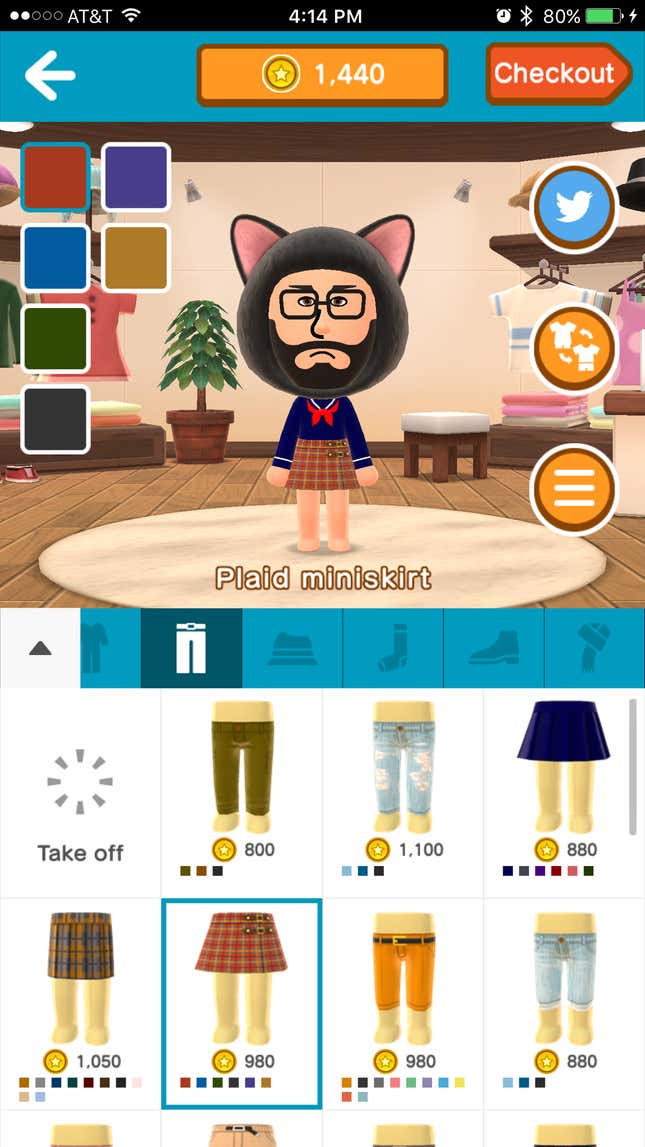 The game, inasmuch as there is one, is essentially to ask yourself questions, and let your friends in the game know the answers to these questions. Every time you answer a question, or listen to a friend's answer to a question, you get coins. It's like a digital psychologist, asking yourself about things you already know the answers to, but without any sort of judgement. What's your favorite way to relax? Colostomies? Cool. Your favorite food? Dirt? That's awesome. It's sort of lifestyle-affirming and inane at the same time.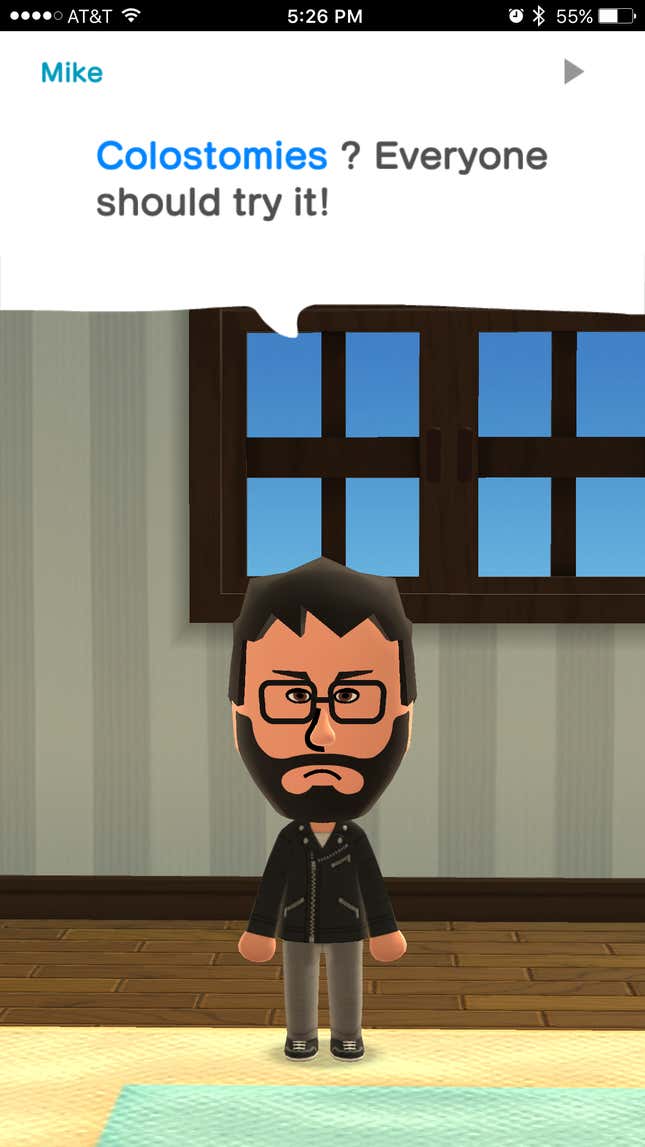 There are apparently more features coming, but right now, the only ways to entertain yourself beyond Mad Libs-style answers to questions is to dress up, take photos of your new outfits, and to play pachinko for more outfits. In typical Nintendo style, the Miis are the things you use to play the game: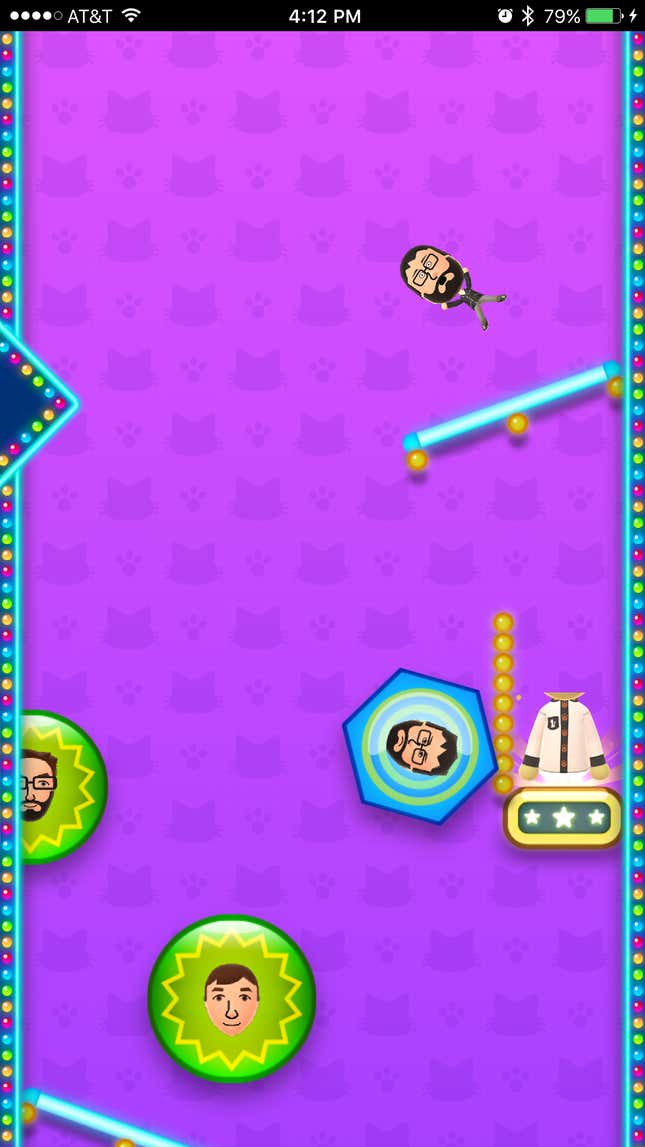 If you're really bad at pachinko and run out of coins, you can pay for more through the app, ensuring that a new generation of kids will likely bankrupt their parents with Nintendo products—but instead of games cartridges and movie tickets, it'll be through in-app purchases for digital coins.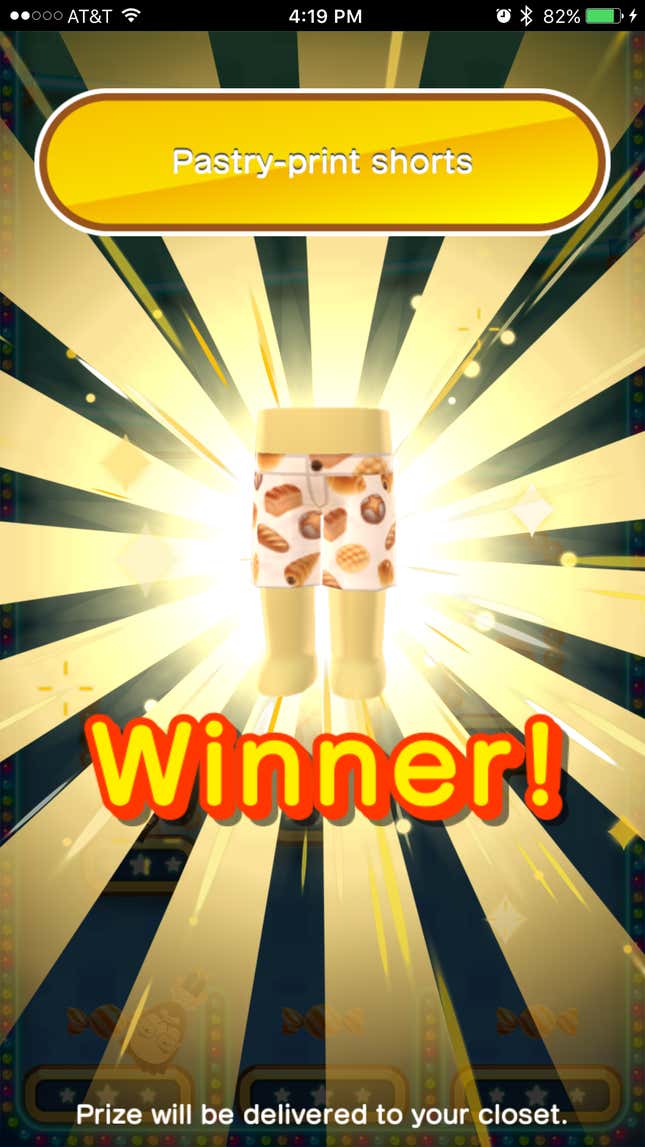 Oh good.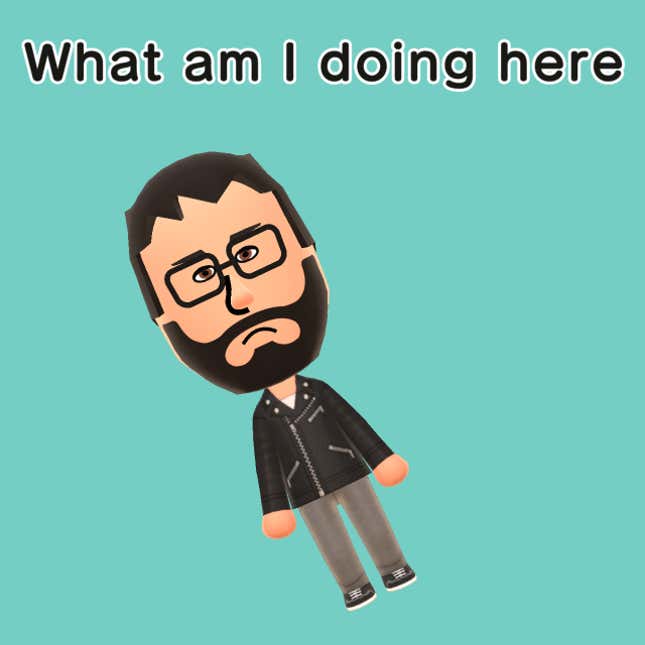 My Mii does not sleep, he does not eat, he does not want for anything other than clothes and answers. And somehow those limited wants are a huge drain on your phone's battery.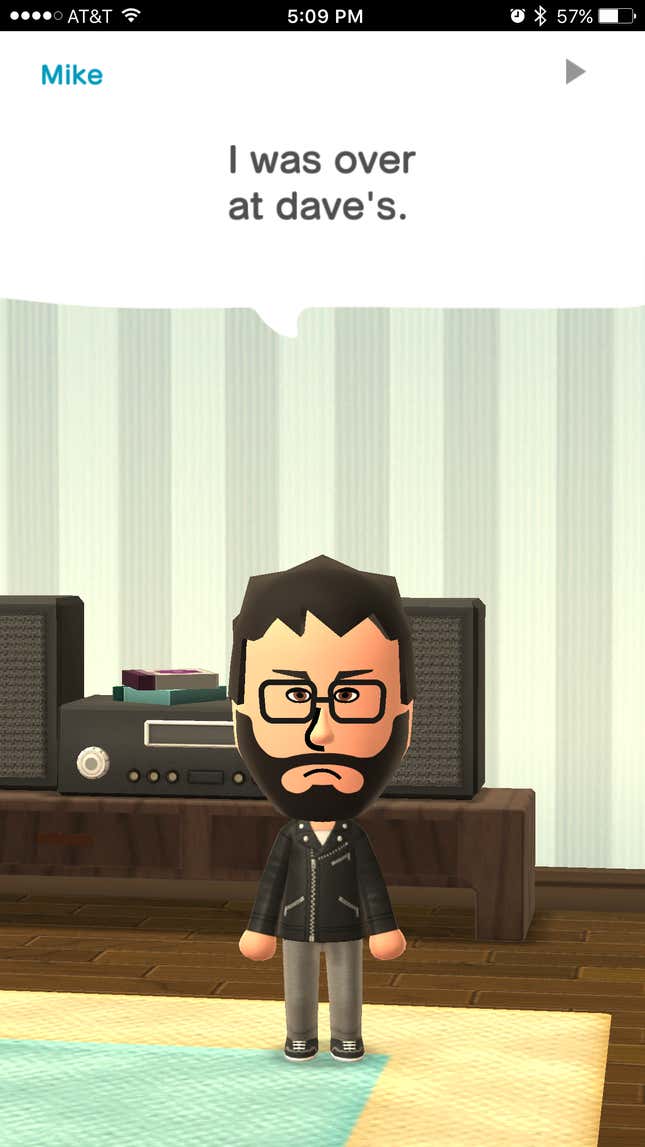 I do worry that feeding Nintendo this information about myself, my habits, and the human condition, that it will eventually figure out what makes us tick, and decide we are no longer necessary.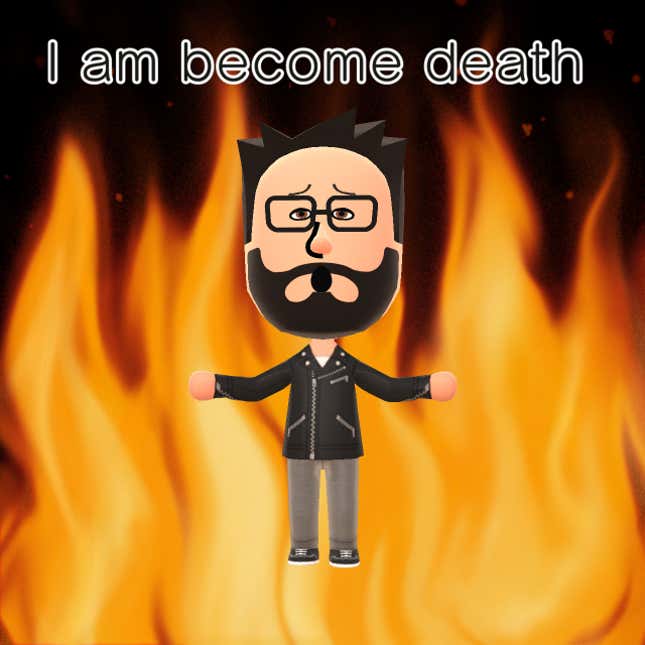 I hope Nintendo is aware of what it has wrought.
The company's next mobile game will be a version of Pokémon.