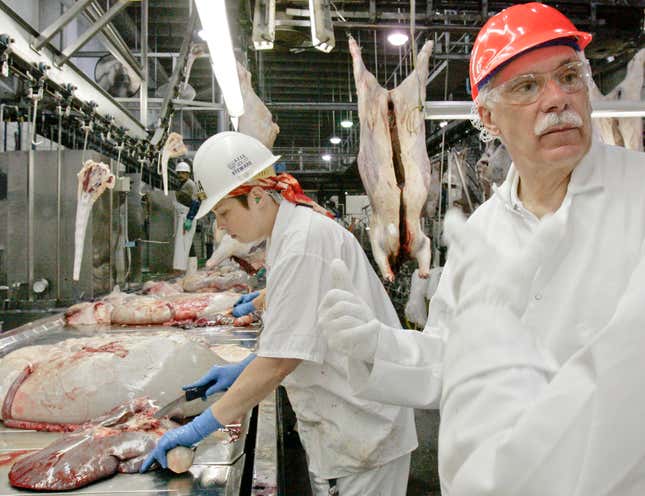 Now that the US Senate has passed its 2013 spending bill, a government shutdown next week is unlikely.
While this is a rare missed opportunity for US politicians to raise fears of economic chaos, it does tell us more about how the economy will respond to fiscal consolidation—and who's got the political juice to escape from the automatic spending cuts.
The bill, which outlines spending levels for the rest of the fiscal year (i.e., until Sept. 30), still needs the endorsement of the House. It will probably get it, after the two chambers informally agreed to avoid a government shut down by keeping spending on a previously set downward trajectory. That means the bill maintains the automatic cuts provided by US budget sequestration, but does shift money around to alleviate its impact:
Military spending made easier and veterans' tuition is spared. Funding for on-going defense department operations was protected, along with a program to fund tuition for veterans. 

Funding for Big Beef isn't axed. To keep meatpacking plants open, senators restored some $51 million in funding to the USDA inspectors needed to keep them legally operating. Some of the money will come from a program that pays for the breakfast of needy students.
Syrian rebels get a share. They get $50 million in new, non-lethal aid as part of the bill, following the administration's decision to allow such funding.
Construction workers could benefit. Unlike the House version, the Senate spending bill finds $720 million in highway and transit funding.
Not everyone won out; this compilation of local news bulletins about cuts reflects what some Congress members will be hearing from their constituents in the weeks to come. Perhaps more important than any single program, however, is lessening the hit on immediate government spending. Analysts at the Eurasia Group estimate that the appropriations bill will delay perhaps $22 billion in cuts from going into effect this year by cutting money from long-term accounts to make up near-term shortfalls. That will help alleviate an overall economic slow-down caused by the cuts, but might mean more work to clean up the overhang ahead of the next fiscal year.
That this bill is expected to pass the Republican-controlled House in time to avert a government shutdown is a sign that the US recovery and general fiscal exhaustion makes for more measured budget discourse. However, the long-term issues, from taxes to social insurance spending, will likely surface again when America's borrowing limit will once again need to be lifted.