Facebook is flooded with ads for stylish, cheap women's clothing made in China, and US shoppers appear to be getting suckered. Companies use stolen images and deep discounts to attract customers, who usually end up with goods far different from what they were promised, and that they can't return, as BuzzFeed News reported this week.
At least eight brands, including DressLily to RoseGal, are linked to the same Shenzhen-listed company, which is owned by one of China's richest men. These brands have millions of likes on their Facebook page, but that doesn't mean they are good, Western shoppers are learning. While their advertisements may feature Western models or celebrities like Katy Perry, their clothes are made of cheap materials that sometimes "smell like chemicals."
To all of this, the response from China is: Welcome to our world! Chinese shoppers have been inundated with these types of online stores for years, and clothing websites that sell knockoffs and fakes are just as common as the good ones.
To help educate Westerners new to this world, I talked to some of the most dedicated online shoppers among my female friends. Here are their tips on how to buy Chinese-made clothes online without getting ripped off.
Facebook is the worst choice
None of my friends think buying clothes through social media sites like Facebook is a good idea, because there's no real way to check how well-respected the company is. (And yes, many of them have Facebook accounts even though it is blocked in China, because they spent time outside the mainland.)
Unlike third-party shopping sites like Alibaba's Taobao, a little-known clothing company's website that pops up in a social media ad looks suspicious to shoppers in China—after all, there's no independent rating system or customer reviews. Companies control their own Facebook pages, so negative reviews can be deleted, and "likes" easily manipulated.
"Unless it's a brand I know about, I'll never try it," Julia Zhu, who started shopping for clothes online when she was 15, said of companies that advertise on Facebook. The 25-year-old Shanghai-based head hunter said she trusts third-party shopping sites more. She signs on to shopping apps like the ones offered by Taobao, Tmall, and JD, for a few hours every day to check new items and discounts (more about their English equivalents below).
Do some research
If you do choose to shop through a company advertised on Facebook, "at least you should conduct due diligence before you buy," advises a 24-year-old law school graduate, who would like to be identified only as Justine. Due diligence refers to the care a reasonable person should take before signing a contract, but it applies to online shopping websites as well.
"The first step is to do a Google search for complaints," Justine said, and then, see if the images are stolen (yes, Google is blocked in China—she accesses it through a VPN). After that, check the company address and the shipment address—if they are not consistent, the company is probably just a dealer for a knockoff factory, she said. Lastly, check to see if the seller agrees to do returns or refunds. She personally never buys clothes that cannot be returned.
Justine also said she'll never buy clothing through "independent websites." She recommends Alibaba's AliExpress global shopping site and JD's English site for Western shoppers who want to buy cheap Chinese-made clothes.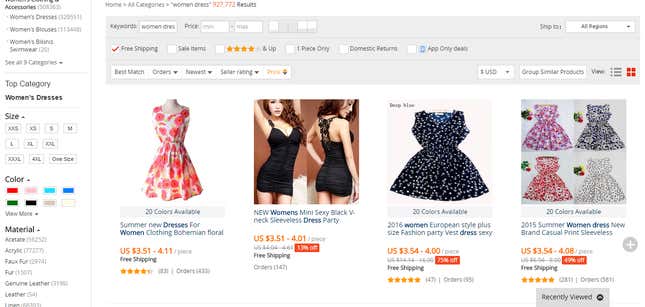 Because these third-party English-language sites are relatively new, they sometimes don't have the same depth of customer reviews as their Chinese-language counterparts, but more reviews are being added all the time.
Use common sense
You can definitely buy a $10 dress online, but you should never have high expectations of its quality. You should bear in mind what will be delivered to your doorstep is by no means the same product you see in pictures, my shopper friends tell me.
That's just "common sense" for online clothing shoppers, Zhu said—something that Western shoppers, awkwardly, don't seem to have learned yet. Understand the "quality-price ratio," Justine added. Don't be "penny wise," she said, and try to save a tiny amount of money only to be disappointed.
When buying super-cheap clothes online, Eviana Yu, 21, a college student in Shanghai, said she is easy to satisfy. Once, she bought a chamois leather skirt for around 50 yuan ($8) on Mogujie.com, one of China's biggest fashion-focused social shopping startups. She didn't expect it to be real chamois leather—and it isn't. She wore it only twice.
Chinese shoppers are simply used to their purchases not always looking like the photos. Yu gave me one example of what she thinks is an acceptable discrepancy between pictures and real products: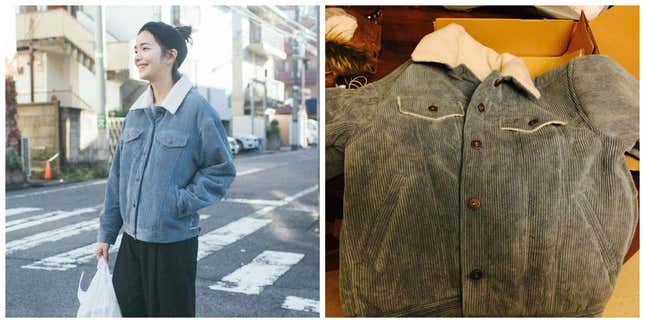 This "blue" corduroy coat costs 399 yuan on Alibaba's Taobao site, or about $62.
Don't trust models, trust buyers
Pictures can be deceptive, all of my friends agree—and not only the ones stolen from other companies or magazines. Legitimate photos featuring a clothing model's face, shot in different angles and frames, and wearing the actual item you will receive, can also be misleading.
That's because models are slimmer, taller, and in better shape than normal people, and most of those pictures are heavily photoshopped, they said. Instead of going by the company's photo, they pay extra attention to other shoppers' pictures, which they post in the comment and review sections on shopping sites like Taobao.
Here's a 299 yuan pink wool coat on Taobao, bought by Zhu Yuzheng, 21, a college student in Shanghai. Because pink could be unsuitable for many people, she told me, she only decided to buy the coat after checking several buyers' pictures. She's happy with the coat, as it compares to the one on the model, one other shopper, and herself. (She would only give me a photo without showing her face, though.)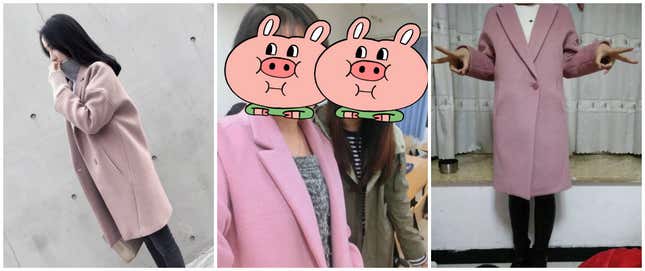 Finally, just never buy some clothes online
Closely fitted garments like bras and swimsuits, and fancy or heavy clothing like formal dresses or down jackets, just shouldn't be purchased from Chinese online retailers, my friends said.
For these categories, it is better to try them on in physical stores. The latter ones, in particular, are too expensive to buy online because there's always a chance that what you bought cannot be returned if you don't like it.