The words "Silicon Valley"—whether you're referencing the industry at large or the TV show—often call to mind images of guys in hoodies. But a new portrait series by a startup veteran serves as an excellent reminder that plenty of people work in tech who don't fit the category of the Silicon Valley straight white male. Hundreds of them, actually.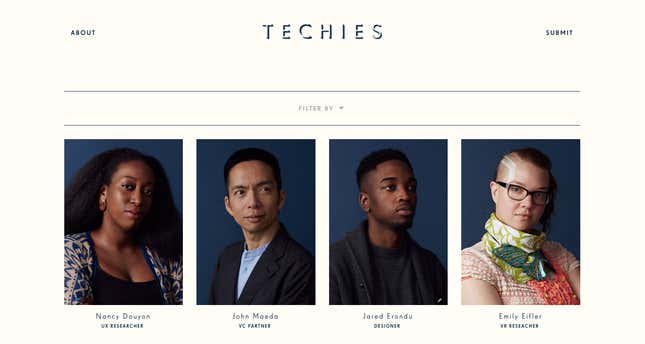 The photo project, titled "Techies," aims to make their stories known. The series features 100 interviews with people like Natasha, the Latina single mother and community manager who was kicked out of her home as a teenager, and Jared, the black self-taught product designer with a sidegig at Greylock Partners.
The photographer behind the series, Helena Price, has been working on the project since the start of 2016, when she put out an open call for subjects on Medium and received over 500 submissions in just two weeks.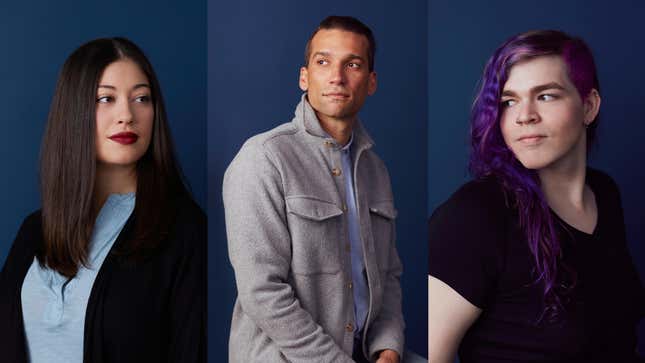 "For this project I have two main goals," Price wrote back in January. "I want to show the outside world a more comprehensive picture of people who work in tech. I also want to bring a bit of attention to folks in the industry whose stories have never been heard, considered or celebrated."
The final product highlights stories that you don't typically hear when you talk about Silicon Valley. To peruse the interviews, you can filter stories by tags like "Women," "LGBT," "Freelancer," "50+," "Executive Level," "Designer," "Trans/Genderqueer," and so on. The idea, Price told us, is that visitors to the website can choose how they interact with the data.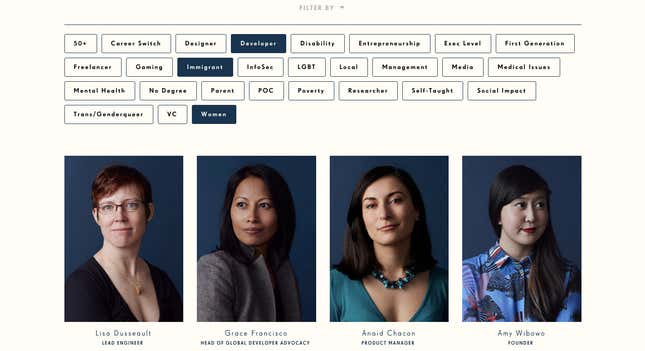 "The tags to me were a no-brainer," said Price. "If you just want to see the images and be affected by them, that's awesome. But the filters are a way to say, I want to learn about people who are like me, or I want to learn about people who are different from me." Price, who has worked in startups doing everything from content strategy to business development, added that she struggled to find people who were similar to her during her stint in tech.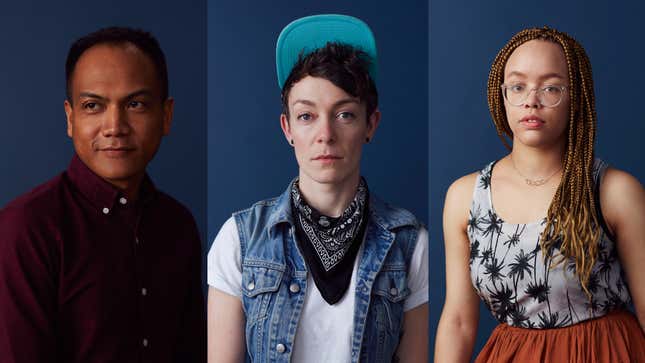 Hopefully, Price said, "Techies" will bring people together in real life. She said she's planning a get-together for everyone who was involved in the project. "As I was doing [this project], I thought, oh man, these people should all be friends. I want to be friends with them." Price added, "There's something super powerful about people meeting other people like them, especially for those who it doesn't happen to often."
When asked if she would take photos of that event, she laughed and said, "I'll probably take a selfie or something."
Price said she'll most likely continue adding photos and interviews to the collection through the end of 2016. She'll also add one interview from the project to the "Techies" Medium page every day—you can check them out here.