Perhaps it's only appropriate that a game so closely associated with elitism, wealth, and corporate glad-handing can be measured through private aviation. When the Masters golf tournament is held, private air travel to the area quadruples or more, according to my analysis of airport operations data from the Federal Aviation Administration.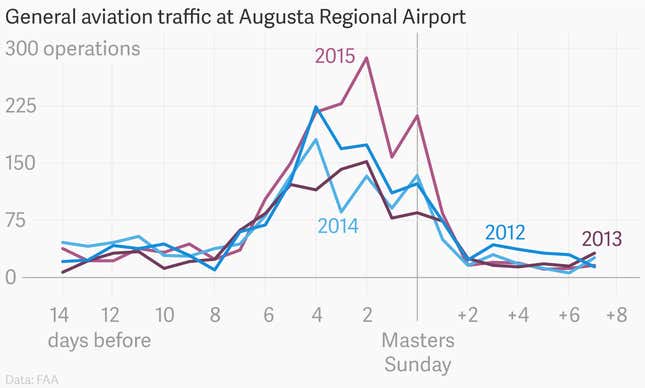 Held annually at the private Augusta National Golf Club in Augusta, Georgia, the Masters tournament is the first "major" of the professional golf season. Tickets are hard for the public to come by through official channels (the waiting list was last open in 2000). Patrons are either well-connected or willing to pay the thousands of dollars being asked for tickets by resellers. Perhaps the same type of person who flies private.
Private flight operations to Augusta Regional Airport tend to peak on the Wednesday or Friday of the week of the event, depending on the year. From 2012 to 2015, the week leading up to the event averaged 992 flight operations—the total number of take-offs and landings. During those same years the week prior averaged 238 operations. The week after the tournament has averaged 196 operations over the years.
The Masters, however is a bit of an anomaly ("a tradition like no other," perhaps) when it comes to US golf's majors and private aviation. Although some of the airports near other tournaments don't report their data to the FAA, the ones that do report show those tournaments don't have any discernible effect on private travel.