It took just a few short hours on Apr. 1 for Concord High School senior Brittany Stinson to go viral. Not because she staged an epic prank—though more than a few skeptics assumed that her sudden notoriety was an April Fool's Day fakeout—but for her very real, decidedly eccentric college applications essay that helped garner her admission to five Ivy League colleges and Stanford University.
The essay isn't your typical exercise in academic humblebragging or lofty save-the-world aspiration: It's a nostalgic, free-form musing on the joys of shopping at Costco with her mom. And while it shows a young essayist's tendency to overwrite (the Achilles heel of some of us older wordsmiths as well), it also provides insight into a mind that takes creative risks and thinks with expansive originality.
Coming as it does in the thick of a heated debate over "holistic" evaluation standards at elite colleges—admissions practices that extend beyond comparing grades and scores to include assessments of character and the impact of background and cultural identity on a student's academic journey—Stinson's essay has generated a whirling array of reactions. After being posted on Business Insider last week, her essay was read over a million times and shared many thousands more on social media.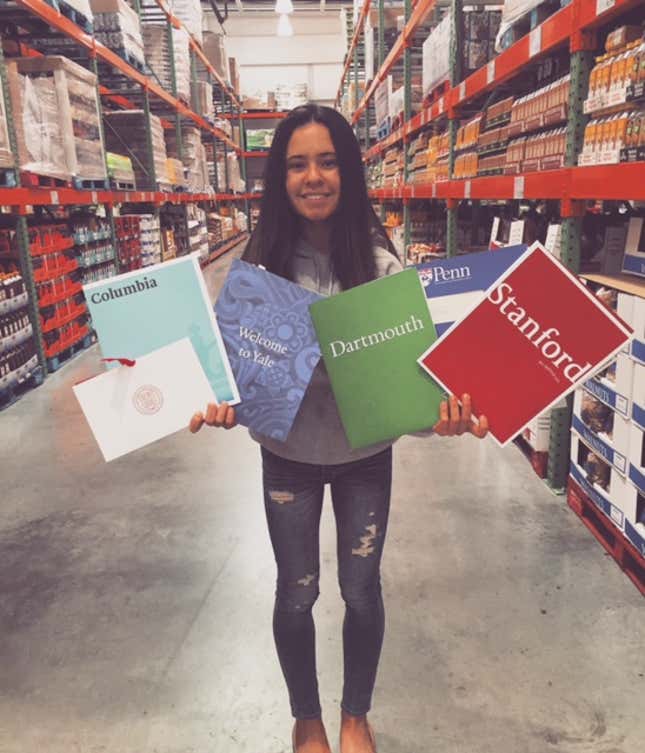 Many have found it charming and compelling, while others have attacked it as an example of the antics holistic admissions practices encourage among applicants hoping to stand out. The truth is, these two opinions aren't mutually exclusive. Stinson's SAT scores were in the high 90-something percentile (she wouldn't say exactly her score) and she's on track to graduate as her class's valedictorian. Meanwhile, she participated in highly competitive STEM programs, loaded up on AP classes, was a competitive cross-country runner, and an active participant in her local community.
"I'd definitely fit in with the nerds, although the kids at our school would probably categorize us as the overachievers, instead," Stinson says. "I'd like to study neuroscience in college. I volunteered in a research lab working on a genetics project at the University of Delaware. This was one of my favorite extracurriculars. I'm definitely pursuing research in college."
All of these factors mark her as a strong candidate for an elite university. Of course, tens of thousands of other applicants had similarly outstanding academic and extracurricular profiles this year. Stinson's essay, however, must have suggested to schools that she would bring with her a unique and interesting point of view.
Stinson acknowledges that her status as the daughter of a Brazilian immigrant mother who identifies as black, and a white US-born father, likely gave her admissions case a boost.
"I did declare my race and ethnicity on my applications. I think my background likely made my application stand out and impacted it positively," she says, noting that she is also a proponent of affirmative action policies. "Many who criticize affirmative action think that nearly all minority admitted students are somehow less qualified, undeserving, or that 'they took a spot' from a more deserving non-minority student. I think that affirmative action makes a well-qualified minority student stand out, but it will never cause an unqualified student to be admitted. Non-minorities are still benefiting from a system built in their favor."
At the same time, as clearly evidenced by Stinson, striving for diversity isn't just about redress for past and present inequities. It's also about bringing together a group of people with different ways of looking at the world—people who will spend four or more years side by side, learning from and being shaped by fresh and unique perspectives.
"College is a place where we learn just as much outside the classroom as we do inside," says Stinson. "By being exposed to people of different races, socioeconomic backgrounds, cultures, and religions, we can learn from their experiences. Diversity enriches an education."
While surprised that her essay has received so much attention, Stinson said she thinks it may have resonated because of the universality of its thesis.
"I've seen negative comments online from people who weren't familiar with the literary devices I was trying to use. I've seen people say that it's 'ridiculous' that my essay involved Costco, but I don't think they've even scratched the surface," she says. "They think that in order for an essay to have depth, it needs to involve tragedy, inspiration, or overcoming adversity. I don't know if many applicants usually explore the mundane in their essays—that seems to have taken a lot of people by surprise. I thought that this essay was a genuine representation of myself: I'm a sarcastic, dorky weirdo with a passion for science and I tried to demonstrate that I'm the kind of person who finds meaning in seemingly ordinary things."
Which might well be the perfect summary of the college experience: It's a chapter in life during which young people go off to find meaning in seemingly ordinary things—most particularly, in other people.
For universities, this means recruiting student bodies that represent the best and brightest of a world of worlds: Diversity of heritage and faith, of nationality and culture, of class and familial background, and yes, of race and ethnicity.
Evaluating students by scores and grades alone can't deliver on that promise. Only by understanding the person behind the scholarly achievements, and the context in which they were earned, can universities build a student body that reflects the kaleidoscopic array of ideas, traditions, and perspectives of our increasingly global society. Which means that those who attack holistic admissions fail to recognize that diversity isn't an irrelevant factor in the making of an elite college education—it is, as Stinson points out, the very thing that makes these schools worth attending.
Here is Stinson's essay, republished below with her permission:
Prompt 1: Some students have a background, identity, interest, or talent that is so meaningful they believe their application would be incomplete without it. If this sounds like you, then please share your story.

Managing to break free from my mother's grasp, I charged. With arms flailing and chubby legs fluttering beneath me, I was the ferocious two­ year old rampaging through Costco on a Saturday morning. My mother's eyes widened in horror as I jettisoned my churro; the cinnamon-­sugar rocket gracefully sliced its way through the air while I continued my spree. I sprinted through the aisles, looking up in awe at the massive bulk products that towered over me. Overcome with wonder, I wanted to touch and taste, to stick my head into industrial­ sized freezers, to explore every crevice. I was a conquistador, but rather than searching the land for El Dorado, I scoured aisles for free samples. Before inevitably being whisked away into a shopping cart, I scaled a mountain of plush toys and surveyed the expanse that lay before me: the kingdom of Costco.

Notorious for its oversized portions and dollar-­fifty hot dog combo, Costco is the apex of consumerism. From the days spent being toted around in a shopping cart to when I was finally tall enough to reach lofty sample trays, Costco has endured a steady presence throughout my life. As a veteran Costco shopper, I navigate the aisles of foodstuffs, thrusting the majority of my weight upon a generously filled shopping cart whose enormity juxtaposes my small frame. Over time, I've developed a habit of observing fellow patrons tote their carts piled with frozen burritos, cheese puffs, tubs of ice cream, and weight­-loss supplements. Perusing the aisles gave me time to ponder. Who needs three pounds of sour cream? Was cultured yogurt any more well­mannered than its uncultured counterpart? Costco gave birth to my unfettered curiosity.
While enjoying an obligatory hot dog, I did not find myself thinking about the "all beef" goodness that Costco boasted. I instead considered finitudes and infinitudes, unimagined uses for tubs of sour cream, the projectile motion of said tub when launched from an eighty foot shelf or maybe when pushed from a speedy cart by a scrawny seventeen year old. I contemplated the philosophical: If there exists a thirty-­three ounce jar of Nutella, do we really have free will? I experienced a harsh physics lesson while observing a shopper who had no evident familiarity of inertia's workings. With a cart filled to overflowing, she made her way towards the sloped exit, continuing to push and push while steadily losing control until the cart escaped her and went crashing into a concrete column, 52-inch plasma screen TV and all. Purchasing the yuletide hickory smoked ham inevitably led to a conversation between my father and me about Andrew Jackson's controversiality. There was no questioning Old Hickory's dedication; he was steadfast in his beliefs and pursuits—qualities I am compelled to admire, yet his morals were crooked. We both found the ham to be more likable–and tender.

I adopted my exploratory skills, fine-tuned by Costco, towards my intellectual endeavors. Just as I sampled buffalo­-chicken dip or chocolate truffles, I probed the realms of history, dance and biology, all in pursuit of the ideal cart–one overflowing with theoretical situations and notions both silly and serious. I sampled calculus, cross­-country running, scientific research, all of which are now household favorites. With cart in hand, I do what scares me; I absorb the warehouse that is the world. Whether it be through attempting aerial yoga, learning how to chart blackbody radiation using astronomical software, or dancing in front of hundreds of people, I am compelled to try any activity that interests me in the slightest.

My intense desire to know, to explore beyond the bounds of rational thought; this is what defines me. Costco fuels my insatiability and cultivates curiosity within me at a cellular level. Encoded to immerse myself in the unknown, I find it difficult to complacently accept the "what"; I want to hunt for the "whys" and dissect the "hows". In essence, I subsist on discovery.