As appearances go, the popular sneakers by French-Brazilian brand Veja are simple. Many take inspiration from your favorite classic court shoes, such as Adidas Stan Smiths, Keds Champions, or Nike Blazers. Others resemble stripped-down versions of high-end sneakers from pricey labels, such as Pierre Hardy or Visvim.
What sets Veja's shoes apart is how they're made. Veja sources materials in its cool, minimal sneakers directly from local producers in Brazil's Amazon rainforest, and stitches them together at a socially conscious factory in southern Brazil. It's expensive and difficult, and as a business model, it probably shouldn't work. But it does, and it has helped earn Veja celebrity fans and sales space at some of the top boutiques in the world, including Colette in Paris, Dover Street Market in London, and sneaker shop Kith in New York.
"The first years, we were doubling [sales] every year," says Sébastien Kopp, who founded the brand in 2005 with François-Ghislain Morillion. Today, the brand is sold at about 1,000 stores, according to Kopp, and sales are strong. In 2015, they increased around 30%, and in 2016, they're expected to grow up to 40%.
The sneakers usually cost between $100 and $150 per pair, which is a little high compared to the average pair of canvas, rubber-soled sneakers, but surprisingly inexpensive given how they're made. Veja uses all organic cotton, for which the company says it pays the producers as much as three times the market price to help them survive. It also experiments with odd ecological materials, such as leather made from the skin of tilapia, a fish commonly farmed for food. Those launched in 2014, and have been a big success with women in particular. 

Last year Veja created running sneakers with material made 100% from recycled plastic bottles. "For people that make ecological materials, Veja is a kind of laboratory," Kopp says. On average, the company's sneakers cost about five times as much as to make as their competitors' sneakers, according to Kopp. Veja also has no investors. It manages costs by not spending anything on advertising, and producing only what stores have committed to buy.
To hear Kopp talk about it, you have to marvel that the company ever made it. He and Morillion are French, and by age 25, they'd been all around the world studying sustainability for large companies that Kopp says never did much in the way of action. When the two decided to launch a sneaker company to put their ideas into practice, with only €5,000 (roughly $3,800 at the time) each, they had no experience in the business.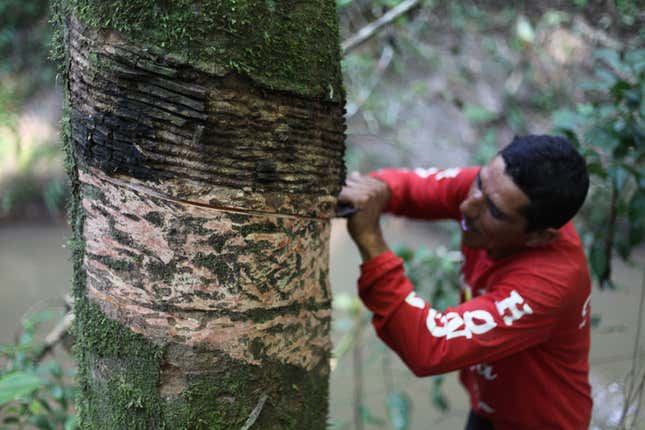 They headed to the Amazon, where they knew they could find all the resources they needed, barely able to speak Portuguese. "We went to the forest to meet the seringueiros [rubber tappers]. They said, 'You are crazy. What are you doing in the Amazon?'" Kopp recalls. "The relationship was quite intense." Kopp and Morillion made a sample sneaker, took it to a large fashion fair in Paris, and had buyers their first day, including famed department store Le Bon Marché.
In the decade since, they've learned to design sneakers through hands-on experience in the factory in Porto Alegre where their shoes are ethically made. They've expanded their base of organic cotton suppliers from 30 to 800, and still work with the same producers who sold them the raw materials for their first sneakers. To Kopp's amazement, a few years back, actress Marion Cotillard named Chanel, Dior, and Veja as her favorite brands in a magazine interview.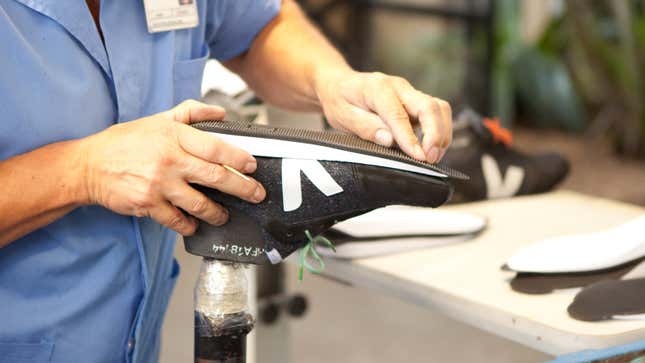 Kopp now speaks Portuguese, and says they do so much in Brazil, they're really a French-Brazilian brand. "What we want to do with Veja now is mostly transmit the way we work to inspire other projects," he says.
It's not the easiest model to follow, but as Veja proves, it's possible.