It's been 20 years of misery for the recorded music industry. Artists and record companies winced especially hard when it was revealed that revenue from album and track sales had fallen to a crippling new low in 2014.
Things are now finally—finally!—looking up. Per the International Federation of the Phonographic Industry's latest figures released today (April 12), global music revenue grew 3.2% in 2015, the first gain since 1998, reversing a decades-long trend of slip and stagnation. One main thing stands behind the refreshing surge in sales.
That would be streaming. All-you-can-eat subscription music services like Spotify, Apple Music, and Tidal pulled in 45% more revenue in 2015 than they did the year previous, according to the IFPI. Thanks to that massive growth, digital sales of recorded music overtook physical sales for the first time. It's a milestone proving that 1) the naysayers were wrong and streaming truly is here to stay, and 2) the future of music consumption is digital.
Yet on the whole, things are still not very bright. Recorded music was a $28.9 billion industry in 1999, at the peak of physical CDs. Now it's at half that—$15 billion.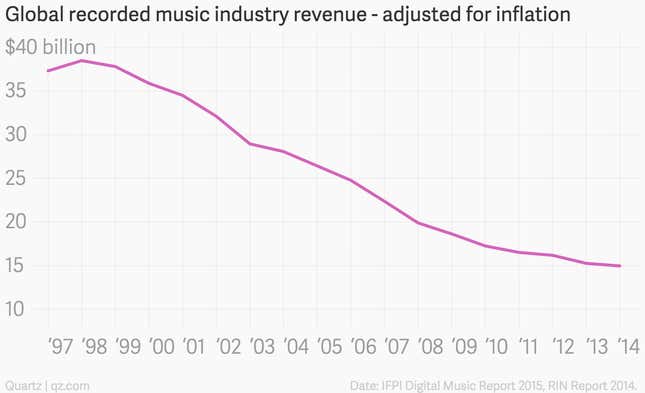 IFPI says free ad-supported services like YouTube may be holding the industry back, as they don't generate nearly enough money as premium streaming services do. Such platforms made $634 million from roughly 900 million listeners in 2015, compared to the latter reeling in $2 billion from 68 million paying subscribers. "There remains a gross mismatch between the consumption of music and revenues," chief executive Frances Moore said.
YouTube countered in a statement that "only about 20% of people are historically willing to pay for music," and that the service is "helping artists and labels monetize the remaining 80% that weren't previously monetized." In any case, there's no denying recorded music's migration to the online world. What remains to be seen is how much new money will come out of that.