Tiffany's fourth-quarter earnings beat estimates. But the luxury retailer still has an uphill climb to higher profitability. Net income was up just 1% from the prior year period. And that followed a miserable result last quarter, where profits fell 30% because of a higher-than-expected tax rate, elevated precious metal and diamond prices, and economic weakness. The US jewelry company also lowered its forecast after that awful quarter, prepping the markets for another bad one this time around. But it wasn't as bad as everyone feared.
The stock is up about 4% before the US markets open. And after bottoming out not long after those rotten third-quarter results were released, the shares have been doing alright. They're up about 18% so far in 2013.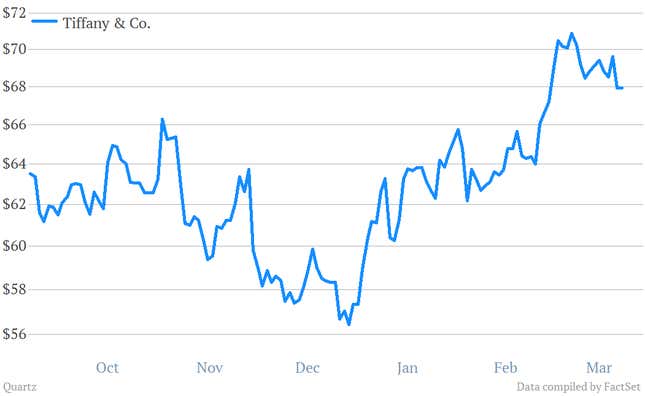 The company's Asia-Pacific sales were among the bright spots in the quarter. Sales rose 13% to $254 million, driven by growth in China. That will likely ease some concern about whether an attempt to tamp down on corruption in the People's Republic—which coincided with the recent leadership transition—will clip profits for luxury giants. It doesn't seem to be the case.
Luxury retail also may be rebounding outside of China. Yesterday, France's Hermes—a maker of high-end bags and scarves—reported strong results, which were boosted not only by Asia, but also the Americas where revenues rose 14%. "It's not just an Asian story," said Catherine Rolland, a luxury market analyst told the New York Times, of Hermes' results. "They had strong growth in all regions."