A 60-year-old Christian woman was caned yesterday (April 12) in Indonesia's Banda Aceh province—for breaking rules aimed at Muslims. It was the first time somebody from outside the Islamic faith was caned under the province's harsh sharia regulations.
In the same nation where beachgoers in Bali throw back beers and frolic in bikinis, the woman was whipped nearly 30 times with a rattan cane before a crowd of hundreds, for the crime of selling alcohol. The canings are performed in public with shaming in mind. While many onlookers find the punishments hard to watch, some shout insults at the victims and hold up their cameraphones to record and share the macabre spectacle.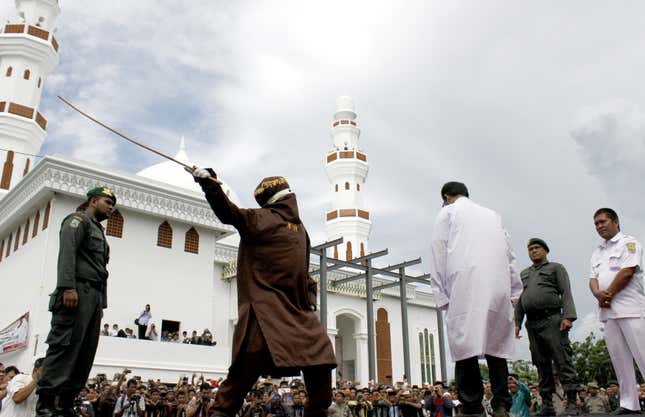 Until recently, sharia regulations applied only to the province's Muslim population. But under bylaws that went into effect late last year, now members of other religions can also be punished under the rules—although until yesterday it wasn't clear just how far that would go.
Banda Aceh is the only province in Indonesia allowed to implement Islamic law. For decades it tried to break free from the nation, and to help end the separatist movement Jakarta agreed to give the province a degree of autonomy—including the right to use sharia law. Since the two sides struck a peace deal in 2005, following the devastating tsunami that struck the region, the province has steadily implemented more sharia regulations.
When the new bylaws were passed late last year, many voiced concerns about how non-Muslims would be affected. Islamic leaders sought to allay their fears.
"The fact is that Muslims in Aceh do tolerate religious freedom and we can coexist without any problems," Teungku Faisal Ali, head of the provincial chapter of the influential Muslim organization Nahdlatul Ulama, told BenarNews at the time. "We don't want to raise the impression that Islamic law in Aceh infringes on the rights of non-Muslims… It doesn't [force] sharia law on non-Muslims because they are free to observe their own faiths and beliefs."
The Christian woman caned yesterday—and no doubt in considerable pain today—might beg to differ.