Netflix's 75 million subscribers watched 42.5 billion hours of programming last year. That's 1 hour and 33 minutes of streaming per day, per subscriber. Now, Netflix users, imagine you instead spent that hour and a half each day talking to friends, no matter where they happen to be.
Thanks to Netflix Party, you can do both—so long as you and your friends have Netflix accounts and don't live in China, Russia, North Korea, or Syria.
Netflix Party is a free, easy-to-use Google Chrome plug-in that allows you to sync your Netflix streaming with other users and simultaneously chat in a window built in to your video player.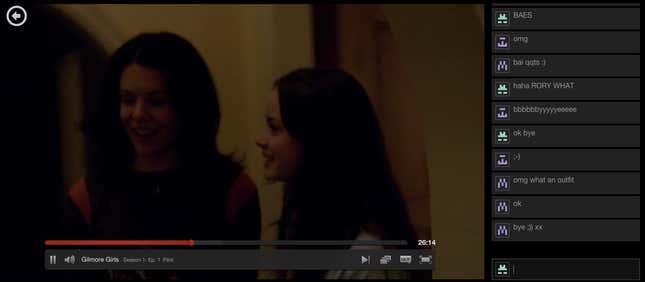 Netflix Party was created by Stephan Boyer, an MIT computer science graduate, who had the idea while trying to watch a movie online with a friend.
"I just wanted to make watching movies more social," he says. 
Boyer built the plug-in in one weekend in December 2015 and put it up on his website later that month for anyone to use.
"I had this original vision that someday we would organize these massive online Netflix parties, where hundreds of people would all be watching the same movie at the same time," he says. 
This hasn't happened yet. But over 43,000 people use Netflix Party each week. Boyer says the number of users jumped from a few hundred to the thousands after the founder of Product Hunt tweeted about the plug-in in March:
While Boyer can't see who is using it, he can track the number of people in each chat, which he says tends to be two.
"I think most people who use it are long-distance couples," he says. "I don't actually use it that much. But that's probably because I'm not in a long-distance relationship," he added. 
Netflix hasn't yet responded to a request for comment.