Facebook has made no secret about its plans to beam the internet from lasers, drones, and satellites to remote parts of the world. The company today revealed a pair of projects that should speed up connections for those who already have access.
On the second day of its F8 developer conference, Facebook announced a new initiative called Project ARIES—short for Antenna Radio Integration for Efficiency in Spectrum—that aims bring faster than currently available wireless connections to rural areas. Another project called Terragraph would bring high-speed internet to dense, urban areas. Facebook will pilot Terragraph later this year in downtown San Jose, California.
Facebook has been testing the use of antenna arrays to extend and speed up internet coverage for communities that rely on 2G connections, a two-decade-old technology that was originally intended to transfer text. It's noticeably slower than the 4G connection that's prevalent in the US, taking about eight seconds to load a typical web page over 2G compared with 0.1 seconds over 4G. Facebook has created a proof-of-concept base station (see photo above) equipped with 96 antennas that can support 24 devices over the same radio spectrum. The base has been able to achieve 71 bps/Hz of spectral efficiency and could demonstrate 100+ bps/Hz.
The current fast standard, LTE, tops out at 30 bps/Hz. With 90% of people living within 40 kilometers of a major city, according to Facebook, ARIES has the potential to extend networks from city centers to remote areas without building a lot of new, expensive infrastructure.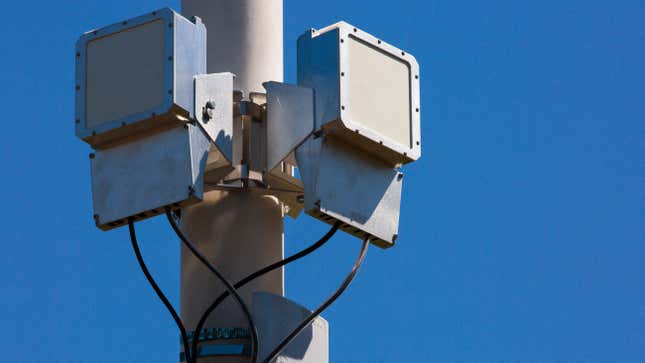 In urban areas, Facebook has Terragraph, which would speed up the internet in dense, congested areas by installing cheap WiGig antennas—currently found in smart devices and mobile phones—in lamp posts and other "street-level furniture." The antennas will be distributed every 200 to 250 meters and broadcast over the unlicensed 60 GHz spectrum, according to the company. Because the signal is directional, Facebook will be able to steer it around tall buildings, which can interfere with wireless connections. To flesh out the network, Facebook would install more antennas that can access Terragraph inside buildings.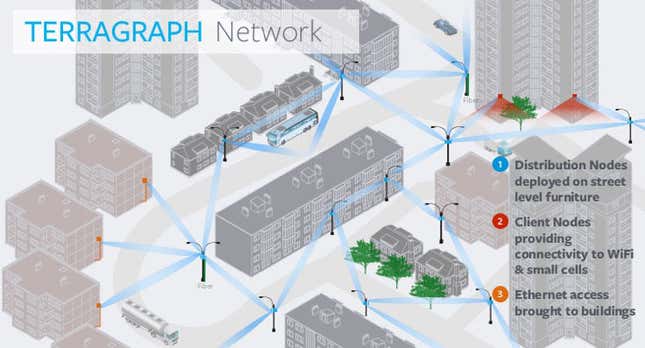 Facebook has tested Terragraph at its Menlo Park, California, campus, where it's achieved 1.05 Gbps speeds, equivalent to fiber, up to 250 meters away, and the company believes Terragraph could deliver speeds of 12.8 Gbps in the future. In San Jose, the first city for its deployment, the initial focus is to deploy fast and free internet to outdoor areas before bringing it indoors.