Chariot for Women has yet to launch, but it's already enjoying a wild ride. Practically overnight, the women-only ride-hailing service has become a global sensation.
The Chariot origin story goes like this: Boston-area resident Michael Pelletz had been driving for Uber for nine months when, one night in February, he picked up a 20-something man who was "incoherently babbling." Pelletz flagged down a nearby police officer for help. He also wondered how he would have handled the situation if he were a woman. He resolved to create an Uber equivalent that would put the safety of female passengers and drivers first—by taking men off the platform.
Uber has drawn criticism for its handling of rape and sexual assault complaints. Its background checks and safety protocols were also scrutinized recently after one of its drivers went on a shooting spree in Kalamazoo, Michigan, that left six dead. Chariot promises to do better, but is already headed toward its own hurdles. The company could likely be deemed illegal both for hiring only female drivers and for refusing to pick up male passengers. (It will take children of both genders, but only up to age 13.)
Pelletz says Chariot's rider and driver apps have been approved by Apple and for Android, though they aren't currently available for download. It's also unclear how much funding Chariot has, and Pelletz is declining to say.
Still, that hasn't put a damper on the excitement. Chariot is being branded the "Uber for Women." It has inspired dozens of articles, and even more hot takes.
Quartz spoke with Pelletz by phone on Thursday (April 14) about his media tour, his vision for Chariot, and the company's website design. Our conversation has been edited and condensed for clarity.
Quartz: This whole thing has been quite the whirlwind.
Pelletz: It's been so humbling and so incredible. When you do something right, everything falls into place. I got my investor 10 minutes after that gentleman [the "incoherently babbling" 20-something] was taken out of the back of my car. He called me, and within five minutes of me telling him the story, he's like, I'm going to invest in you, you will not have to worry about money.[1] And from that point, everything just kept falling. I kept meeting the right people, even if it was in the back of my Uber. So it's been unbelievable. It's resonating worldwide because, unfortunately, there's such a need for this.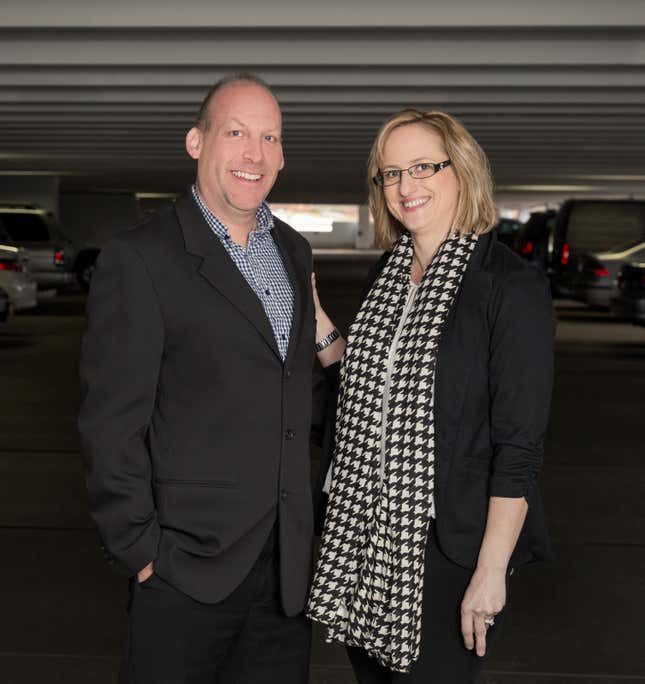 You've attracted an incredible media spotlight. Why do you think Chariot is resonating with people?
What we're doing for women as a company has not been done in many, many, many decades.[2] I did not know this—I started this company just because I was afraid for the safety of my children and my wife. But over the years there have been many advocacy groups about, like, sexual abuse and domestic violence and all this, but they never really have traction. They come in and they go away. And so it hasn't really helped that much. So for some reason, when people see what I'm doing, they're—basically, our company is now becoming a voice for women worldwide. Being a normal guy from just a regular little town, that really humbles me. We're getting 250,000 hits on our website a day now.
Really?
When it comes to ride-share, the hardest part is getting drivers. That's not even an issue for us. We've signed up like 9,000 women in the last three days. We have tons and tons of women from all different ages, all different walks of life signing up. Because in almost every woman's mind, there's a fear of safety and security. They all want to be a part of something that's actually going to help take that away, because that's so empowering to women.
I noticed the aesthetic of your website is very "female empowerment."
My whole idea when I started this was I wanted 1,000 drivers by April 19. So I just went on GoDaddy and just did my own website. I had a nice girl who did it for me.[3] You'll be seeing that's going to change completely because now I have a professional team that will do everything for me. So right now I see some complaints and stuff from women, saying hey, I love it but why does it have to be pink? We're definitely going to be very women friendly. Everything doesn't have to be pink.
So when you think about women friendly, and female empowerment—I mean, I'm sure people have said this to you, but you are a man. How do you get that perspective?
You know what? Nobody's said that to me. I mean, my wife is the president, so we are a woman-owned company. The truth of the matter is—and this is funny, my wife says it's so ironic—when I was 11 years old, Pretty Woman came out. The movie? And, for some reason, from that point on, I just always saw myself like Richard Gere. I just love and cherish and respect women so much that this to me is just natural. When I figured this whole business out in 10 minutes, it was so natural. I'm very in touch with my feelings and I'm very in touch with my wife's feelings, my daughters'. So, I don't know. I was meant to do this.
I saw on your site you're running a campaign to rename the company?
Chariot for Women was my wife's and [my] name. I've been getting thousands and thousands of calls from men and women across the country, the world, thanking me for doing this. I mean, with tears in their eyes. It's just unbelievable. So I talked to my wife and I said, you know, what I'm realizing is this is not our company. It's the world's company. So I said, let's let them rename us. On April 19, we're going to have a brand new name suggested by many of the people across the world. We've had probably 40,000 submissions in the last week and a half.
And so are you getting donations? I know you don't want to talk about investing, but are people calling and saying, I want to donate to you?
Let's just say we have hundreds of investors who really want to invest in us—probably even more than that. But I'm not making any of those decisions. I have a wonderful team that is vetting all of them. I have to make sure that they see the same vision as I do, and they're not just trying to do it to get money. Because we will be huge. We are going to be larger than Uber, because the stuff they forgot about we're going to do.
Going to the Uber comparison, you say your drivers are going to earn at least $25 an hour?
Yes.
And how are you going to make that work?
Well, first of all, as an Uber driver you only get paid once a week. Chariot for Women, as soon as you drop that person off, you get paid immediately. So that's something really different and unique that we're doing. Uber takes between 27% and 33% of every fare.[4] What we're doing for our women is, we are only taking 25%, where 2% of that goes to charity. So, basically, our company is taking 23%, but it's only for the first $100 that that driver makes in a day. Anything over that $100 we take nothing and they get 98% of their entire fare. So that's a huge pay raise after an hour or two of just driving around. That's how we can say that they should make a minimum of $25 an hour.
How many drivers do you have signed up now?
Well, none are approved yet because we have a really thorough background check, but we've signed up I think 9,000 in the last three days. From Alaska to Hawaii to Florida to Boston. It's coming in the hundreds by the hour.
The initial plan was to launch in Boston on April 19, but now that you have all this interest everywhere, what's the goal?
You just said it right there. We are going to take it a little slow because we need to make sure that our technology is second-to-none. Because it's so important to people out there, to the women out there and their children, that right now we have to make sure that our servers can handle the demand. I mean, I never thought 9,000 would come … for a few years! I have the top technology guru in the world basically, who is doing our whole technology for us.[5] So we're going to make sure that we have all the call centers, everything is all ready before we go in a few months. That's our new timeline.
So no longer April 19 in Boston.
No, April 19 is just the renaming. And the prelaunch party we're having.
[1]Pelletz declined to name his investor, or how much was contributed. He did say that the investor is a plumber who used to work with his father's company.
[2]A similar by-women, for-women service called SheRides launched in New York City in October 2014.
[3]GoDaddy is a web hosting company known for its Super Bowl ads featuring scantily clad women.
[4]Uber says its commissions in Boston range from 20% to 25%.
[5]Pelletz declined to provide his name.