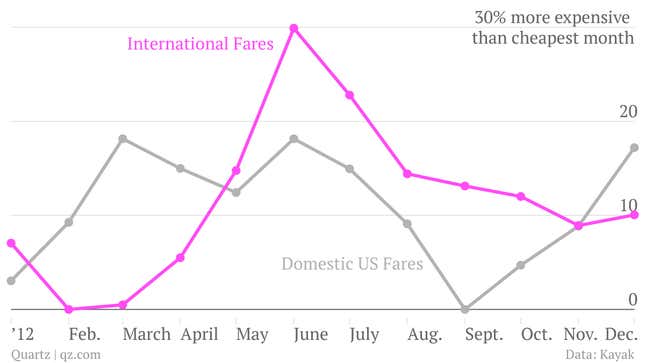 Americans seeking to take a trip to the "City of Light" this spring with visions of enjoying a morning café au lait and croissant outside a Parisan bistro must confront an unfortunate truth: Getting to Paris in warm weather may cost $280 more per round-trip ticket than during other seasons, according to Kayak, the travel booking website, which collected price information from more than 1 billion US search queries in 2012.
US travelers desiring to spend a warm Sunday afternoon on the island of La Grande Jatte in June rather than a cold February day in the Musee d'Orsay viewing the study for Un dimanche après-midi à l'île de la Grande Jatte may pay a 30% premium for the flight to get there and back.
Kayak's data show prices of international flights originating from the United States peak in June and bottom-out in February.
Domestically, the cheapest fares come in fall. Tickets to US destinations are over 17% more expensive in March, June, and December, than in September. But since domestic flights are cheaper, anyway, traveling at peak times only adds an average of $54 to the round trip fare.

Now that winter is over, so might be cheaper fares, if current trends continue. The cost of a flight from the US to Paris increased 25% in 2012 from the previous year, making the trip $263 more expensive.
Fares to every city in Kayak's data rose in price from 2011 to 2012, with only one exception: Toronto. Flights to the Canadian city were 3% cheaper last year than the year before.
Tickets prices for travel to Hong Kong and Beijing increased in lockstep. In 2011, the difference in price between the flights advertised on Kayak was $26, with Hong Kong slightly more expensive on average. In 2012, both fares increased 25%, resulting again in a difference of $26.
The price of flights to Europe became significantly more expensive in 2012, as well. In 2011 the average price of a ticket to Paris was $184 cheaper than the average ticket to Tel Aviv. However, prices to fly to Israel only rose 4% in 2012, resulting in Paris-bound travelers paying $25 more than those headed to Tel Aviv. Flights to Athens, Frankfurt, and Rome also exceeded the price of a flight to Tel Aviv.
Flights to Sydney remained the most expensive flight on Kayak in 2012. In 2011, the flight cost $1,993. Last year the fare rose 28% to $2,555.