Angela Merkel has approved the prosecution of a little-known comedian who read a crude poem about the Turkish president Recep Tayyip Erdogan on TV last month.
Jan Böhmermann has been accused of violating an obscure German law that forbids insulting a foreign head of state, punishable by up to three years in prison. Turkey's government has demanded that Germany take action, but the court couldn't move forward without the approval of Merkel's government.
"Prosecutors and courts, not the government, should have the last word," the chancellor said at a press conference in Berlin today. She added that granting permission for a prosecution to go ahead didn't mean pre-judging the defendant, nor was it "a premature decision about the boundaries of freedom of art, the press, or opinion."
The calls for the chancellor to take a stand for freedom of speech against the overbearing Turkish president have been growing louder all week. That put Merkel in a tough spot between Erdogan, who she needs as an ally in the ongoing European migrant crisis, and Germany's traditions of a proudly unfettered press.
After the decision was announced, politicians and voters weighed in on Twitter to voice their disgust.
"An unbearable kowtow: Merkel is bowing down before the despot Erdogan and sacrificing press freedom in Germany," said Left Party opposition leader Sahra Wagenknecht.
"I think this decision is wrong. Prosecuting satire under lese-majeste does not belong in a modern democracy," Social Democrat parliamentary leader Thomas Oppermann said.
Thousands of people on Twitter in Germany are airing their disappointment and anger at Merkel under the "not my chancellor" hashtag. One cartoon depicted her offering the head of Jan Böhmermann to Erdogan.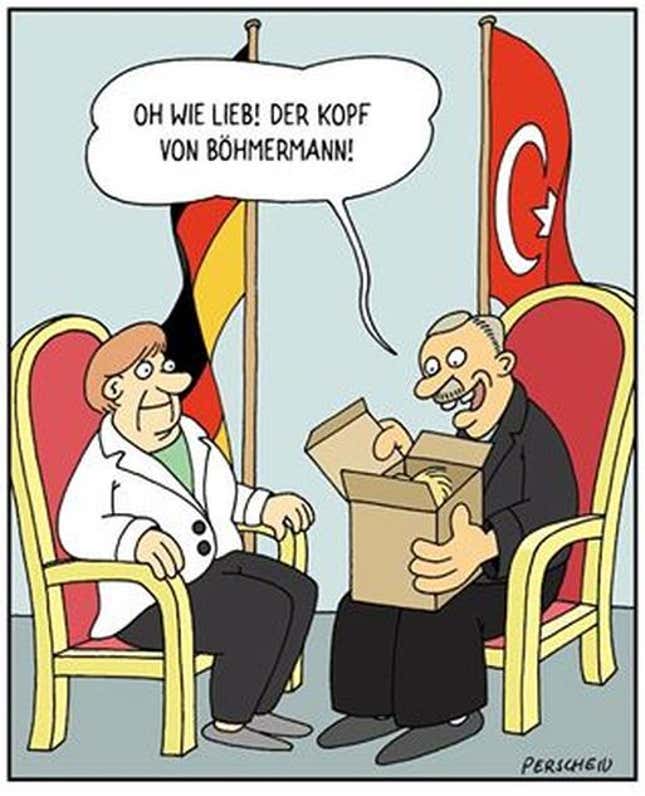 Another showed her denying she had seen Böhmermann.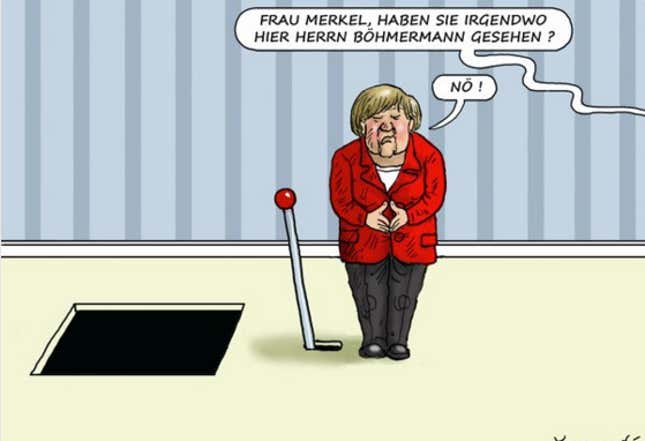 The so-called lese-majeste section in Germany's criminal code is set to be abolished by 2018—but that's not much use to Jan Böhmermann.