This January, drivers on UberPeople.net, a popular online ride-hailing forum, noticed something odd: rates on Prime Time, Lyft's version of surge pricing, were rising above 200%.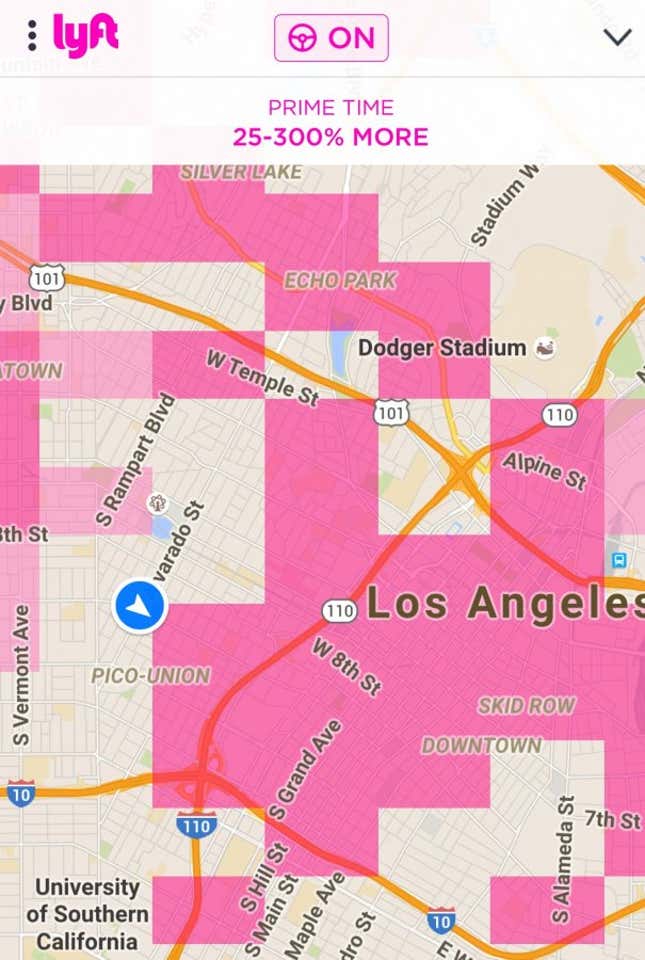 "Lyft has capped primetime rates at 200% from what I remember, but last night LA hit 250%," one member wrote.
Soon more drivers chimed in. They said Prime Time had recently reached 300% in San Diego and San Francisco. Another uploaded a screenshot that showed Prime Time hitting 350% in Los Angeles. Last week, a Lyft driver in the Austin, Texas, area posted an image to Facebook that showed Prime Time as high as 400%.
Lyft defines Prime Time as the increase over a base fare rather than a multiplier. For example, Prime Time of 200% is equivalent to surge pricing of 3X on Uber.
When it comes to getting a ride on-demand, there are very few differences between Uber's service and Lyft's. But for a long time, surge pricing was one of them. While Uber's approach to surge is famously unapologetic—so much so that it has been accused of price gouging—Lyft has emphasized that Prime Time was capped at 200% (or 3X).
In late January, Lyft quietly ended that policy. The company says it emailed drivers to notify them that it was eliminating the 200% cap on Prime Time. In February, Lyft co-founder John Zimmer briefly noted in a blog post for drivers that the cap had been removed. Riders were not informed of the change.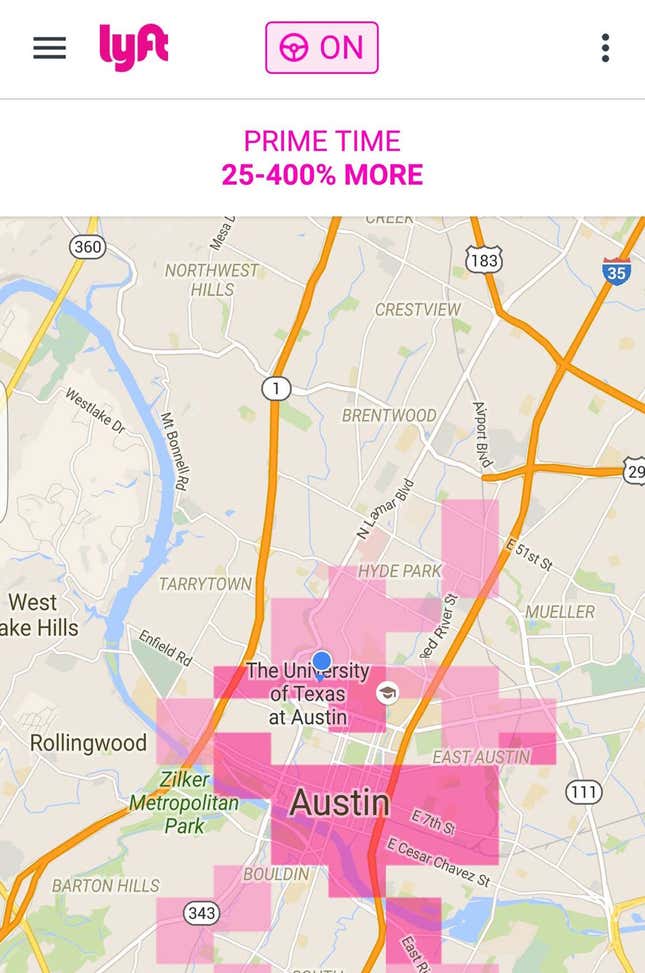 Lyft says it decided to remove its longstanding Prime Time cap because doing so would help it get more drivers on the road, particularly during times of high demand.
Another way to read this is that Lyft was forced to ratchet up Prime Time to compete with Uber. While there isn't good data on it, at least anecdotally, most drivers who work for Lyft also are on Uber. The result is that in any given market, and particularly when service is busy, Uber and Lyft are constantly competing to have drivers accept their trips. If Uber is offering surge pricing of 4X but Lyft's Prime Time tops out at 200% (remember, the same as 3X), chances are that drivers will flock to Uber's platform. Sure, riders will prefer the cheaper fares—but if Lyft doesn't have enough drivers to keep wait times low, it starts not to matter.
Lyft raised $1 billion in January and is spending heavily in the US to steal market share from Uber. According to a recent report in Bloomberg, Lyft has "promised investors to cap its losses at no more than $50 million a month." The money is going to vouchers for riders, big referral bonuses for drivers, and billboards from Las Vegas to Times Square. Lyft claims the strategy is working, while Uber says it has lost only a few percentage points' worth of ridership.
In late January, Lyft also cut fares in more than 30 US cities to keep pace with similar cuts by Uber.