In 2013, China announced a plan to curb air pollution in the notoriously smoggy Beijing-Tianjin-Hebei region, home to many old factories. Last year it even closed factories near the new Disneyland in Shanghai, hoping for more cheerful skies around the park.
Such measures have begun to work, but with one caveat: They have not been much applied to the central and western provinces, where pollution levels have actually increased.
In the first quarter of this year, levels of PM2.5—the smallest, most dangerous air pollution particles—fell by an average of 8.8% from a year ago in 362 cities, according to a Greenpeace study released today (April 20). Beijing and Shanghai saw average PM2.5 levels fall 27% and 12%, respectively.
Of the 91 cities with rising average PM2.5 levels, 69 were in central and western parts of the country. And those 69 witnessed an average jump of 20% in PM2.5 levels.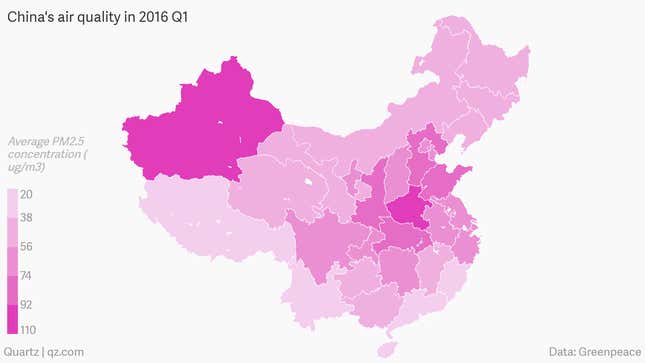 The five cities with the highest levels of PM2.5 are all located in the autonomous region Xinjiang, a predominantly Muslim area in the nation's far west. Xinjiang also recorded the worst air quality in the first quarter among all the 31 Chinese provinces, with a 46% rise of average PM2.5 concentration year-over-year. Expanded industrial activity, particularly around the capital Urumqi, is partly responsible for the surge, Greenpeace explains.
Air quality in central and western China is likely to deteriorate further due to increased investment in coal-fired power plants in these regions. Last year 75% of China's new permits for such plants, with a total capacity of 128 gigawatts, were for locations in central and western regions, according to Greenpeace.
"The findings show that the government's measures to curb air pollution in eastern China's key regions work," said Greenpeace climate and energy campaigner Dong Liansai in a statement. "But now is not the time to selectively implement these policies. They must be introduced across the country to ensure clean air for all."
Even in the cases of decreasing pollution, some context is required. In the Greenpeace study, 86% of the ranked cities failed to meet the national PM2.5 level standard of 35 micrograms per cubic meter air (ug/m3). And tellingly, none of the ranked cities meets the World Health Organization standard of 10 ug/m3.