Japan's convenience stores have mobilized to help victims of the Kumamoto earthquakes.
Lawson, Seven-Eleven Holdings, Family Mart Co., and other companies are playing a key role in supporting the tens of thousands of people who have lost their homes after two strong earthquakes shook Japan's Kumamoto prefecture on April 14 and 16. Aftershocks have continued rocking the region almost non-stop.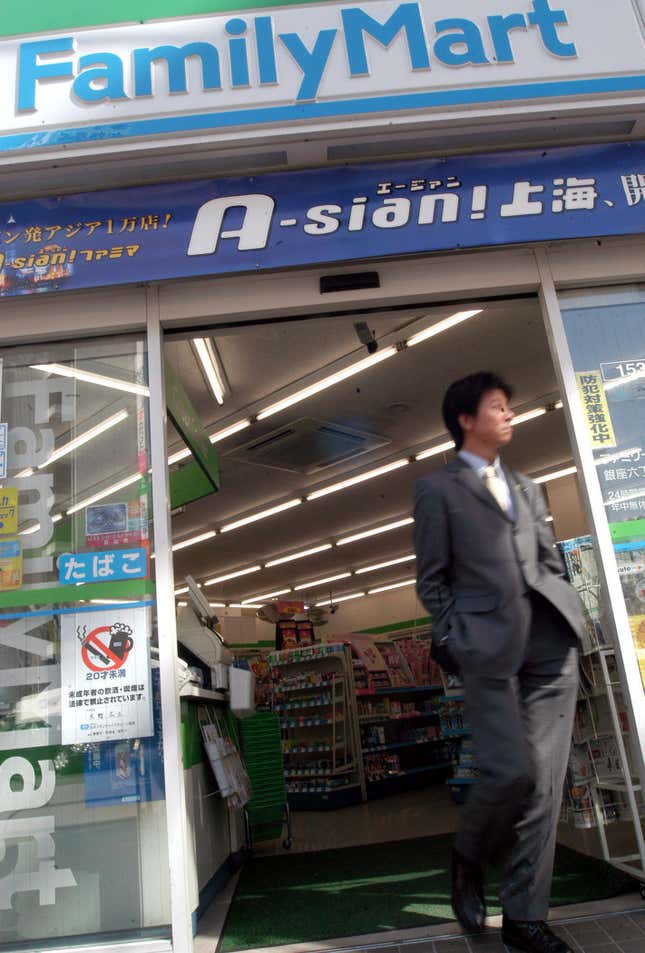 Even while thousands of Kumamoto residents remain without natural gas, electricity, or even housing, nearly all of the prefecture's 593 convenience stores—konbini in Japanese—are back up and sending emergency provisions, according to government data on the quake relief.
Seven-Eleven said its nearly 19,000 stores throughout the country were sending supplies to its Kumamoto branches. To date the shipments have included 700 packs of diapers, 1,600 cartons of baby wipes, 13,000 boxes of feminine hygiene products, and 4,000 rice balls. In what is a rarity in Japan, it has also started offering free wifi at all of its locations.
Lawson is publishing flight information on its website, tracking food delivered to the disaster-struck region. It used one Japan Airlines flight on April 20 to deliver 6,000 packets of jam-filled buns and margarine from Tokyo's Haneda airport.  A second flight brought 12,000 buns full of red bean paste.
Family Mart, which has 163 stores in the prefecture, said its latest delivery (pdf), sent on April 20, included 10,000 musubi rice balls, 25,000 packs of bread, and 30,000 bottles of tea.
In all, the konbini in the quake zone offered 770,000 meals on April 20 to residents still reeling from the disaster, according to government statistics. That was 10% higher than the day before and is expected keep growing.
The actions illustrate the importance of the stores that dot many corners of the country. Americans may think of convenience stores as a place to buy cigarettes, overpriced milk, and over-salted refined pork products. In Japan, they're more akin to neighborhood centers, selling bento box lunches, offering bill-pay services, and acting as mail centers where customers can pick up packages ordered from Amazon. Stores in Osaka have also trained employees on how to deal with dementia-stricken elders who may wander into the stores.
"In addition to their commercial functions, [konbinis] have begun to take on social functions, as well," tech company NEC wrote in a 2014 study on the stores (pdf). "They often serve as a hub for community cooperation to prevent crime or as support providers in the event of a disaster."
You can follow Ben on Twitter at @bjlefebvre.