When money wants to run, it can be awful tough to stop.
Just ask the hedge funds, which are seeing outflows from as a result of their piddling performance lately.
But the billions being pulled from hedge funds are peanuts compared to the massive outflow of cash from China over the last year.
Recently released data from the Institute of International Finance shows expected net outflows from China of roughly $530 billion in 2016, down a bit from the titanic $675 billion that zipped out last year.
Some $175 billion in net capital left China during the first three months of 2016, the IIF reports. That's slightly more than the $165 billion that poured out of China in the first three months of 2015, but few are expecting a repeat of surging outflows that followed China's surprise decision to let the value of its currency drop in August 2015.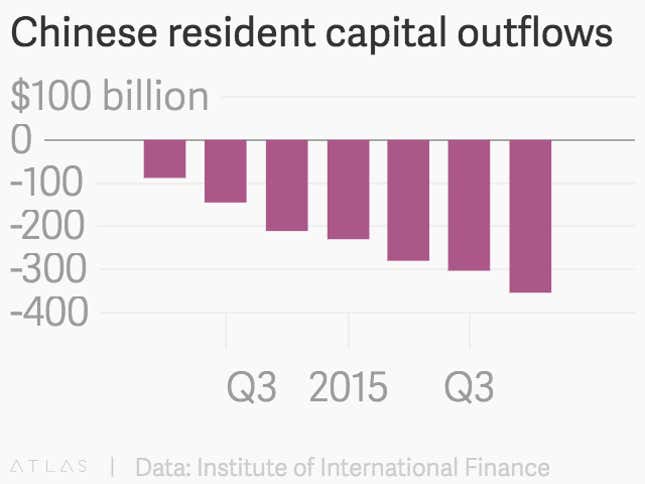 That's not just foreign money pulling out. IIF analysts forecast that the outflow of cash from China related to foreign investors will ease somewhat this year. "We expect a modest recovery in foreign inflows to China but continued substantial resident outflows," they wrote. The rush of capital out of China is one of the large drivers in the riptide of cash flowing out of emerging markets over the last few years.
China has taken steps to limit the outfl0w of cash, which has occurred under a range of innovative attempts to circumvent existing capital controls. China's top credit card network, state-owned China UnionPay, recently capped at roughly $5,000 per transaction the amount of insurance products mainland Chinese can buy from Hong Kong. (Such insurance purchases had been a popular means of evading Chinese prohibitions on getting money out of the country.) Late last year, Chinese regulators decreed that banks should also apply increased scrutiny to large foreign exchange transactions, to ensure they weren't designed to evade capital controls.
Still, the outflows continue. March official data on goods trade from China showed a massive, 117% year-on-year increase in imports into mainland China from Hong Kong. Meanwhile, the numbers from the Hong Kong's statistical geeks told a completely different story. They reported today that exports from Hong Kong to the mainland actually declined 11% year-on-year. Both of these things cannot be true.
The only way to make sense of it is to assume that mainland Chinese are "paying" for imports that don't actually exist, as a backdoor way to get their money out of China and into Hong Kong. We saw similar examples of the "phony invoicing" phenomenon a couple years back, when ridiculously large "exports" from China to Hong Kong, suggested that it was a way people were sneaking cash into the country.
Now the opposite is happening, which suggests that even amid signs of stabilization in China, if left to its own device, the natural direction for money to flow is out of the People's Republic. And that means that the persistent pressure on the Chinese currency should be set to continue for the foreseeable future.