Is it time to start worrying about a new housing bubble? There's been plenty of commentary about investors snapping up houses in the US. The Wall Street Journal recently reported:
Currently, cash buyers—largely investors—make up about 32% of sales nationally, according to the National Association of Realtors. In Southern California, a favorite target for investors, absentee buyers accounted for 31.4% of purchases last month, up from an average of less than 17% between 2000 and 2010, according to DataQuick MDA, a real-estate research firm.
And all that investor money has turned the trajectory of US housing prices upside down over the last few months. House prices are gathering steam. The latest 20-city reading from the S&P/Case-Shiller home price indexes showed a 8.1% year-over-year increase.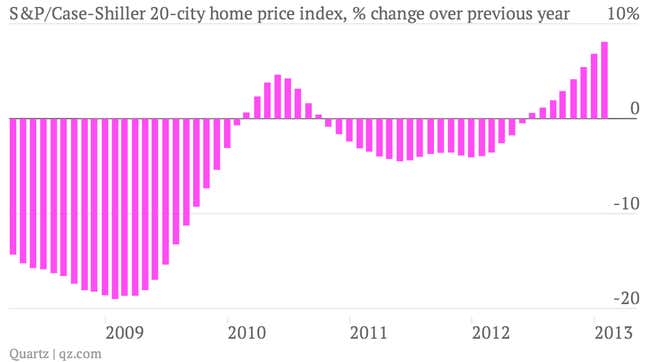 This is a good thing for the US economy. The more house prices appreciate, the more people emerge from being underwater on their homes—owing more than they are worth. That increases the likelihood that they'll be able to refinance to take advantage of lower rates. And lower monthly payments for housing will free up more money for consumers to spend elsewhere. Also, there are some indications that consumers feel more comfortable about spending when prices of their assets—such as their homes and stock portfolios—are rising.
The rise in home prices could help explain why US consumers have kept spending in recent months, despite the increase in payroll taxes that went into effect in January.