In the wake of the deaths of several cherished celebrities, a photograph of a crouched sculpture shared widely on social media has become symbolic of grieving fans' heavy hearts.
"Rising Cairn" a 4,000 lb stone sculpture is the work of artist Celeste Roberge. Roberge says that she didn't necessarily intend to depict anguish in the piece but doesn't mind the alternative reading of her work. "I imagine her in the process of rising up from her crouching position…when she is ready," she explains. "I am not disturbed by individual interpretations of the sculpture because I think it is really wonderful for people to connect with works of art in whatever way is meaningful to them."
Roberge became intrigued with cairns (piles of stones hikers used to mark trails) after learning about human-shaped inuksuit sculptures created by the Inuit people in the Arctic region. For each site-specific sculpture, Roberge finds each stone herself and places them within the steel cage that holds its shape. "I was hoping the feeling of weight, would [symbolically] be carried in the sculpture itself," said Roberge in a video by the Portland Museum of Art.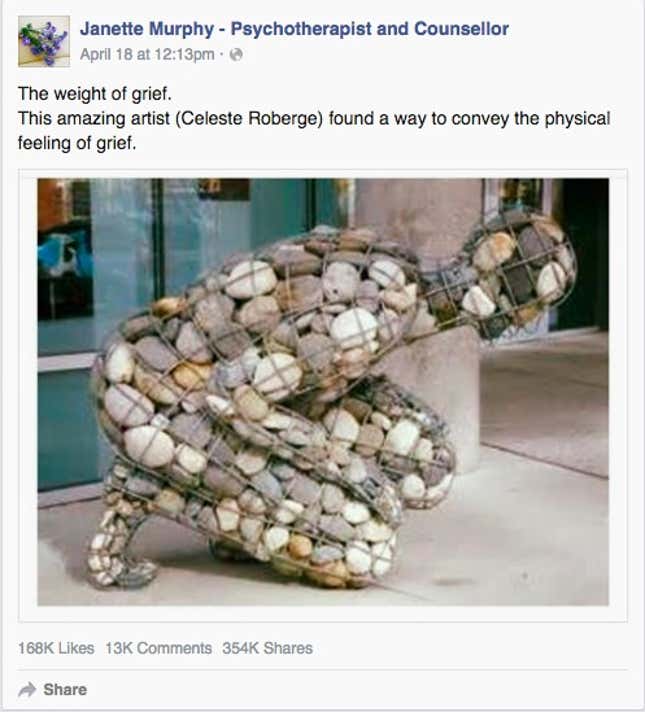 A professor at the University of Florida, Roberge suggests that art lovers ought to consider the artist's original intent too. "If the image has helped some people to find a way of expressing their unspoken feelings, then I think that is beneficial. At the same time, I think viewers should give some thought to the artist's intentions because the meaning of a work of art can be very complex and multi-layered." She says her cairn sculptures are tribute to the rugged North Atlantic landscape.
Roberge created the first Rising Cairn in the late 1980s when she was a fellow at Harvard University and creates them on commission today. "Each time, I am surprised that the process is still interesting to me," she says. "I was just installing a cairn in San Francisco last month and I noted that they are never the same: different place, different light, different stones, different siting in the landscape, different energy."