Here we are again, fewer than 100 days away from another Olympic games, which means it's about the time countries begin revealing their teams' ceremonial uniforms. Australia, South Korea, the US, and a few others have already done so. If those unveilings, and decades of history, are any indication, we're in for another round of dull, unmemorable outfits that have no correlation whatsoever with the dynamism of the world's greatest athletes.
Given the current state of fashion, it doesn't make a lot of sense. Fashion design right now is infatuated with blurring the lines between sport and leisure. The trend is so popular that Merriam-Webster made "athleisure" an official part of the dictionary last year. Meanwhile, the Olympic opening and closing ceremonies have become the world's most watched runway, pushing countries to enlist high-profile talents such as Ralph Lauren, Stella McCartney, and others to create their team looks.
Why, then, are most countries still outfitting athletes in stuffy blazers and semi-formal attire that looks designed for nothing more active than sipping a mint julep while watching a regatta race?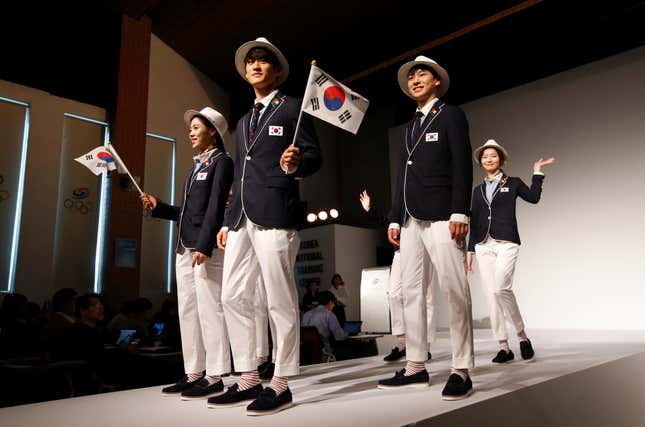 South Korea's look paired navy blazers trimmed in white with contrast-collar button-ups and white pants. It wasn't bad. The colors and proportions worked nicely. But the athletes appeared more prepared for brunch at a country club than a competition.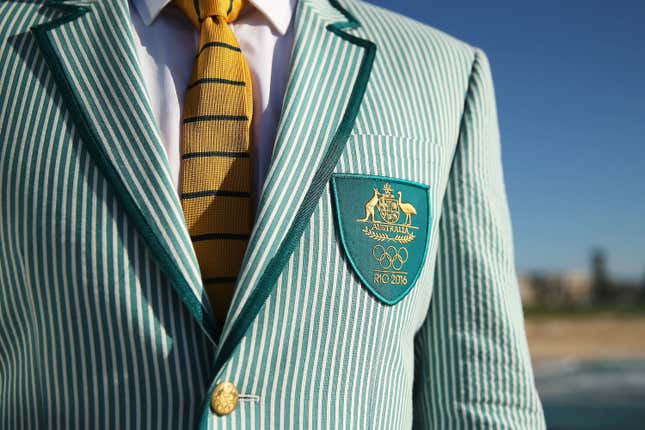 That was better than Australia's opening ceremony look: striped white-and-green blazers with big gold buttons and dark green piping, coupled with white skirts or shorts, and neckerchiefs or ties, depending on whether the athlete was a woman or man. It was cloyingly preppy in a 1980s sort of way, and made the Aussies resemble a crew on a plane or boat. "Standard issue yacht crew," GQ called it.
Both felt old-fashioned and disconnected from style today. GQ reported that Australia's uniforms were based on those from the 1924 Paris Olympics, but why offer a retrograde image of your team rather than a look of the future? The most innovative thing about South Korea's uniforms, meanwhile, was that they were infused with mosquito-repellant to keep Zika-carrying bugs away in Brazil.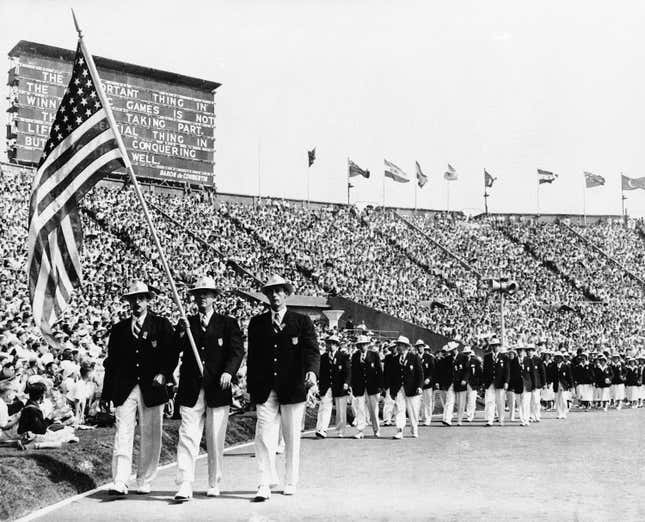 Team USA didn't fare better with Polo Ralph Lauren's closing ceremony look of red, white, and blue button-ups and white shorts, belted with ties. It just replicated what the Polo line has been doing for decades. Lacoste had more success with its minimal and functional looks for the French squad.
So far the Canadian kit, designed by brothers Dan and Dean Caten of fashion line Dsquared2 and produced by Hudson's Bay, has been the most modern. They showed red blazers in windbreaker fabric along with slim, elongated white t-shirts and tapered black sweatpants. The blazer is a bit overwrought, but the look is polished, sporty, and something you could imagine athletes actually wanting to wear. It also looks like fashion today.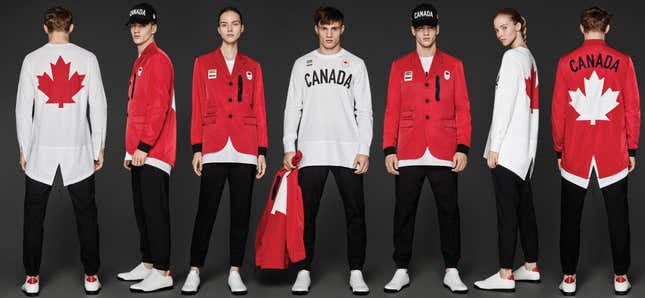 The designers creating these clothes don't have a simple task. They have to capture national identity in an outfit, and the Olympic Committee, which has a lot of restrictions, has to approve their work. It's no surprise they err on the conservative side. Clothes that are too informal wouldn't do to represent an entire country at such a prestigious event.
But the clothes could also better represent the people wearing them. These are the world's best athletes. Why not dress them like it?