Tess Asplund, a 42-year-old Afro-Swedish woman from Stockholm, became a global hero overnight on May 1, after doing something radical: She stood up, alone, against injustice.
Asplund, who, the Guardian reports, is unemployed but active in the group Afrophobia Focus was in Borlänge, Sweden, when she witnessed the march of 300 members of the Nordic Resistance Movement (NRM), a Swedish neo-Nazi organization. Offended by the sight, she took on the march, and stood in front its leaders, alone, with her fist up in the air.
Her bravery was captured by photographer David Lagerlöf, who shared it on Twitter, where it was quickly retweeted, going viral overnight.
Asplund told the Guardian she was motivated by anger and indignation. "No Nazi is going to march here, it's not okay," she is reported saying.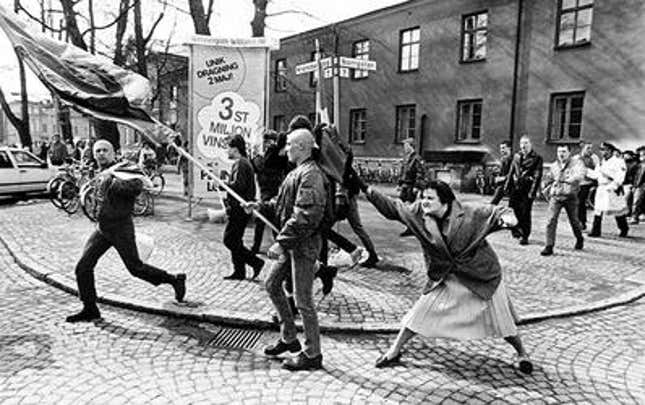 For the Swedes, her image evokes that of another woman, Danuta Daniellson, known to Sweden as "tanten med väskan" (the woman with the bag). In 1985, Daniellson, a Polish-Jew Swede whose mother had been in a Nazi concentration camp, was portrayed by Hans Runesson in Växjö, Sweden, as she hit a neo-Nazi protester on the head, with her bag. That picture, too, became the iconic representation of a citizen's fight to defend democracy.
While the Nazi party has never received large electoral support in Sweden, Nazi and neo-Nazi groups have existed in the country since the 1920s. There has been a spike in intolerance in recent years.
Asplund, who told the Guardian she is now afraid of Nazi retaliation, said she believes racism is growing in Sweden as it is elsewhere in Europe.  "Maybe what I did can be a symbol that we can do something," she told the Guardian, "if one person can do it, anyone can."