Five years after the worst of the US housing crisis and nearly three years since the enactment of Dodd-Frank consumer protections, Americans are reporting problems with loans and mortgages more often than any other  financial activity, according to new data from the Consumer Financial Protection Bureau.
Loan modification, collection, and foreclosure have accounted for a third of the 80,658 complaints that have been resolved by the agency over the last year.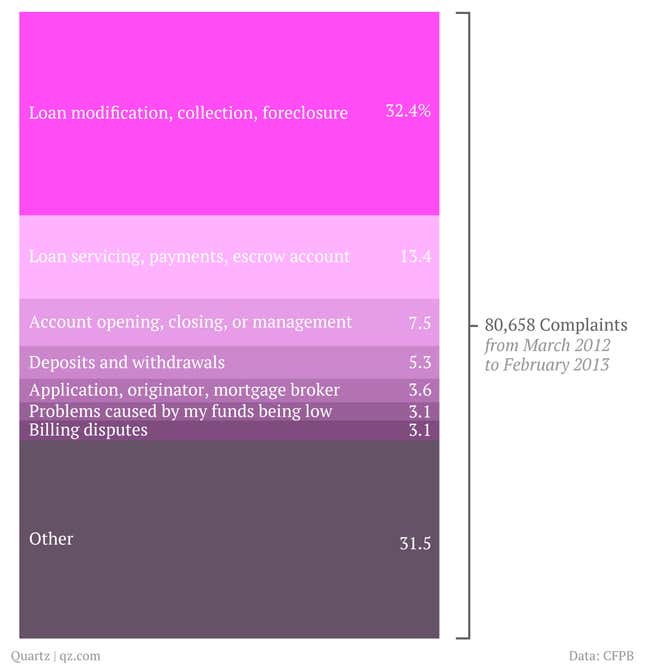 The complaints are not slowing down. Loan modification, collection, and foreclosure complaints have increased from 27% of the total in March 2012 to 35% in February 2013.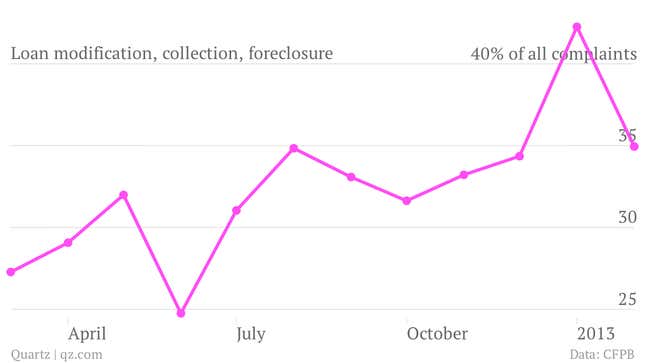 In all categories of complaints Bank of America and its subsidiaries were named more than any other organization, followed by Wells Fargo, JPMorgan Chase, and Citigroup. These are also the four largest banks in the United States, and are therefore have the most customers to complain.
Compared to bank assets, Capital One, Bank of America, and Wells Fargo have the most complaints among Federal Reserve member institutions with more than 1,000 complaints. They had 14.0, 8.2, and 7.8 complaints per billion dollars in assets, respectively.