Fast internet is a basic need for Netflix viewers, but for rural residents, it's a real lifeline. In fact, that's the name of the federal program designed to provide affordable communications to low-income households. That program has a lot of work to do.
A recent analysis of public data by the Center for Public Integrity found that internet access has improved in recent years, but families in poor areas are five times less likely to have access to high-speed broadband than richer American households. More than 30 million Americans, mostly rural and lower income residents (those with median household incomes under $47,000 a year) lack broadband in their area. The group created an interactive map using Federal Communications Commission and Census Bureau data.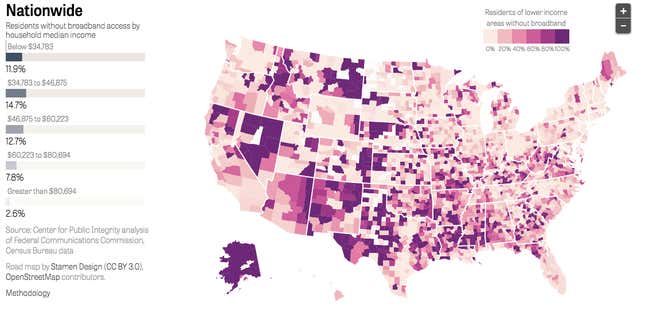 High-bandwidth applications overwhelm mobile data plans and slow connections. This limits or even cuts off many families from e-commerce, banking, health care, and services.
The US government is pressuring telecommunications companies to accelerate the rollout of high-speed internet. The FCC found this January that "broadband is not being deployed to all Americans in a reasonable and timely fashion."
The reasons for this are contested. Critics say telecom firms are deliberating avoiding poor areas, while those companies claim it's about the number of customers they can profitably serve in a given area, along with a "bucket of digital literacy issues."
A Comcast spokesman told Quartz that population density determines coverage areas, not income level. The company negotiates agreements with local governments, which approve terms for connecting communities with high speed internet (defined as download speeds of 25 megabits per second or higher). The density thresholds in these agreements (typically around 30 homes per mile) tend to exclude many low-income, rural residents, says Comcast. The company has pushed the FCC to add a digital literacy campaign, citing FCC and industry data that suggest low awareness about the benefits of faster internet—not merely high cost and access—are slowing adoption among low-income people.
That's setting the stage for a battle between the FCC and telecoms over the fastest way to roll out low-cost broadband internet. Until then, the advantages enjoyed by those who have access to the web, over those who do not, increase.
The image above was taken by Gavin St. Ours and shared under a Creative Commons license on Flickr.