A burger restaurant in Lithuania has become internet-famous for a brilliant piece of political graffiti. Keulė Rūkė, a casual eatery in the capital city of Vilnius, has decorated its storefront with a mural of Russian president Vladimir Putin kissing Donald Trump.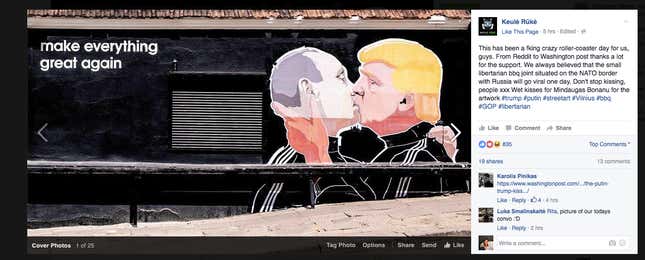 It's a nod to a famous photograph from 1979, of the Soviet leader Leonid Brezhnev kissing his communist ally Erich Honecker, which was later graffitied on the Berlin Wall.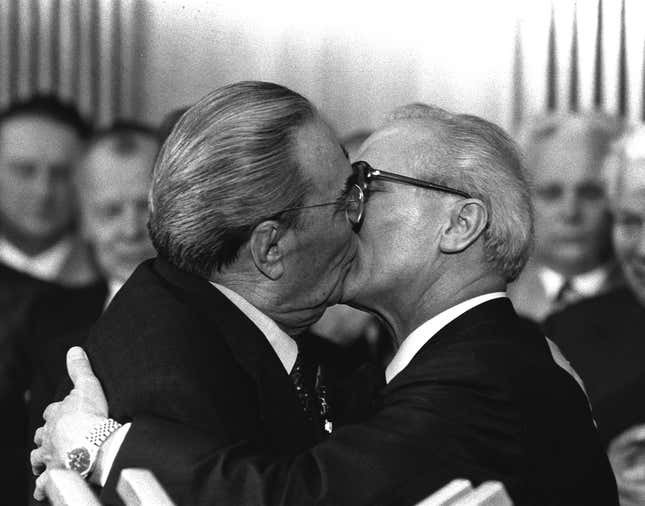 "We see many similarities between these two 'heroes,' Trump and Putin," said Dominykas Ceckauskas, who owns Keulė Rūkė and commissioned the art, in an interview with Agence France-Presse. "They both have huge egos, and it's amusing to see they are getting along well."
Trump, who is the likely Republican nominee for the upcoming US presidential elections, has praised Putin on occasion. The Russian president has said nice things about Trump, too.
Ceckauskas also told AFP: "It seems we have a new Cold War, and America may have a president who seeks friendship with Russia." That prospect may be less amusing, given Baltic countries' reliance on NATO for protection from Russia. The Baltics are thought to be Russia's next takeover target.
Kestutis Girnius, a professor at the Institute of International Relations and Political Science in Vilnius, told AFP that "this graffiti expresses the fear of some Lithuanians that Donald Trump is likely to kowtow to Vladimir Putin and be indifferent to Lithuania's security concerns." And "Trump has notoriously stated that Putin is a strong leader, and that NATO is obsolete and expensive."