The most powerful Chinese official to visit Hong Kong in over four years is being met by protests, and protected by thousands of police officers, as anger simmers in the semi-autonomous city over Beijing's heavy-handed rule.
Zhang Dejiang, the third-ranked official in the Communist Party's top decision-making body, was behind the unpopular ruling on Hong Kong's elections that sparked the 2014 Umbrella Movement.The conditions surrounding Zhang's three-day visit to Hong Kong, which started today (May 17), show how badly relations have deteriorated with Beijing since then.
As he stepped off a plane at noon at Hong Kong airport, Zhang said he is visiting to "see, listen, and speak." But the Wan Chai neighborhood where he is staying has been turned into a veritable fortress, and security is so tight that he's unlikely to see or hear anything from Hong Kong citizens at all.
So, some protestors are planning to "break the rules" to get his attention.
At least four protests are planned for his trip in approved protest zones, blocks from the convention center and hotel complex where Zhang will be. The convention center area is almost completely closed off by massive barricades, which make free travel through it nearly impossible: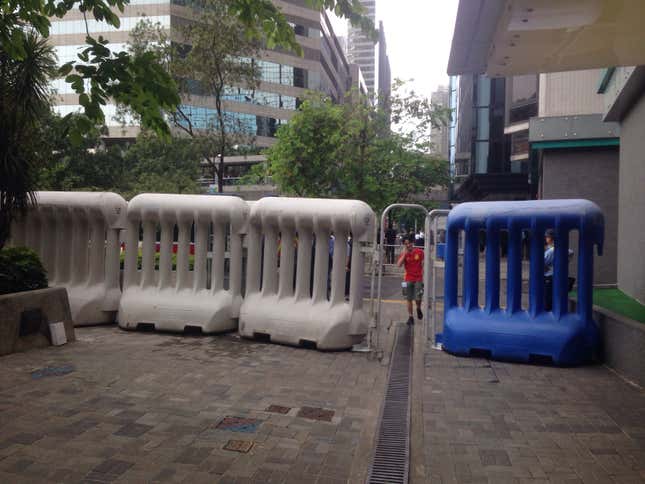 Buildings and streets surrounding the convention center have been barricaded thoroughly and office workers need to plead with police to get through: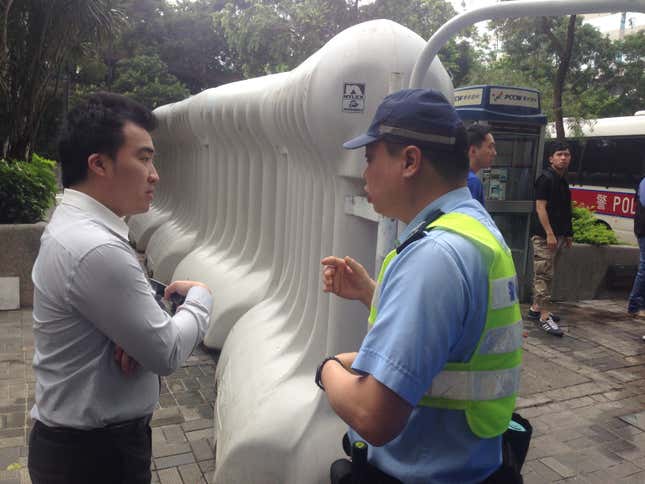 Even before Zhang got to the center of town, activists were pushing outside their approved spots.
At about 12:30pm, police stopped three who were running down blockaded streets carrying makeshift signs that said "I want true general elections" and other pro-democracy slogans.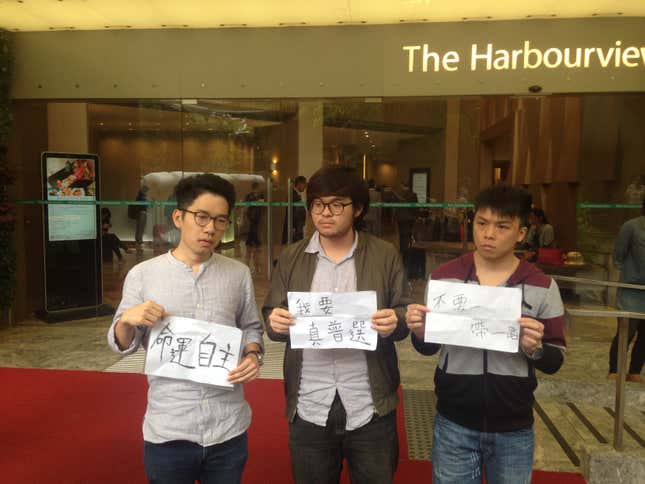 Police and activists tussled, and at least one was wrestled to the ground. Then police collected the activists' personal information and explained why they had been held stopped. They did not make any arrests.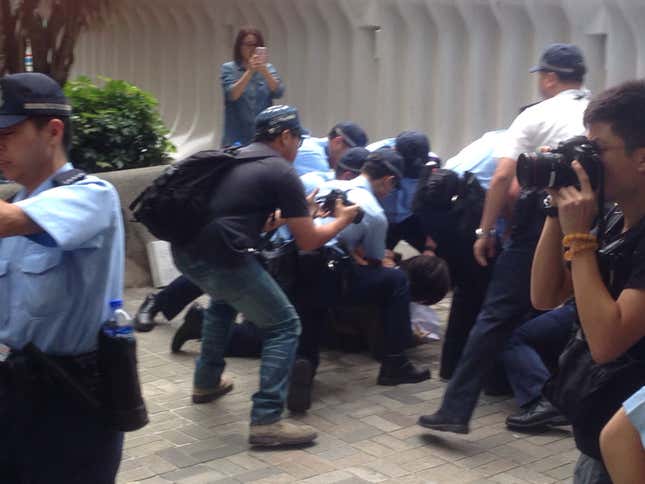 The protest areas are too remote to have any impact, Nathan Law, one protester and member of the pro-democracy political party Demosisto said.
"The designated protest areas are places you can barely see," Law told Quartz. "We have to have some direct action which breaks the rules…to make it visible to the world and Zhang Dejiang and officials in China."
Meanwhile, police arrested a total of seven activists near the North Lantau Highway and the Tsing Ma bridge after they hung pro-democracy banners along the roads leading from the airport to Hong Kong Island. Avery Ng Man-yuen and three other members of the pro-democracy League of Social Democrats party intended to time the stunts so Zhang would pass by the banners as he traveled from airport towards the city. But authorities removed them before Zhang's car set forth. On Facebook, Ng live-streamed his arrest, which police carried forth on the grounds that he violated traffic laws.
About 6,000 Hong Kong police officers are being dispatched every day of Zhang's visit to keep the peace—a huge number for a city that employs less than 29,000 officers.
In addition to uniformed officers, there are dozens of fit, tall, short-haired men milling around the area, dressed in plain clothes but wearing earpieces.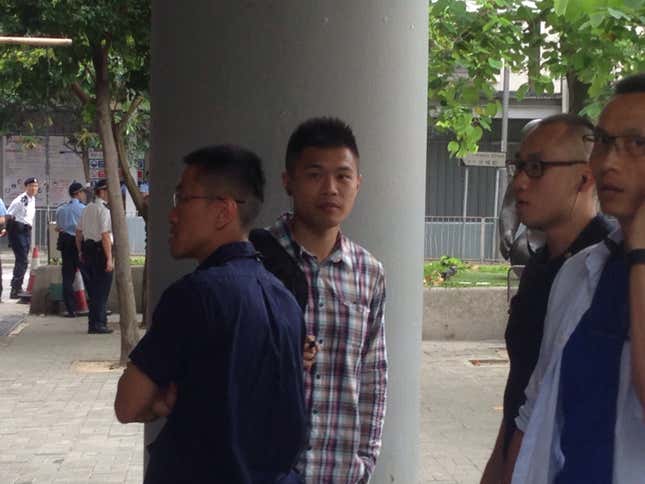 When asked why he was standing in the area, one said his "boss" had told him to come to the location for "security." "That's all I can tell you," he said.
Officials in nearby Shenzhen have already arrested five men who were allegedly planning to buy a drone to "create a nuisance" during Zhang's visit, the South China Morning Post reported. Hong Kong authorities have equated protests with "terrorism" ahead of Zhang's visit.
"Lion Rock," which overlooks Kowloon on the city's north side, is a popular spot for citizens to post political messages. Despite the fact that police camped out on the hillside overnight, a banner went up Tuesday morning:
In order to prevent protestors from pulling up bricks, presumably to hurl at police or Zhang, glue was applied over sidewalks in the area where he is staying: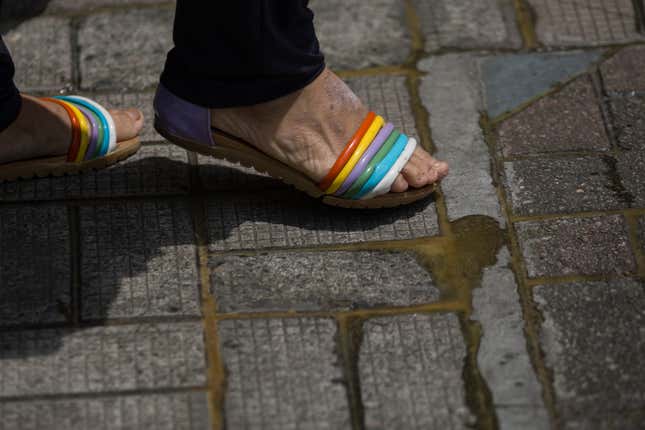 All this over-whelming security has inspired satire:
And drawn unfavorable comparisons to Queen Elizabeth's much more casual visit in 1975, when the British still ruled Hong Kong: