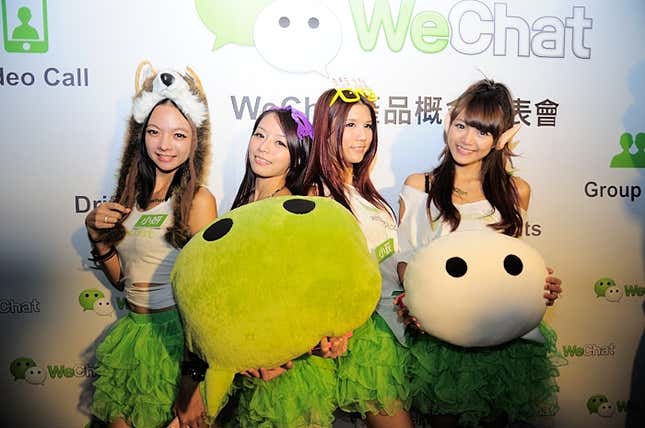 China's information ministry is not happy with Tencent, the giant Chinese tech company with interests in everything from instant messaging to social networks. Goaded by its biggest telecom companies, which are state-owned, the government may ask Tencent to pay mobile operators a fee. In return they will magnanimously allow Tencent to continue offering WeChat, a messaging app, on their networks.
Such an intervention was perhaps inevitable. When business models start falling apart, the reflex action is often to target the disruptors. Other recent examples: Google recently settled a long-standing row with newspapers in famously protectionist France after it agreed to set up a fund to help them understand how to make money online. American ISPs would love to charge bandwidth-sucking sites such as YouTube for the strain they put on networks. So it is with messaging apps.
To understand why telecom companies make such a racket about something as old school as SMS, it is important to understand the enormous profit margins involved. A text message consumes a mere 140 bytes. Voice calls use about eight times as much bandwidth per second. Yet an SMS and a minute of conversation are generally charged at comparable rates.
With the huge growth of free texting services, operators are feeling the strain. In 2011, they lost some $14 billion in revenue to OTT messaging services—"over the top" because they use raw bandwidth instead of premium-priced SMS—such as WeChat, WhatsApp, Apple's iMessage and Kakao. By 2012, that figure had climbed to $23 billion (paywall).
According to McKinsey, one Dutch carrier saw text messages per subscriber go from growing 33% in the third quarter of 2010 to declining 11% in Q2 2011. WhatsApp's smartphone penetration over the same period grew from 5% to 85%. In a telling example of how quickly things change, McKinsey's report (pdf), which came out a little over six months ago, said that Chinese operators were at "no risk" from OTT services.
WeChat is slightly different from similar services such as WhatsApp in that it comes with a host of features, including voice and location-based services. With 300 million users, it is undeniably popular. Still, to charge either Tencent or its users a fee, no matter how nominal, would be a self-defeating move by the government. As Rachel Lu and David Wertime point out at Tea Leaf Nation, China has been trying very hard to encourage local innovation in the tech sector. At a time when the government is putting a great deal of effort into encouraging domestic firms to compete with Apple's iOS and and Google's Android operating systems, it would send a terrible message to China's entrepreneurs: We want you to innovate, as long as you don't up-end profitable state-owned monopolies.