As officials from China and the US meet this week, they're scheduled to talk about everything from the US Federal Reserve's decision-making process to the disputed South China Sea. But China's "excess capacity" problem is top of the agenda.
US treasury secretary Jack Lew called the problem "distorting" and "damaging" in remarks in Beijing on Monday (June 6) and said it was critical to global markets that China cut its production.
That's because some of China's factories have been pumping out more steel, solar panels, and other goods than the world wants or needs—in order to keep China's GDP growing and citizens employed.
Widespread labor strikes and a slowing domestic economy have put pressure on local Chinese officials to keep factories going, even as leaders in Beijing have pledged to cut capacity and said they could lay off millions. Most of these factories are state-owned, meaning they're subsidized by the government, rather than making market-driven decisions.
That means Chinese manufacturers can lower prices of what they make to keep factories busy more easily than private companies. China's producer price index, which measures wholesale prices they command for their goods, has fallen for 50 months in a row:
The net effect for some industries outside of China has been devastating, marked by mass layoffs and closing factories, as lower-priced Chinese goods flood the market—and that has been no where more apparent than the steel industry.
China steel takes off
In the past 15 years, China ramped up its steel production to serve its fast-growing infrastructure needs at home and to export abroad.
As China's share of the market grew, traditional steel-making countries like Japan and Britain suffered.
Chinese steel is so cheap that products have been sold below their cost of production. Steel prices plummeted, dropping 39% in the US in the fourth quarter alone.
Even amid concerns about overcapacity and falling prices, China's steel production hit a record high in March.
Meanwhile, factories in the UK and in Mexico laid off thousands and half of the steel workers in Germany marched to protest China's dumping. US Steel is firing 25% of its salaried employees.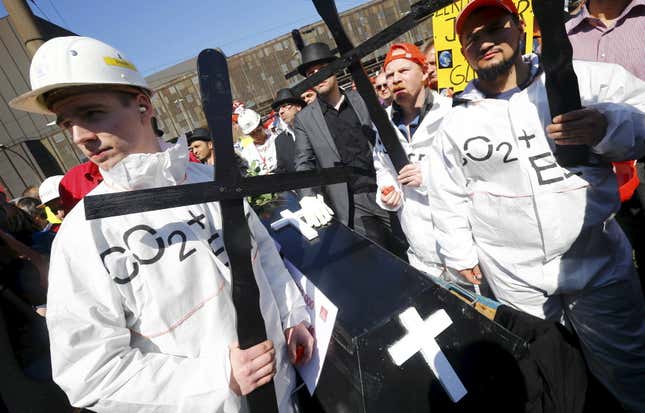 In response to the hefty tariffs recently imposed by Western countries including the US, Beijing promised to "continue to implement a tax rebate policy on steel exports," essentially providing more government subsidies to the domestic industry.
Exports keep growing
While Chinese officials have pledged to trim steel producing capacity by up to 150 million metric tons by 2020, recent response to criticism from Western governments indicates they're not exactly on the same page.

"Steel is the food of industry, the food of economic development," Chinese commerce ministry spokesman Shen Danyang said in April. "At present, the major problem is that countries that need food have a poor appetite so it looks like there's too much food."

Lew's counterpart Lou Jiwei said Monday that the US's position was inconsistent.
"China contributed over half of the global economic growth between 2009 and 2011 via infrastructure investment, which brought the accumulation of excessive capacity such as in coal and steel," Lou said. "At the time the world was applauding China [for its contribution]."
"Now you are pointing fingers at China's overcapacity issue," Lou said. "What were you saying back then?"