A team of hackers broke into Mark Zuckerberg's accounts on Twitter and Pinterest on Sunday (June 5), and sent gloating messages from them:
The purpose of the attacks remain unclear. But their alleged perpetrators (or maybe perpetrator) are a known name in the hacker community. They're called OurMine, and no one likes what they do.
The greater hacker community tends to support some hackers and condemn others. So-called "white-hat" hackers, who hack high-profile entities as a means to educate the public about cyber-security, are heralded as educators. "Hacktivist" groups like Anonymous are also tolerated. They use hacking to promote a political agenda which, conveniently, tends to tread closely to views held by other hackers.
OurMine appear to be neither educators nor activists. They hack the accounts of high profile individuals or entities seemingly at random, for their own amusement or personal gain.
Before its Twitter account was suspended after the Zuckerberg break in, the group would regularly boast about its hacking victories, and ask its followers which groups it should target next.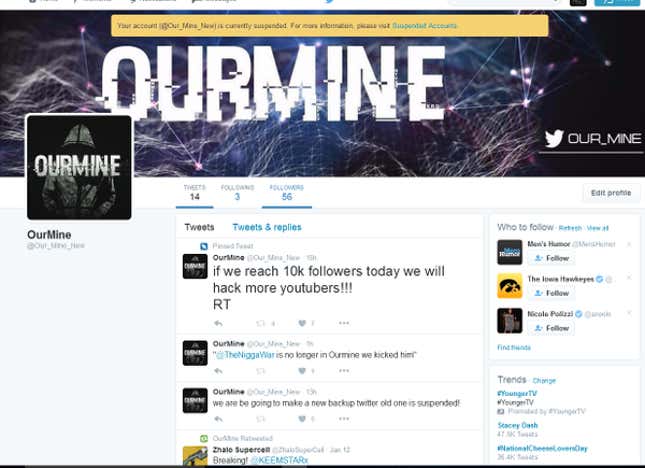 OurMine has attacked social media accounts owned by a number of high-profile individuals and organizations, and been removed from Twitter before.
In December 2015 the group tweeted that it would launch a DDoS attack on Minecraft, the popular computer game. It's not clear if those attempts were successful or not, however. Later, it took credit for a DDoS attack on Wikileaks.
In January the group hacked into the YouTube account of Markiplier (aka Mark Fischbach), a video game reviewer with over 13 million subscribers. They posted a 3-minute video bearing their logo set to electronic background music, and bragged about the hack on their Twitter account.
They also tweeted alleged screenshots from Fischbach's analytics page revealing the star earned over $656,000 from YouTube during November 2015. But it's not clear if they're real or doctored images—the group had already earned a reputation for being untrustworthy, by taking credit for hacks others .
In May 2016, OurMine hacked into the SoundCloud account of electronic musician Deadmau5 (aka Joel Zimmerman). They marked the victory by tweeting "Hey Joel, it's OurMine Team, we are just testing your security, please dm us for contact." OurMine also boasted of stealing nearly $39,000 from a popular YouTuber last December.
One hacker said he traced OurMine's IP address to Saudi Arabia, but that's tough to confirm. With OurMine's Twitter account suspended, the group's main method of communication has been shut down. Judging from recent history, though, they'll pop back up again before long.