"OK Google, load up those packages for delivery and ready the drone."
In a patent awarded to Google today, the company outlined a theoretical strategy for ensuring that autonomous and remote-controlled robots in a warehouse facility aren't overloaded as they move cargo around the warehouse. As far as we're aware, Google hasn't said that it's working on any robots like the ones in the patent.
It is working on humanoid robots, dog-like robots, robots with giant legs, robotic arms, and even robots that can fly deliveries to you, but it's not shown to be working on robots that can carry cargo, or autonomous forklift robots, like those seen in this patent. (Quartz has reached out to Google for comment on its warehouse robot plans.)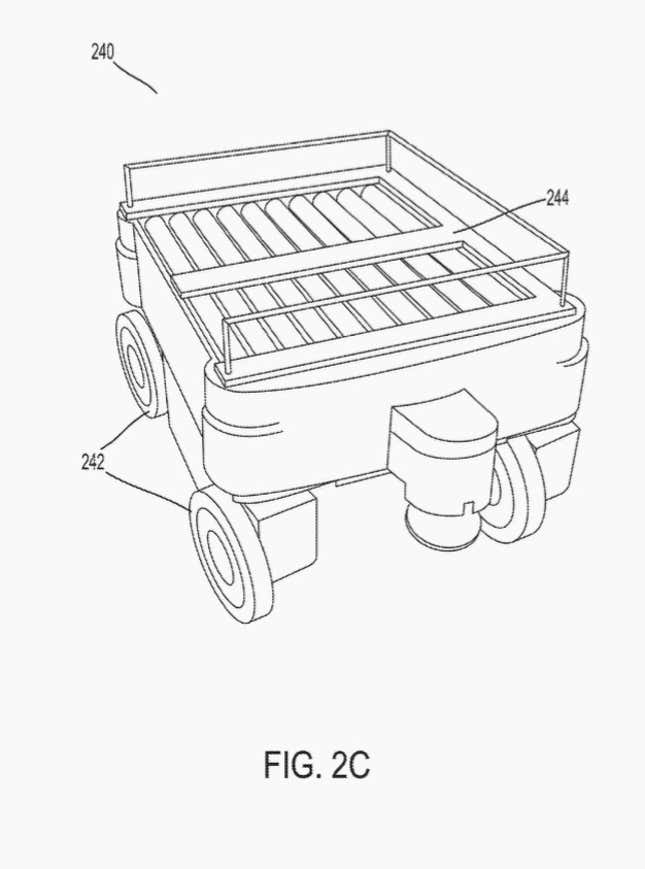 The patent outlines a series of robots that could be used in a warehouse, and a system for controlling how quickly they move and accelerate to ensure that these bots can safely load cargo. According to the patent: "Example systems may involve automated loading and/or unloading of boxes and/or other objects, such as into storage containers or to and from delivery vehicles."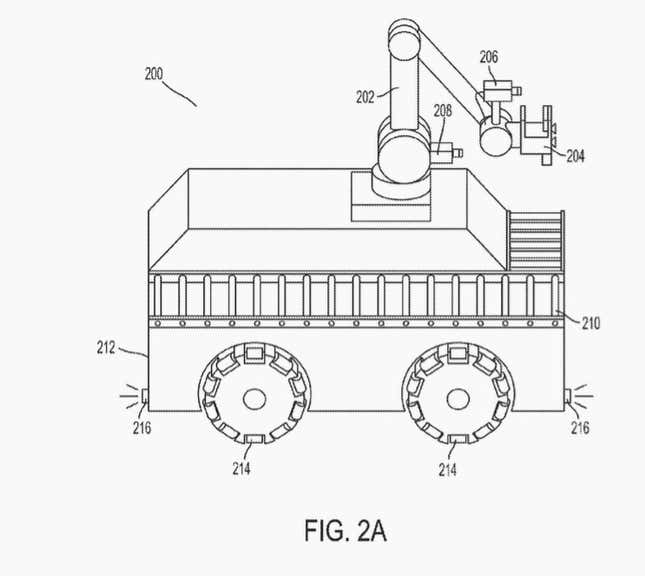 In the theoretical situation described in the patent, robots that have been overloaded, or loaded improperly, may not move, or would move slowly, to ensure they don't tip over while trying to move their cargo. The machines might do this automatically, or after receiving an input from a human who is controlling it remotely. The patent's inventor is listed as a software engineer at Google, Kevin Watts, who has previously worked on robots and automated driving systems at Bosch and Willow Garage, according to LinkedIn.
Google is testing a program for delivering small packages to customers with autonomous drones, called Project Wing. Last November, Dave Vos, the project leader, said that his goal is to have a commercial drone delivery business operating by 2017. The company has been awarded patents showing how will get those packages into the hands of customers. Other patents suggest that it's considering delivering packages using autonomous trucks, presumably using the logistics developed for Project Wing, and the self-driving technology it's also working on.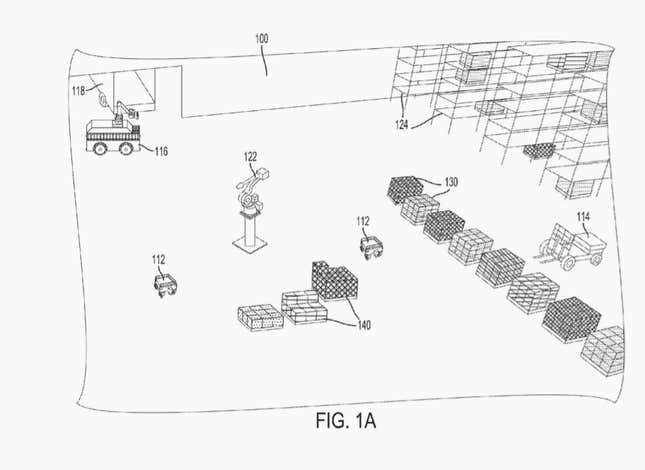 It's entirely possible Google's patents illustrate theoretical work and won't be used in reality. But a robotics setup using Project Wing technologies seems like a logical extension of Google's plans.
Amazon has also committed to delivering products by drone in the near future—if regulations allow—and now uses robots in its warehouses to transport products from where they're stored to where they're packed up for shipment. It's also working on robots that can automatically sort and grab items to pack into boxes, which could potentially one day replace many of the human warehouse workers it currently employs.
Given the manpower Amazon needs to staff its myriad warehouses and fulfillment centers, it's not surprising that Google wants to catch up and create robots that require no training —or benefits or healthcare or lunch breaks.