In case there was any confusion about China's territorial claims in South China Sea, columns and articles have appeared in some local publications in various parts of the world to clear things up. Many are based thousands of miles from the South China Sea.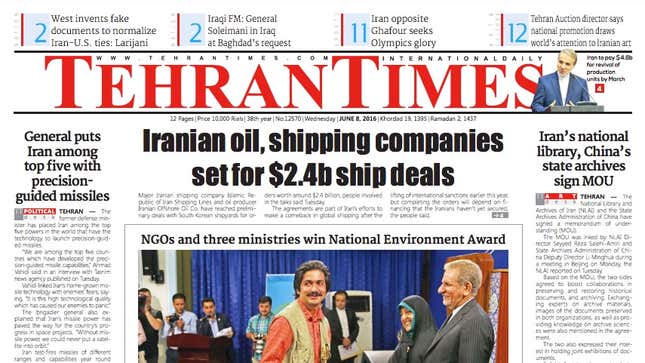 No less than Iran's Tehran Times published a May 24 piece entitled "Truth you need to know about the South China Sea." It gets straight to the point: "One thing needs to be clarified is that the Nansha Islands in the South China Sea has been China's territory since ancient times."
China uses the name "Nansha" for the Spratly archipelago, home to an artificial island that China has built atop Fiery Cross Reef—an island that didn't exist a few years ago but now has fighter jets and a farm with about 500 animals.
China claims most of the sea as its own territory, referring to a "nine-dash line" it drew on a map after World War 2. Everything inside the line belongs to China, says Beijing.
Unfortunately the line intersects with the territorial rights of several nations next to the sea. One such nation, the Philippines, legally challenged China's claims in an international tribunal. The ruling, expected to favor Manila and be denounced by Beijing, is due in the coming weeks.
The situation can get confusing, but it's been explained to readers of the Vanuatu Daily Post. (Vanuatu is about 1,750 km, or 1,090 miles, east of Australia, and has a population of around 253,0000.) A May 26 piece cites a statement issued by the island nation's prime minister, Charlot Salwai: "Any arbitrary imposition of unilateral measures including instituting legal proceedings against other parties in the dispute run contrary to the principle of mutual understanding, mutual dialogue and friendly consultation as enshrined in the principles of UNCLOS."
This kind of passage no doubt pleases China's leaders, who feel the same way about the tribunal proceedings. In their minds, any disputes should be resolved by the nations directly involved, not by some distant tribunal that suddenly decides it has authority over the case.
News Ghana agrees. The west African paper ran a May 24 piece that, borrowing a bit from China's state newswire Xinhua, quoted Fu Kuen-chen, dean of the South China Sea Institute from China's Xiamen University. Fu, it noted, suggests the arbitrators should "take into account all the considerations and change their intermediate award which stated they had jurisdiction over seven of the 15 points brought up by Manila."
In other words, the tribunal itself should decide it has no jurisdiction after all.
Meanwhile, the editors at these publications have no doubt heard nice things about China from the local political elite.
Trade volume between Ghana and China passed $6 billion last year, from below $100 million in 2000. China has funded a $57 million road in Vanuatu, along with an $88 million wharf. And while some observers contend China is trading aid for support of its South China Sea claims, that doesn't negate the fact that China is now a top aid donor to Vanuatu and other Pacific island nations. As for Iran and China, in January they agreed to increase bilateral trade more than 10-fold to $600 billion in the next decade.
All things considered, what's not to like about Beijing's position in the South China Sea?