When Irish fashion chain Primark made its US debut in Boston last September, America's clothing retailers must have shuddered. Primark sells trendy clothes in Europe that are shockingly cheap, even by the standards of fast-fashion specialists such as H&M.
Primark aims to open eight US locations by the end of the year, and Morgan Stanley has shown just how threatening that is. The financial firm commissioned a survey of 100 comparable items across 14 different stores in the Boston area to compare Primark's pricing with that of other major clothing retailers. On average, other retailers in the US were priced at a 202% premium to Primark, as MarketWatch reports.
Even Walmart, the epitome of thrift in the US, was more expensive, costing about 36% more.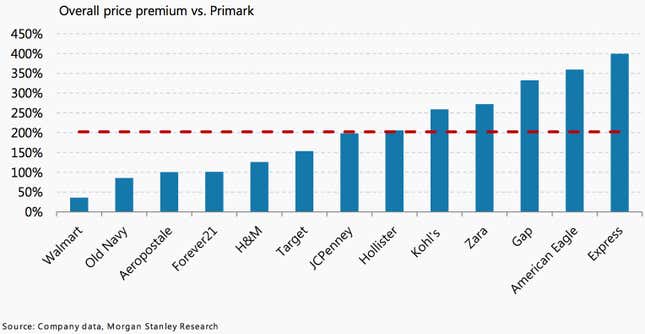 The difference was even more pronounced when Morgan Stanley broke it down by men's and women's apparel. At other retailers, women's clothing—a category with high sales compared to men's—cost about 242% more on average. Morgan Stanley didn't compare specific items, but a Keybanc price comparison last year showed Primark sweater dresses costing $14 compared to $16.88 at Walmart and $49.90 at Uniqlo.
Primark's pricing gives it a significant advantage among the rising group of cost-conscious Millennials and their value-driven successors, Generation Z. Morgan Stanley said teen retailers, such as Hollister and American Eagle, as well as Old Navy and Forever 21, as the brands that Primark could hurt the most. It estimated that Primark could take about $325 million in market share from US retailers in the next 12 to 18 months with just the eight stores it has planned.
Primark keeps prices down the way other brands do: by "buying in vast quantities and passing on the cost savings to customers," according to the 2015 annual report of its parent company, Associated British Foods. It doesn't advertise either, unlike rivals such as H&M.
Like other low cost manufacturers, Primark also contracts with supplier factories in low-wage countries, such as Bangladesh, to make much of its clothing, and has sometimes drawn criticism when factory workers making its garments have been killed in industrial accidents. The company says it maintains a strict code of conduct for suppliers and that all its factories are carefully inspected. We have reached out to Primark for comment and will update this post with any reply.
Environmentalists may object to Primark's formula of encouraging consumers to buy lots of cheap clothes they don't need. But US shoppers have been buying more and spending less for years.