For developers whose apps show up at the top of search results, staying on top is easy. But there are countless others struggling to get their apps noticed.
Currently, 65% of iOS app downloads come directly from searches on the App Store, according to Apple. This means apps that don't show up high on search results have a hard time competing.
Soon, though, they'll be able to buy visibility. Apple said this week that it will roll out search ads on its App Store this fall and plans to launch a beta for developers next week at its Worldwide Developer Conference in San Francisco.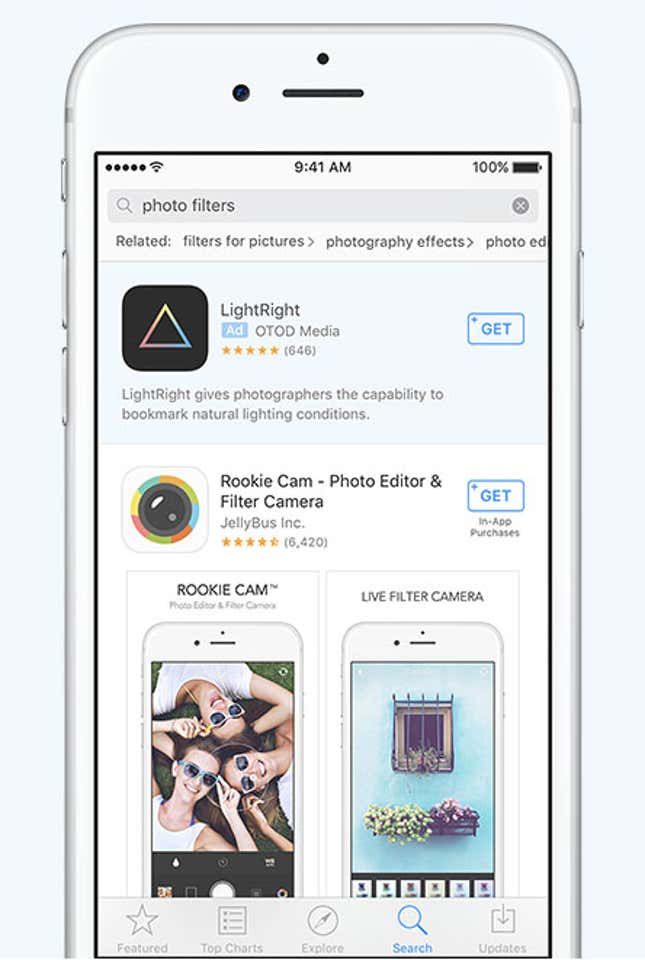 The Cupertino, California company has long resisted placing ads in its App Store, but the company believes it's something internet users have grown accustomed to, according to the Verge. Apple says it will surface at most one ad at the top of search results, and they will be distinguished by the word "Ad" on a blue background in front of the publisher name in small print (see left). Developers, who will be able to target specific user groups, can set overall and daily ad budgets, paying only when a user clicks on their ads. Users who are 13 or younger will not be shown any ads.
In an interview with Loop Insight, Apple's marketing head Phil Schiller insists that "[o]ur store is not for sale" and that the system will be fair to small developers. But in the advertising game, it's deep pockets that usually win out.
Apple had previously tried its hand in mobile advertising with iAd, its ad network serving banner, video pre-roll, and full-screen ads, but the company said this year that it was shutting down the platform on June 30. Some of the technology has been carried over to the auction price system for App Store search ads.