The road to bankruptcy is often a complicated one, involving long-term shifts in customer behavior, misfires in strategic planning, or little-noticed clauses in debt agreements that trip up a company long after the ink has dried.
Not so with Gawker Media. On June 10, the aggressively snarky online purveyor of gossip-slash-news filed for Chapter 11 bankruptcy protection, succumbing to the pressure of a $140 million verdict against the company in a courtroom battle over the publication of a sex tape featuring former professional wrestler Hulk Hogan.
In a filing with the US Bankruptcy Court in the Southern District of New York, Gawker—founded by entrepreneur Nick Denton—listed Hogan by his real name, Terry Gene Bollea, atop a ranking of creditors that have the largest unsecured claims against the firm. The claim of the next-largest creditor is less than one-tenth the size.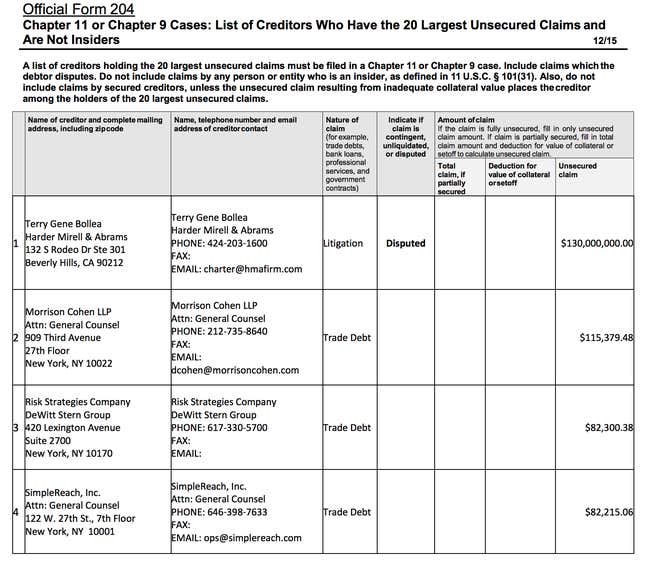 The filing underscores the dramatic fall for Denton and Gawker, which had made its name with a brand of irreverent gossip and news that enjoyed sticking its finger in the eye of the rich and powerful and the famous. Its Valleywag site often gleefully ridiculed some of the wealthiest and most influential people in Silicon Valley. But it also brought the company a powerful enemy in the form of billionaire venture capitalist Peter Thiel.  (Gawker had in 2007 published a post entitled "Peter Thiel is totally gay, people" as well as a series of articles about the financier and his friends.)
Thiel told the the New York Times that the articles had "ruined people's lives for no reason" and motivated him to finance Bollea's lawsuit against Gawker, effectively bankrupting the media company. It's unclear what will become of Gawkers actual media properties. The New York Times reports that Gawker is putting itself up for sale at auction, with digital media company Ziff Davis submitting an opening bid of between $90 million to $100 million.