LinkedIn just got a new job at Microsoft. Its new title is "Acquisition Target." Head to LinkedIn to congratulate LinkedIn on its new position!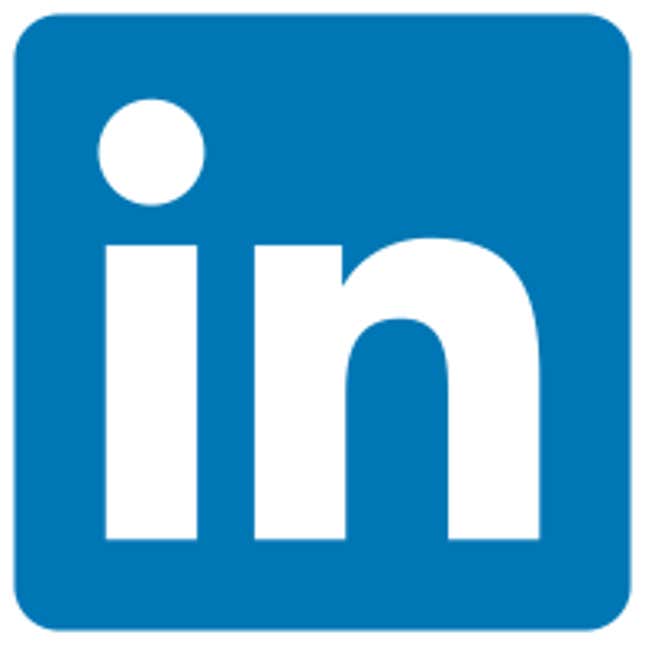 LinkedIn
Professional Services Firm at Microsoft
Mountain View, CA | Internet
Current Acquisition Target
Previous "We were never very interested in being acquired."
Education Sequoia Capital, Greylock Partners, Bessemer Venture Partners
---
Background
Summary
Online professional services firm with 13 years of experience in business connections, executive search, automated emails, display advertising, and management strategy.
Prior to entering into an acquisition agreement with Microsoft, LinkedIn served as a standalone, one-stop-shop for people looking to connect with other job seekers.
LinkedIn, connecting NASA with 3 million aspiring astronauts. You're closer than you think.
Experience
Acquisition Target
June 2016 – December 2016 (expected)
The largest and most powerful network of professionals on the web, we are an impressive acquisition, with more than 10,000 employees and 433 million members, most of whom visit our site once a month or maybe even more than that. Valued at $26.2 billion, or $196 per share, via an all-cash acquisition offer from Microsoft on June 13. This represents a very appropriate $64 per-share premium over our stock's most recent closing price.
LinkedIn delivered strong financial results in Q1 2016, including $861 million in total revenue (an increase of 35% year-over-year) and adjusted earnings per share of $0.74. Our new mobile flagship experience continues to drive strong levels of engagement across the platform, increasing viral actions by more than 80%. We are just beginning to realize our full potential and purpose, and are truly energized to have Microsoft joining us on this journey.
Public Company
May 2011 – Present (5 years 1 month)
Since completing a successful IPO in May 2011, solidified position as the largest, most powerful, and most jargon-proficient network of professionals on the web. Built out three core businesses, each impressively capitalized: Talent Solutions, Marketing Solutions, and Premium Subscriptions.
Constant innovation led to a handful of other products, including Lead Accelerator, Sponsored Updates, and a new mobile flagship experience. Despite tremendous disruptive potential in online professional services, stock collapsed 50% over the last 15 months, and the rate of add-ons and renewals in Talent Solutions slowed. Refocused the business in 2016 with a "narrower set of high value, high impact initiatives" and a "roadmap" designed for "simplicity, prioritization, and ultimate ROI and investment impact." Announced plans to leverage Lead Accelerator, by phasing it out.
Technology Startup
December 2002 – May 2011 (8 years 6 months)
Launched at the end of the 2000s-era dot-com bubble with personal financing from our founder and Silicon Valley visionary, Reid Hoffman. Aspired to become the largest, most powerful, and most meaningful network of professionals on the web. Landed $4.7 million in Series A funding led by Sequoia Capital in November 2003. Achieved a $1 billion valuation in our Series D.
Hoffman describing our vision in a 2011 interview: "We're so bullish on the transformation we can make for every individual and how we can improve the professional ecosystem. We're interested in how do we develop the LinkedIn ecosystem. We were never very interested in being acquired."
Skills
Connections
Recommendations
Satya Nadella, CEO at Microsoft
The LinkedIn team has grown a fantastic business centered on connecting the world's professionals.
James W., Aspirational Strategist
I love LinkedIn. I read online that adding recommendations could boost my profile and help me land a job. I am very talented and hardworking in the arena of corporate strategy. Let's connect! Please contact me soon I am struggling to… read more