Yesterday (June 13) Cambodian prime minister made clear where his alliances lie. Faced with possibly losing $465 million in EU aid if his country's human rights situation didn't improve, he shrugged off the threat and instead heaped praise on China, which makes no such demands. China is also Cambodia's biggest aid partner.
As one of the poorest nations in Asia, Cambodia needs all the aid money it can get. But developments at a plenary session of the European Parliament in France last week raised no alarms. The EU parliament approved a resolution accusing the ruling Cambodian People's Party (CPP) of pursuing politically motivated charges against its opponents, and pushed for EU aid to Cambodia being dependent on fixing deteriorating human rights in the nation.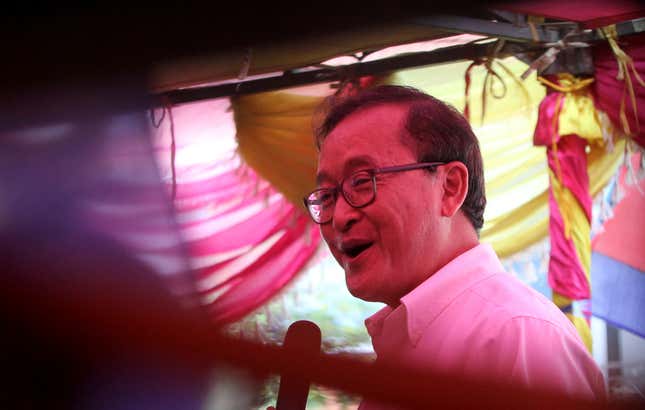 The European Parliament called on Cambodian authorities to drop all charges against Sam Rainsy, leader of the opposition Cambodia National Rescue Party. Rainsy has been in exile since late last year to avoid arrest. The parliament also called for the release of five rights activists jailed in relation to a sex scandal probe linked to Rainsy's deputy, Kem Sokha.
Hun Sen suggested on June 13 that the real victims of an aid cut would be local NGOs—including ones that fight for human rights. His party often portrays such groups as tools of Western paymasters.
"I have a clear message," he said at a graduation ceremony in Phnom Penh. "The first to die will be the nongovernment organizations that are paid for by foreigners."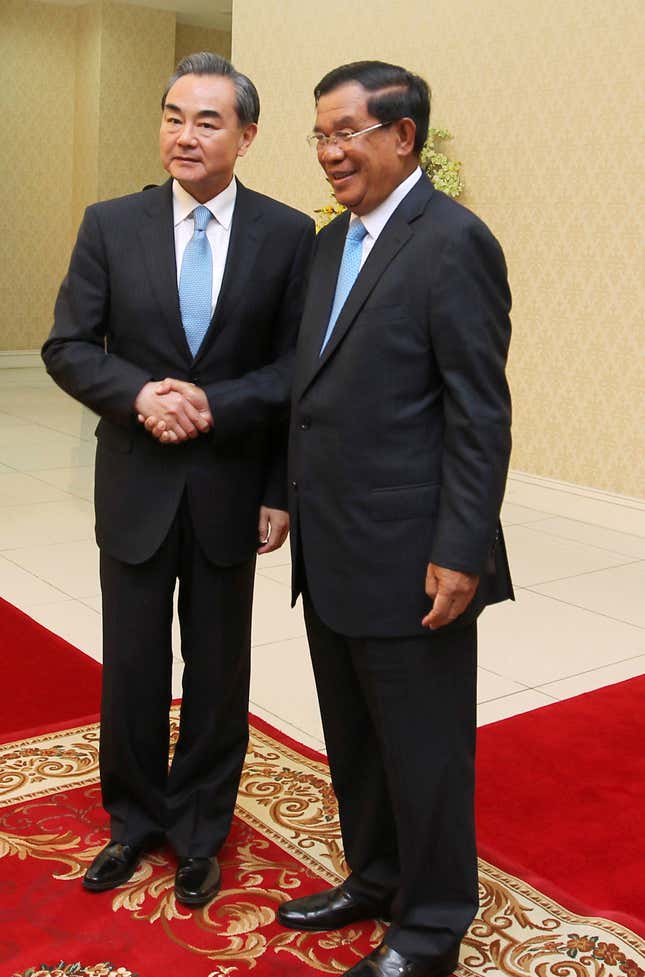 Hun Sen has ruled Cambodia for more than three decades. His CPP is one of the longest-ruling parties in the world. He's developed strong ties with Beijing.
China invested nearly $5 billion in Cambodia from 2011 to 2015. Hun Sen said it's the main source of loans for infrastructure in his country.
China has also beefed up the nation's military capabilities, both with hardware and training. Beijing has sold Cambodia helicopters, shoulder-fired anti-aircraft rockets, and even uniforms, and has given it loans for the purchases. Its investments made possible an army officer training institute, with courses developed by China's defense ministry and a compulsory six-month stint at military academies in China.
Chinese investments and loans have helped Hun Sen stay in power, Kem Ley, a researcher and political campaigner, told Voice of America last month.
Beijing might not pressure the CPP over human rights or nudge it toward democracy, but its influence means Cambodia is likely to back China in other ways. These can include returning Uighur asylum-seekers (paywall) and supporting Beijing's positions in the South China Sea.