Hong Kong
After eight months stuck on a sweltering casino ship abandoned in the middle of Hong Kong's harbor, the first of the crew of the New Imperial Star are headed home.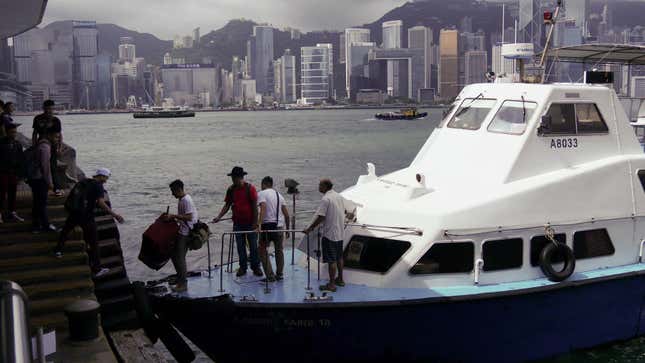 "So happy," said Saw Htoo Ko Ko, 22, throwing his arms in the air in exuberance as he picked up his bright red suitcase at the Tsim Sha Tsui pier on Wednesday (June 15), the city's famed skyline gleaming in the background.
The Burmese sailor and 25 of his fellow service crew are heading home this week, 18 to Burma and eight to China.
"They've suffered for six to eight months with no wages. They want to go home," said Jason Lam, Hong Kong representative of the International Transport Worker's Federation (ITF), which has been aiding the crew.
The 26 workers are part of the 46-person crew abandoned and stuck on the New Imperial Star by the shipowner in Victoria Harbor since October. Having seen their claims for wages ignored, the crew applied for the seizure of the ship two months ago. The ship is now waiting to be auctioned by Hong Kong's Admiralty Court in exchange for proceeds to pay the crew, as well as a stack of other arrears owed to creditors, such as the port agents. Total debt is estimated at US$3 million to US$4 million, according to the hotel manager, who identified himself as Eric (he declined to give his last name).
A group of organizations—the ITF, the Amalgamation Union of Seafarers Hong Kong, and the Merchant Navy Officers' Guild-Hong Kong—has advanced the wages to the Burmese and Chinese crew, and paid for their transportation back home. The crew is owed US$564,000 in back pay and compensation, said Lam.
The shipowner, Arising International, is a single-ship shell company registered in the British Virgin Islands. It can only regain the ship if it is able to pay off the debts. Behind Arising is a pool of individual investors from Hong Kong and China who bought the ship from Singapore in August 2013 in hopes of making a fortune in Hong Kong's casino ship industry, a gray market often associated with local mafias.
Shopping time
In the meantime, the workers are off shopping, picking up gifts for family members.
"I'll go shopping, yeah," said Yan Lin Aung, 24, who worked in housekeeping on the boat. He'll be picking up clothes for his brothers, sister, and parents back in Yangon.
The crew's families, though, do not necessarily know of the workers' ordeal, as many chose to keep their troubles to themselves. This was part of the reason many stayed aboard the ship, even though they were unpaid—they could not face the prospect of returning home empty-handed.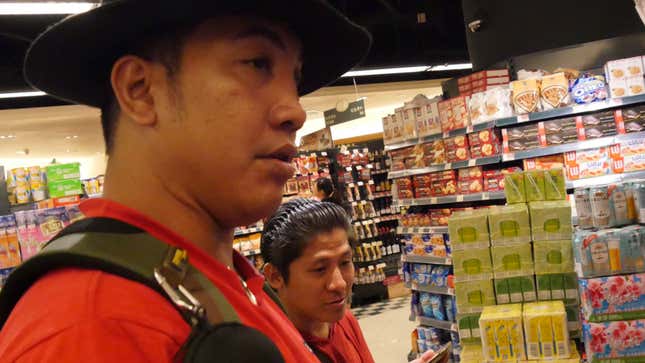 "My son asked, 'Papa, what for me?" said Yee Mon Tun, 38, father of one, when he spoke of conversations with his son back in Yangon. He spent about HK$300 at an international supermarket buying almonds, peanuts, and chocolate.
The New Imperial Star shuttled a mostly Chinese clientele from eastern Hong Kong into international waters where gambling is legal, sailing out at dusk and returning in the morning. But Hong Kong's curbs on the influx of Chinese tourists—coupled with a sweeping anti-corruption campaign that reduced spending—crippled the previously high-margin, albeit dubious, gambling business.
"There was just no business, and the ship was operating only intermittently," said Eric, the hotel manager. He and four other shore-based Hong Kong staff have also been owed wages. They filed the case to the Hong Kong Labour Tribunal, which ruled in their favor this week, but they are worried about the enforcement.
The shipowner, represented by Hong Kong businessman Wong Kam Fai, is trying to lay all the blame on Sun Junhao Ltd., the crewing manager. "But Sun Junhao is just a shell company. Even if the company is wound up, there will be little assets coming out to pay our wages," said Eric.
The labor tribunal has no jurisdiction over BVI-registered Arising International. Calls from Quartz to Wong were not returned.
On Oct. 6, 2015, the ship was detained by authorities for failing inspections that crew members say could have been easily passed, had they been given money for maintenance. The ship has not moved since.
All the Chinese and Burmese crew who worked as service staff on the ship, along with three Ukrainian crew members, will leave this week. Another 17 will stay on to man the ship.
Drawn to the water
In recent months, tensions had flared on board the ship. Captain Valeriy Lyzhyn and two of the Chinese crew got into a bloody altercation over a can of coffee.
"The situation has been difficult for me. I had no real command over my crew because they were not getting paid. But now everyone is happy. Finally they can go home with money," said Lyzhyn.
But not all of them are heading home. Most of the Chinese crew said they'd still consider taking up a job in a cruise ship, where they can fetch better wages than in a factory. Chef Pei Haifeng is starting a new job on Saturday on the Oriental Dragon, another casino cruise in Hong Kong.
Xia Zhongqiu, the doctor on board, also plans to hunt for a job on one of the passenger cruises sailing from China to Japan and South Korea. "It's much better than staying home working in a clinic—if I'm never owed wages again," he said.