The designer Raf Simons is a well-known lover of art. He has put references to Rothko, Picasso, and contemporary artist Brian Calvin in his work, and collaborated on a full collection with the multimedia artist Sterling Ruby. He's also regarded as one of the top fashion designers in the world at the moment, so it makes sense that the Robert Mapplethorpe Foundation—established by the photographer himself to protect his work before he died of complications due to AIDS in 1989—reached out to him for a collaboration.
Simons unveiled the result yesterday (June 16) in Florence, with a collection in which every look bore at least one print of a Mapplethorpe photograph. The clothes were Simons classics: slim black pants, oversized sweaters, tailored jackets. But it was Mapplethorpe, best known for his frank portrayal of New York's gay scene in the 1970s and 1980s, and its affection for leather and bondage, who was the star of the show.
The clothes, mostly black and white like Mapplethorpe's images, often acted as frames for the photographs, as in a pair of leather overalls with a Mapplethorpe image sitting squarely in the center, or printed aprons that hung from the waist. The photos covered a range of Mapplethorpe's work, including his portraits and flower pictures, such as "Orchid" from 1982. They offered glimpses of the expansive scope of Mapplethorpe's talent.
Simons didn't shy away from Mapplethorpe's more graphic images. One vest depicted an erect penis sticking out of the wearer's pants. A similar image also appeared on the front of a shirt. Several models wore leather belts around their necks in reference to bondage, or leather-daddy biker caps.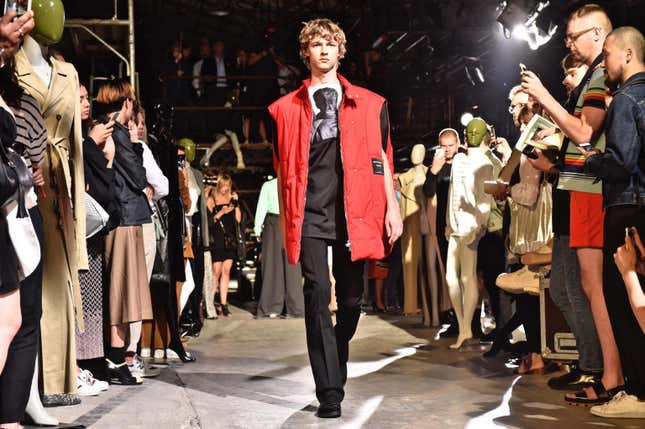 The show was a reminder of Mapplethorpe's role in bringing gay sex out of the dark and into the eye of a public that wasn't entirely prepared for it. "His images were revolutionary, both for the radically inclusive nature of their subjects, and for their meticulous execution," the New York Times wrote (paywall), appraising a joint exhibition of his work by the J. Paul Getty Museum and the Los Angeles County Museum of Art that's going on now.
In her memoir, Just Kids, Patti Smith wrote, "He worked without apology, investing the homosexual with grandeur, masculinity and enviable nobility." The singer-songwriter and poet was a long-time friend of Mapplethorpe, who photographed her several times, including for the famous cover of her album, Horses. Several pieces in Simons's collection featured her image.
The show, which took place in Florence, was far from the recent mass shooting at a gay club in Orlando, and it doesn't appear to be Simons's intent to have offered any reflection on that tragedy. The collaboration with the foundation was in the works beforehand.
Even so, it was a poignant moment that underscored how Mapplethorpe's work helped force the public to acknowledge and accept the existence of gay men and women—and a reminder of how much work remains to be done.