Cannes Lions, which kicks off on Saturday (June 18), is arguably the biggest advertising event of the year. So it comes as no surprise that Snapchat on Friday rolled out a flashy new YouTube video touting itself as a premiere destination for advertisers keen on reaching the coveted millennial set.
Snapchat reaches 41% of 18- to 34-year-olds, according to the video, compared with about 6% for the average television channel. The 4-year-old social network also has 100 million daily users, each of whom spend an average of 25-30 minutes on the app each day. Snapchat video views have grown by more than 350% in the past year, and twice as many millennials watched the first Republican presidential debate on Snapchat as did on regular TV. At least according to Snapchat.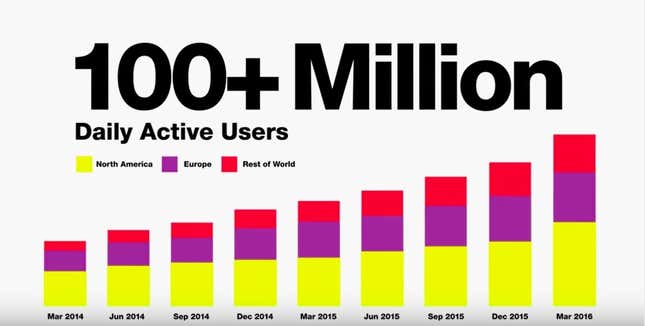 Those engagement figures are important for Snapchat, as CEO Evan Spiegel works to convince advertisers (at Cannes and beyond) to spend money with the messaging app. Earlier this week, Snapchat announced a slew of new ad products, the most important of them functionality for ad tech firms to easily integrate ads onto Snapchat's platform. The company also introduced an ad format called Snap Ads, which lets users swipe up on ads to watch longer videos, view content in a mobile browser, read an article, or download an app.
While Snapchat's advertising product is only a year old, the company anticipates at least $300 million in revenue this year.