The responses to "missing" bookseller Lam Wing-kee's claims that he was detained by Communist Party officials have been strong, but predictable. Hong Kongers took to the streets to protests. Diplomatic bureaus issued cautiously critical statements. Mainland Chinese officials either denied responsibility or deflected attention from the issue.
One widely-publicized response, however, is more unexpected: A mainland Chinese lawyer based in Shenzhen, Liu Hui, sent an open letter on Monday to China's National People's Congress (NPC) calling for an independent organization to investigate Lam's story.
The document, which was sent to the NPC on Monday and received lots of media attention in Hong Kong, summarizes the events regarding the disappearance of associates of Causeway Bay Books. Towards the end, Liu argues the ongoing controversy could "seriously damage" China's image overseas if it is not "addressed appropriately":
The incident involving the disappearance of Causeway Bay Books' employers and shareholders has already [evolved over] months. It has continues to attract society's attention in Hong Kong and abroad, and the truth of the matter quickly gets clearer and clearer. But the attitude of central Chinese government towards this incident continues to be ambiguous, its position more and more passive. If this issue is not addressed appropriately, it will seriously damage the Chinese government's image abroad. It will [also] damage the fundamental policy of 'One country, two systems,' and will be detrimental to winning the hearts of the Hong Kong people and peacefully re-unifying the two sides.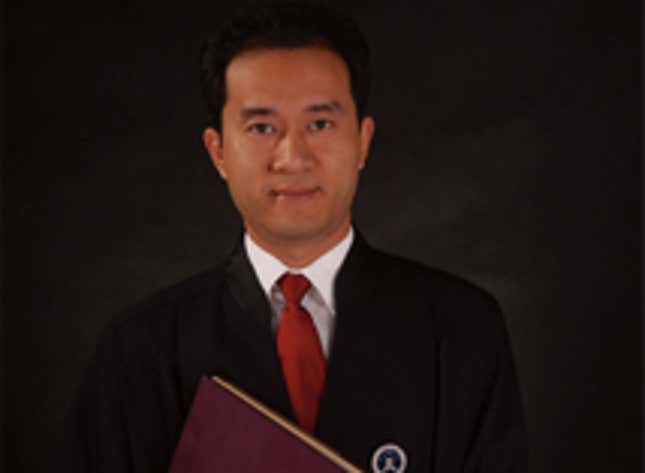 Liu then call on the Chinese government to form a research group to investigate the possibility of mainland Chinese officials violating Hong Kong's right to self-administration. If a violation was committed, the related departments must apologize to the people of Hong Kong and other affected nationalities (One bookseller, Gui Minhai, is a Swedish citizen, while a second, Lee Bo, holds a UK passport).
"Regardless of whether or not the officials acted in accordance with the law, the government must clarify the truth of this case to the Chinese and the international community," Liu writes.
Liu's letter marks a rare gesture of support for Hong Kong from a prominent Chinese mainlander—and a rare challenge to Beijing by a Chinese citizen.
On his website, Liu describes himself as a criminal defense lawyer by training, but one who has also been pushing for reforms in China's social and legal system. Last year he appeared at the Shenzhen prosecutor's office to advocate for a public defender's right to meet their clients in person, record conversations, and take pictures in advance of their trial. His biography reads:
Since 2006 Liu Hui has issued 35 proposals regarding human rights, health and hygiene, farmer salaries, anti-corruption, public housing, and other topics related to the national economy and people's livelihood. Liu is especially concerned about improving the circumstances of the poor…
Liu is a member of the Shenzhen People's Congress, the city's local legislative body. He is not a member of the Communist Party, however, but of the Revolutionary Committee of the Chinese Kuomintang (RCCK)—one of eight political parties in China that the ruling CCP recognizes. The RCCK originated out of factionalism within the Chinese Nationalist (Kuomintang) led by Chiang Kai-Shek, who fought Mao and the communists in a civil war. Still, it does little to challenge the CCP's dominance.
Quartz reached out to Liu through multiple channels but did not receive a response. His secretary told BBC China he will not grant interview requests (link in Chinese) due to the overwhelming amount of media attention he's receiving. However, he did confirm he wrote the letter in an interview with Hong Kong TV channel i-Cable (link to Chinese video).
"First of all, we must make clear whether or not mainland China really has jurisdiction over this matter," he told i-Cable. "Whether or not the groups that did this were right to do it, this is something we need an independent organization to research."