Samsung said it expects first quarter 2013 profits to rise 53% to 8.7 trillion won ($7.7 billion), blowing past analyst expectations for guidance of $7.3 billion.
That's particularly strong, given that it is came during a typically weak quarter and Samsung's new Galaxy S4 smartphone hadn't yet hit stores in the first quarter. (Though Samsung hasn't yet said exactly when the S4 will be released, the US roll-out is expected to happen in April, followed by a global launch by early May.)
But there's no clear consensus on whether this sets up Samsung to meaningfully steal market share from Apple, amid concern that it's more focused on marketing than on product research and development.
The bullish read on the announcement comes from Bloomberg, which says that "near-record earnings" signal that profit "is set to surge" in Q2.
"Second-quarter profit looks even better than the first, as the Galaxy S4 will have a great impact," Chung Chang Won, a Seoul-based analyst at Nomura, told Bloomberg. "Samsung's shipments of its flagship smartphone will outpace that of the iPhone sometime in the second or third quarter."
Even if Samsung doesn't reclaim Apple's top ranking in sales right this second, however, investors seems to be much more optimistic. Despite a slight slide in trading today, Samsung declined only 1.1% so far in 2013, compared with Apple's 20% plummet, as Bloomberg reminds us. Here's a look at that: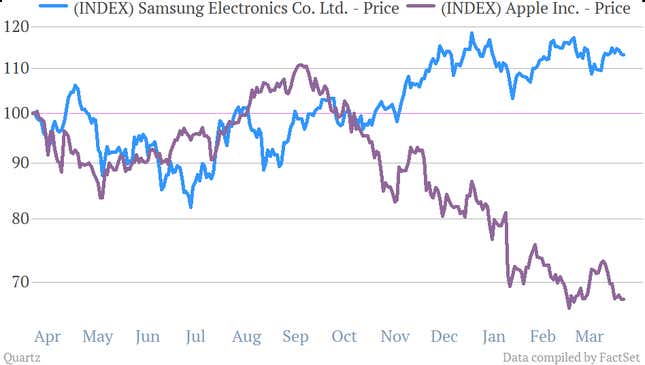 A report by Reuters, however, highlighted that Samsung "warned" it would not be posting "record quarterly earnings for the first time since 2011." It darkened this already dim view by noting Samsung's pricey marketing campaign to convert Apple users to the Galaxy S4. It shelled out $11.6 billion on marketing in 2012, which was $1.3 billion more than it spent on R&D.
While its marketing seems to be working with phone buyers, Samsung might be scrimping on its long game—which is not merely a smartphone battle, argues Rachel Lashford, an analyst at research firm Canalys in Singapore.
"(Samsung) lagged behind in creating a new category. Apple created a new category with tablets," Lashford told Reuters. "We are waiting to see something like that happen from Samsung."
It is worth noting, as Reuters does far down in its report, that Apple spent only $3.38 billion on R&D in the first three quarters of 2012—comparatively much less than Samsung. And Samsung is building a new beachhead in Silicon Valley to help drive its content and media business and use of its device platforms.
Regardless, at least in the US market Apple is still far ahead in terms of smartphone market share, based on comScore data. Apple's smartphone share leapt to 38.9% in February up from 35.0% in November, while Samsung went from 20.3% to 21.3%.
The Korean company releases audited earnings later this month.