It's never been easier to start a company. There's rarely been more money in venture capital. Yet last year we saw the fewest number of new software-as-a-service companies founded since 2011. This year is on track to be even worse.
Financing patterns appear to the proximate factor, writes Tom Tunguz at the venture capital firm Redpoint who compiled the data from Crunchbase and Pitchbook. While the total amount of early-stage money invested has been holding steady, it's concentrated in fewer and fewer companies. The number of seed rounds dropped by half in the first quarter of 2016 compared to the same period last year (550 versus 1250), while round sizes were up 40%.
The market structure is changing as well. An explosion of software companies of the last few years relied on rapid adoption of cloud services: Startups could replace local software with services delivered online. Salesforce made it their motto. That has played out in many sectors, and new "systems of record" that are hard to displace now have dominant market share.
At the same time, sectors are crowded. Low barriers to entry mean almost anyone who wanted to start a software company could do so, and many did. Here is a snapshot of significant marketing technology companies by the advisory firm LUMA partners.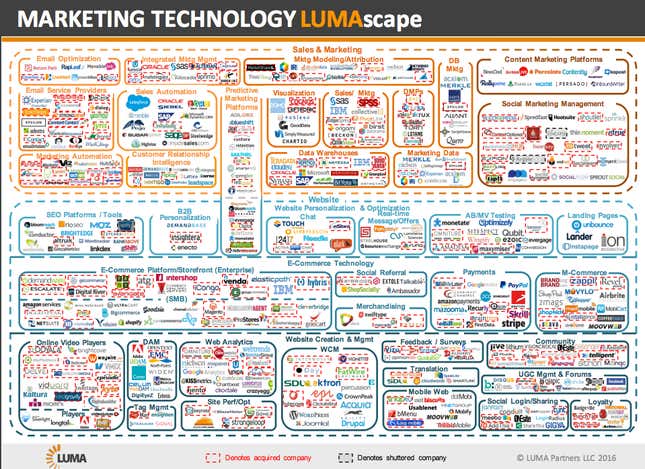 Companies in this new startup environment will need to find a way to get funding or get a business model.
The image above was taken by Andrew Wilkinson and shared under a Creative Commons license on Flickr.