Rwanda began its annual week of mourning today, commemorating the 100-day genocide in which hundreds of thousands of Tutsi were murdered just 19 years ago.
But the stock market is staying open.
Only four companies are listed on the Rwanda Stock Exchange: two banks, a brewery, and a media house. But the tiny bourse, opened in December 2011, has big ambitions. So this week, while everyone remembers the Rwanda that was, its focus turns to the Rwanda that might still be.
By most accounts, the country is on the right track. GDP growth took a slight hit last year, due to a reduction in aid, but remains above 7%. And public health indicators are nothing short of miraculous: Life expectancy has doubled; infant and maternal mortality have fallen; death rates from tuberculosis, malaria, and HIV are also down. But to continue the course, attracting more foreign investment is key.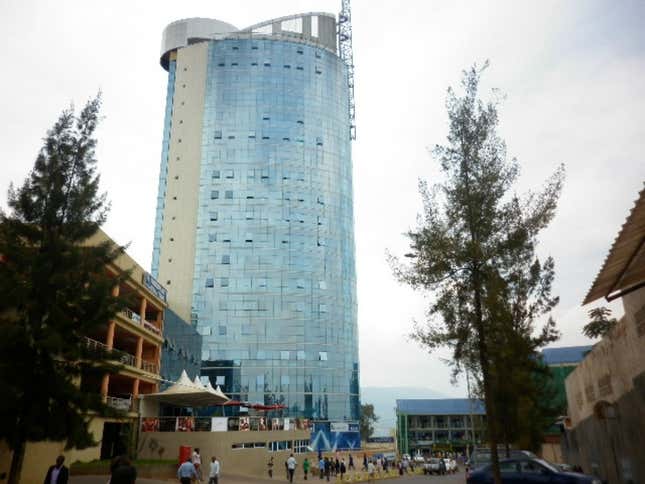 "For a country like us to have an exchange, it adds more confidence to the system," says Pierre Celestin Rwabukumba, head of the stock exchange. He spoke to Quartz after returning from an event at the stadium in Kigali to commemorate Genocide Memorial Day (usually a national holiday for markets, except it fell on a Sunday this year).
He graduated from the University at Buffalo in the US and then worked as a broker on the New York Stock Exchange between 2000 and 2004. He was a part of that exchange's return after the terrorist attacks on Sept. 11, 2001.
"People have died, way too many of them, and you have to help grow an economy," he says, referring to his experience after 9/11.
The same could be said for his role now. There are plans to attract more companies and upgrade the exchange's infrastructure. Currently, traders representing nine brokerages use the open-outcry system (as the New York Stock Exchange once did, and many markets still do), shouting offers out to one another. A dry-erase board captures trade prices and volumes.
To increase listings, Rwabukumba says, the exchange hopes to lure:
newly privatized companies as the government exits its shareholdings through capital markets;
cross listings from the region seeking to do business in Rwanda and tap liquidity;
more small and medium businesses looking to access capital;
debt markets (the exchange is working with government to resume issuing bonds, as well develop municipal bonds from local governments);
products such as real-estate investment trusts and asset-backed securities.
As for the dry-erase board? It should be replaced by year's end with an electronic trading platform.