Birthday wishes are in order today for Apple Music.
The music streaming service was rolled out on June 30, 2015 to a smattering of grumbles, rather than widespread applause. Critics were skeptical of Apple Music's ability to take on bigger, more established streaming giants like Spotify; users were flummoxed by weird design quirks, a complex interface, and the lack of anything about the platform that truly screamed innovation, beyond Apple suddenly having its own radio station.
Then, a few months after its launch, Apple CEO Tim Cook impressed everyone by announcing that Apple Music had amassed 6.5 million paying users—a third of Spotify's paying customer base. During 2016, that number even swelled to 10 million, a figure that Spotify took six years to reach. Most recently, it's at more than 15 million.
The bulk of Apple Music's success comes down to platform control: by preinstalling the app on a universal iOS update last summer and aggressively promoting its three-month free trial period, Apple all but forced the music streaming service on millions of iPhone users, many of whom conveniently had credit card information already logged in the company's system. (The tactic has its critics, including Spotify and Elizabeth Warren.)
Beyond that, to its credit, Apple has poured incredible resources over the past year into Apple Music's improvement. Likely recognizing that the only way to make it in the tight music streaming market is to stand out as much as possible, the company is currently pushing into non-music media like podcasts, behind-the-scenes shows, and original video content.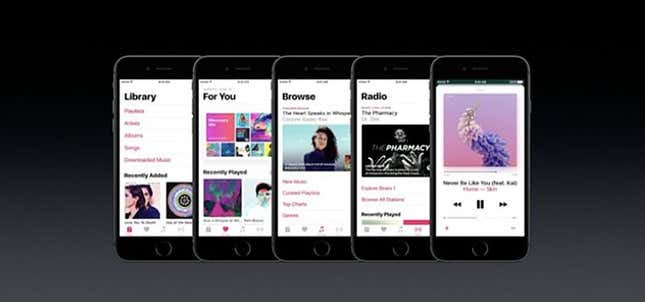 It announced an overhaul for the Apple Music app—both in design and features—at the company's Worldwide Developer Conference earlier this month, focusing on making the user experience more seamless and personalized.
But what's interesting is that Apple Music doesn't seem as keen to seize the music streaming market so much as to reshape it entirely, into something bigger, broader, more powerful. Apple's head of original music content Larry Jackson told Rolling Stone this week that Apple Music's goal is to exist "at the intersection of all things relevant in pop culture." To that end, the platform has been experimenting with much more than audio itself. It's partnering with artists, sponsoring their careers, and signing deals all over the place for exclusive content.
All this effort is a testament to how deeply Apple cares about growing the services portion of its business—which is now the second-largest part of Apple's revenues and a huge part of Apple's future now that the tech company's iPhone sales are sliding.
If it can keep up the momentum for Apple Music, it may have a major new opportunity for growth just yet.