If there are flying cars in the future, Toyota wants dibs on making them.
The Japanese car manufacturer has submitted a patent application for a shape-morphing fuselage for an aero car. It wants to create "a vehicle than can be both driven on the road in a land mode and takeoff, fly, and land as an aircraft in a flight mode," according to the application, which Toyota filed in December 2014. The US Patent and Trademark Office (USPTO) only made public on June 23, 2016.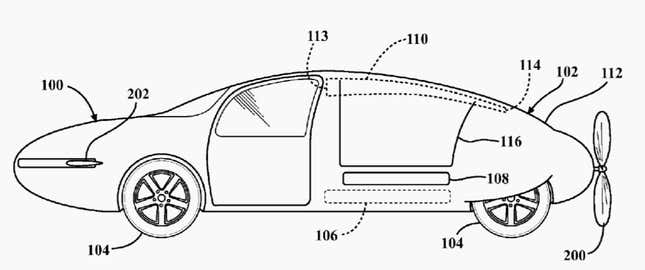 Instead of a typical coup-style or hatchback, the flying car will have a propeller on its back, likely meaning the car will operate with a rear motor. When grounded, the wings will be stowed underneath the body panels—that's why the design shows the shape-shifting fuselage with tensile skin.
"Existing aero cars include wings used during the flight mode that are designed to fold against the fuselage in the land mode. Storing wings in such a manner can subject the wings to damage, reduce fuel economy, and limit operator aft and side views in the land mode," the patent application states. If implemented, this patent design will allow the wings to be out of sight when the vehicle is in not in flight.
As dreamy as a flying car sounds, it won't likely be in the pipeline in the near future. Toyota said it doesn't comment on future products, but applies routinely for patents related to future mobility. Of the 1,636 patents the company currently holds, one is for a different type of aero car with stackable wings.
While Toyota waits for its second flying car patent, other companies are vying for spots in new age air travel. Slovakian company Aeromobil has plans to launch its "flying roadster" as early as 2017. Google co-founder Larry Page has been pursuing two flying car projects—ZeeAero and Kitty Hawk—since 2010.